I've been sitting here for the last thirty minutes trying to figure out a way to make my day sound even remotely interesting and I can assure you it isn't possible. But I'll tell you about it anyway because when has that ever stopped me?
I woke up with a headache. I'm not entirely sure why but I think it was partly due to not drinking enough water the day before and partly because I knew I still had to pack a lunch that had a less than 50% chance of getting eaten.
And then Caroline decided it was a good morning to move at the speed of a glacier to get ready. I finally just instructed her to hurry up and go brush her teeth while I went into my closet to change clothes. And by change clothes, I mean that I threw on a pair of running shorts with the t-shirt I'd slept in the night before.
When I walked back into the kitchen, not only had Caroline not made any move to brush her teeth or put on her shoes, but decided to say, "That looks like something a teenager would wear. It's so inappropriate."
"I think you're misusing the word inappropriate."
(Caroline has this habit of using the most extreme word to describe a situation. Everything is "hideous" or "horrid" or "inappropriate" or "the worst thing that's ever happened".)
(I don't know where she gets her tendency to exaggerate.)
I'm not sure when a t-shirt and shorts became inappropriate, especially since I wear it almost every day and was merely going to drop her off and not even get out of the car, but I think I may have snapped, "GO BRUSH YOUR TEETH RIGHT NOW AND QUIT WORRYING ABOUT WHAT I HAVE ON."
After I dropped her off at school in my highly inappropriate running shorts and t-shirt, I came home and made a list of everything I need to get done with my last two days of total freedom. Which is why I immediately got on the couch to watch the season finale of Bethenny Ever After since it falls squarely into the category of things I can't watch when Caroline is home.
I really wanted to watch The Bachelorette too because I have yet to watch an episode, but there just wasn't time.
So I got off the couch and paid a bunch of bills online because P gets so cranky when they shut off our water. And then I tried to book a flight online using a Rapid Rewards voucher which proved to be harder than stopping that computer in War Games from declaring Thermonuclear Global War. I finally called Southwest Airlines customer service and discovered the reason I was having difficulty was due to the fact that the flights I wanted didn't qualify for Rapid Rewards Vouchers. Who determines that? If you're going to give me a free ticket as a reward, might I suggest that you allow me to travel on the day and time I actually want to travel?
Apparently that's not a concept that appeals to the airlines. And I'd tell you how it all worked out except it hasn't all worked out yet. It's like a cliffhanger.
After that exercise in futility, I made a shopping list so I could make my last solo trip to the grocery store for the foreseeable future. Otherwise known as the last trip before it all starts to seem like a version of The Price is Right where contestants bid on items and might win the Showcase Showdown on the right day but might cause their mother to lose her mind in Aisle 7 on the wrong day by overbidding.
"PLEASE CAN I GET THESE DONETTES TOO? HOW ABOUT THESE SPICY CHEETOS? I'VE ALWAYS WANTED ONE OF THESE PLASTIC SNACK CUPS! CAN WE GET BEEF JERKY?"
Don't forget to get your pets spayed and neutered.
I loaded up on necessary summer groceries like frozen pizzas and easy things to cook on the days we stay late at the pool which is basically every day until mid-July when the pool feels like bathwater because it's 164 degrees outside.
My other errands were all related to last day of school business. Gift cards, party snacks, and tequila. Then I texted Caroline's teacher because I needed to run up to the school to have the kids finish something for the teacher gift. I suggested that she go run an errand while I manned the classroom.
Have you ever seen twenty children on the second to last day of school? I would have been better off calling the zoo to see if they needed a new monkey trainer. The only difference is most third graders don't throw poo.
As soon as she returned I gave her the biggest hug and maybe said "BLESS YOUR HEART" one too many times and then I mentally made a note to get her an even nicer teacher gift.
I left there and went to get my eyebrows waxed since I was already in pain. And to add insult to injury, they did that thing where they ask if I want my lip waxed too. Clearly they don't watch Price is Right because they overbid in the form of damaging my already fragile self-esteem.
And then I picked up Caroline from school where I discovered she hadn't just let her friends sign her yearbook. She let them sign her face. With Sharpie markers.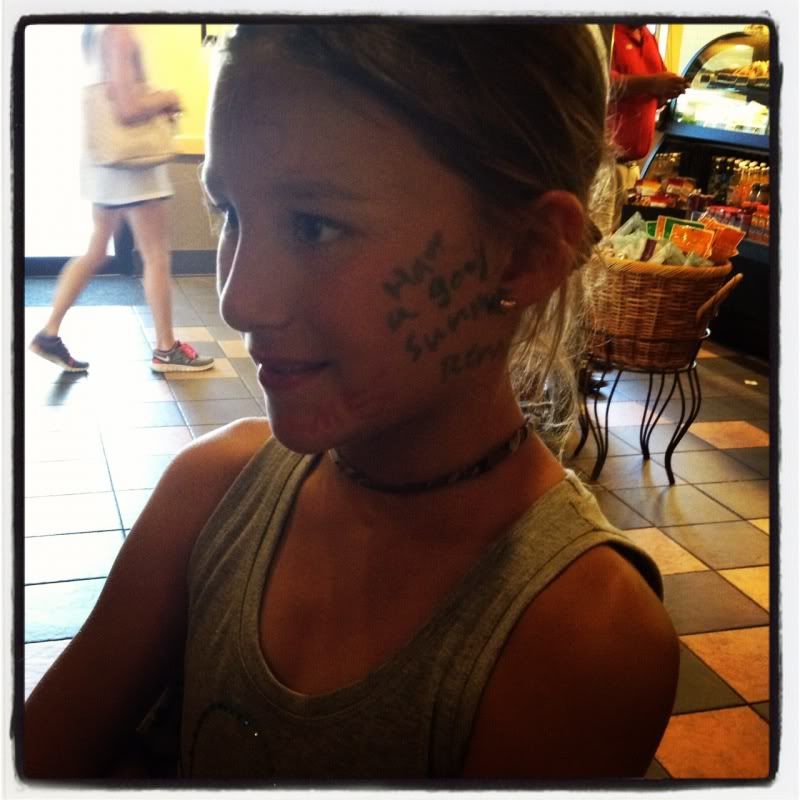 Yes. And my shorts are inappropriate.
Copyright secured by Digiprove © 2012