Two weeks ago Caroline spent the night with a friend. And when I picked her up the next day she mentioned that she'd fallen on her arm while they were playing soccer in the front yard and it kind of hurt. I said we could just keep an eye on it and see how it felt in a day or two which is code for I don't really think anything is wrong except that you stayed up too late last night and are tired and I don't want to waste a $50 co-pay on a fake injury.
Over the next several days she'd complain about it every now and then but it seemed like it was always worse at bedtime or when I asked her to do something else she didn't want to do. Like pick up her dirty clothes off the floor and put them in the hamper because I am the meanest mom ever with my unreasonable requests that she practice hygiene and clean up after herself and she's just going to use that towel again tomorrow so why does it need to be hung up?
But then on Thursday afternoon P and I were working on the guest room wall (That's an entirely different post at this point. A post where I may rewrite the lyrics to Miranda Lambert's song The House That Built Me to The House That Killed Me.) and Caroline walked in and said, "I really think I need to go to the doctor. My wrist hurts."
And it all seemed legitimate since I hadn't asked her to do anything and it wasn't time for bed. So I loaded her up in the car and we drove to the medical clinic. They did x-rays and the doctor announced it looked like a tear in her tendon or possibly even a fracture.
That's when Caroline beamed at me like she'd just won first prize at the County Fair.
Not that we've ever been to a County Fair but I hear the kids smile big when they win so I'm going with that analogy since it's late and I can't come up with anything else.
They gave her a brace to wear and a referral to go see the Orthopedist Pediatric guy the next day. Here's Caroline in her brace.
You can see she's all torn up about it.
And for the next few hours I was treated to running monologue about how she knew something was wrong and I just thought it was nothing and wasn't I glad that she knew she needed to go to the doctor and see how she was right and I was wrong. I listened as she called Mimi and Bops to give them the news recited a list of people she'd like me to text with a report of her injury and how she was right and I was wrong. Apparently LETTING IT GO isn't part of her current skill set. But she has got ENJOYING HER ILL HEALTH down to a science.
The next morning we went to see the other doctor. By this time the novelty of that brace had worn off because it was "HOT" and "UGLY" and "I CAN'T USE MY THUMB". And so I was ready to cry at the thought of facing weeks with her in a cast or in that brace. One of us wouldn't survive it and I had a feeling it was me.
He looked at the x-rays we brought in and agreed that it was a tear in the tendon and the wrist needed to be immobilized for the next three weeks. Then he offered us the choice of a cast or a waterproof splint. I'm no doctor and I've never even played one on T.V. but I knew the waterproof splint was the way to go.
And when the tech walked in with a neon pink, waterproof splint, I knew we were solid gold. Caroline was thrilled with her new fancy bright accessory and that she wouldn't have to forgo any time in the pool due to her injury. They fitted her arm for the splint, put it on, made a few adjustments and said she needed to wear it 99% of the time.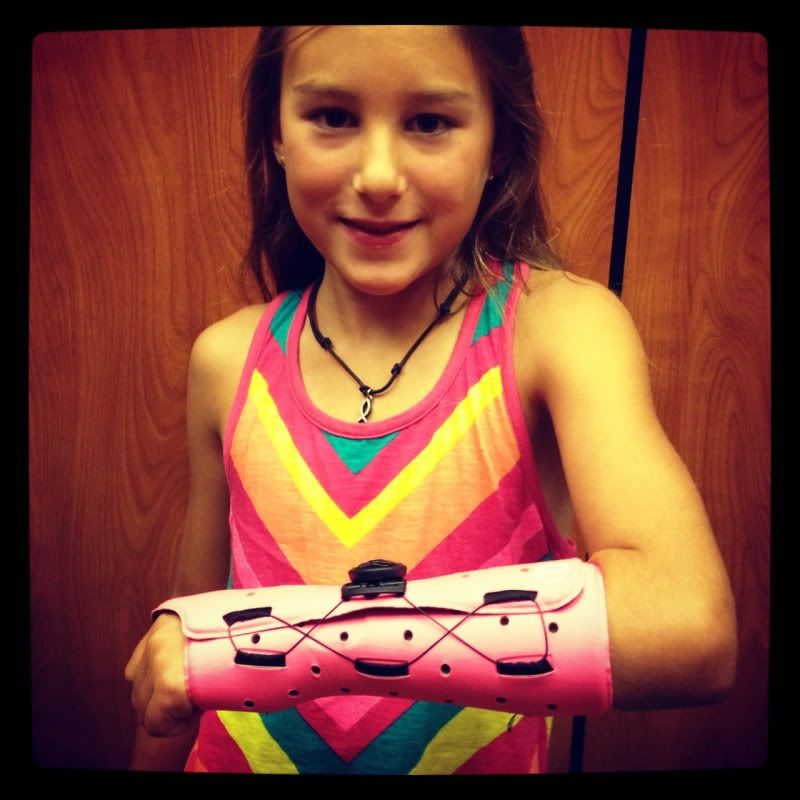 As a bonus, it's also anti-microbial which means it won't smell like a baboon at the end of three weeks. Or at least that's what they told us. I'll let you know on July 6th.
After we left the office she called Mimi and Bops to give them the full update from the new doctor and told them all about her hot pink splint. And she was most excited to announce that it wouldn't interfere with her ability to swim in her swim meet the next day.
Which is why I was so surprised when we woke her up for the meet on Saturday morning and she started to cry and said she didn't want to go and it was going to be terrible and please don't make her go and OH THE HUMANITY OF SWIM MEETS.
Have I ever mentioned that 6:00 a.m. isn't my most coherent time? So I handled this crisis by walking in the kitchen and telling P there was drama brewing in the next room. And P was on the case. He told her she needed to get up and eat her breakfast and that her team was counting on her. In our family we follow through on commitments. In our family we persevere. He even pulled out a quote from a Navy Seal and told her that in life when challenges come we ADAPT AND OVERCOME.
It was like being in the kitchen with General Patton.
I kind of wanted to salute.
Or maybe hum of few bars of The Battle Hymn of The Republic.
And it's times like this that I'm so glad he takes charge because I'm not so much an ADAPT AND OVERCOME type person as a CRY AND BE DRAMATIC AND OH MY POOR BABY HAS A HURT ARM type person. Especially at 6:30 a.m. on a Saturday.
So she dried her tears, put on her swimsuit and we headed to the swim meet. Where she ended up winning three first place ribbons and two second place ribbons.
Because she adapted and overcame.
It helped that everyone told her how awesome her hot pink waterproof splint was and how tough she was to still be competing. "EVEN SOME TEENAGERS".
On the way home from the meet she was tired but glowing. She was thrilled with her success and that she didn't give up. And it was a reminder to me, on the eve of Father's Day, how much I need to P to help me with this whole parenting thing.
Honestly, I would have been tempted to let her stay home and skip the meet. And she wouldn't have learned anything or won any ribbons or experienced the feeling of accomplishment. The right thing was to make her go and to follow through with her commitment. It's a lesson I'm still learning because I've always been tempted to quit when things get hard or to take the easy way out. It's one of the things I hate about myself.
I think that's why it meant so much to me to see her learn such a valuable life lesson on Saturday. And it made me thankful that not only was I raised by a great dad who has taught me all kinds of important things over the past forty years, but that I'm married to a great dad who is doing the same for Caroline.
And I'm more than happy to hum a few bars of inspirational music while he does it.
Copyright secured by Digiprove © 2012