Yes. So I didn't post anything yesterday. And I didn't think that much about it because I thought I'd already written at some point that I wasn't going to stress myself out with pressure to write every day this summer so I can take time to smell the roses and the sunscreen and the chlorine.
But then I woke up yesterday morning and P asked, "Did you decide not to write anything last night?" And I realized I'd only had that conversation, like so many others, with myself inside my head.
So here's where I'm writing the disclaimer that I may not write every day this summer. Or I might. I don't know and I can't commit one way or the other. We'll just see how it goes and every now and then I may take a little break so I don't miss out on all the fun to be had.
Truthfully, sometimes writing in summer is easier because I stay up way late after everyone else goes to bed, knowing I can sleep late the next morning. But swim team has currently shot that plan to heck and I have to be up with the chickens and the swimmers.
And now I've gone on way too long about why I may or may not write and why anyone may or may not care. This is the blog equivalent of contemplating my navel. Which is a phrase I've never really cared for.
Anyway, the main reason I didn't write yesterday (There I go again. Blah, blah, blah.) was because I had to watch The Bachelorette to find out if Emily finally got rid of Ryan. Oh, and also because we'd worked on the guest room all day and I could no longer feel my fingers.
Why couldn't I feel my fingers? Well because the people who owned this house back in 1930 or 1940 or sometime before wallpaper was applied with glue, decided that they wanted wallpaper. And apparently this was achieved by nailing a bunch of mesh into the wall every 1/4 centimeter. Except they wouldn't have used centimeters because that's before the Europeans tried to brainwash American children with the metric system.
(Does anyone else remember that mammoth VCR/TV combo being wheeled into your math classroom and watching some show about Metric Man?)
P and one of his employees came in last Thursday and pulled out the rest of the sheetrock in a matter of a few hours. Which was significantly faster than the eighteen years it would have taken me to do it by myself. And most of the old wallpaper ripped away from the wall fairly easily. But little bits of this cotton mesh stuff was embedded behind little tiny nails. It was too short to really cut it away but too long to leave it.
So we burned a lot of it with a lighter. Kids, do not try this at home. This was attempted by professionals. Professional what? I do not know.
The irony is I was really concerned about those pieces of string making the room look bad and never stopped to consider how bad it would look if we burned the whole thing down.
After three days and a countless number of those Bic lighters, I had finally gotten rid of most of the mesh while P scraped off layers of old paint and wallpaper on all the trim. Then I finally busted out my tweezers and tweezed out the rest of the string pieces. I'm pretty sure this is part of the job description for hell. My fingers will never be the same. Nor will my tweezers.
At a real low point on Sunday afternoon I was ready to just paint it and be done with it. Just paint over the old chunks of wallpaper and mesh and what have you. But this is where P and I differ. He is a perfectionist. Sadly, he is married to a "EH, THAT LOOKS CLOSE ENOUGH AND THE BED WILL COVER THAT UP ANYWAY" kind of girl.
So he pushed us through. We adapted and overcame. And by the time Sunday night came, we were a step closer to actually being able to paint even though we'd digressed from a Saturday night high of "WE SHOULD DO THIS TO EVERY ROOM IN THE HOUSE" to "AS GOD IS MY WITNESS I WILL NEVER DO THIS AGAIN". I never would have finished it without him. It would have all ended with me putting a for sale sign in the front yard and that lady that thought I was Taylor could come and show our house.
On Monday we finally moved on to painting the ceiling and priming the walls. Which is when we discovered that old wood soaks up a lot of paint. Like three coats worth of paint. Like four trips to Home Depot later worth of paint.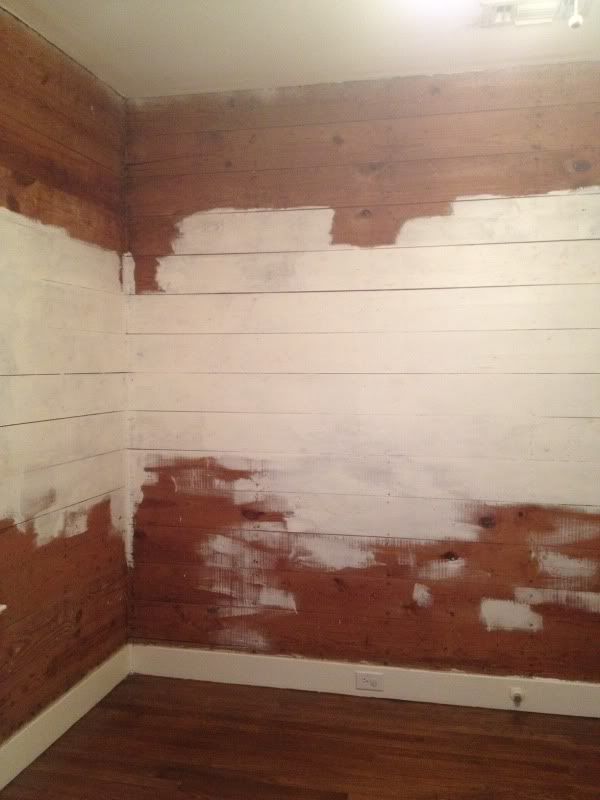 We finally decided it was as covered as it was going to get and moved on to painting it the actual color we'd chosen, Benjamin Moore Revere Pewter.
And by Monday night the walls looked beautiful. Now we just had to touch up the trim with fresh paint. I figured it would just be a matter of a few brush strokes here and there where the sheetrock had pulled away paint or we'd gotten fresh paint on the baseboards.
Yes. But that's working under the assumption that our trim was a glossy ultra white color as opposed to the fact that it was actually more of a glossy off white. A fact I failed to notice until I'd painted enough of the trim to realize the frame around the closet door no longer matched the closet door.
And that's when I headed for the bottle of tequila.
Not really. Everyone knows you don't drink tequila while you're painting. You drink vodka.
I began the arduous task of painting every piece of trim work in that room while I sang old spirituals. Every now and then Caroline would join me long enough to slap on enough paint to produce drip marks, get a little paint on her feet for good measure and walk back out of the room leaving a trail of white footprints down the hallway. And then she got her feelings hurt because she said all I was doing was yelling at her.
First of all, I wasn't yelling. I didn't have the strength. Secondly, why did I think summer time was a good time for this project?
Fortunately P walked in about that time and helped me finish the rest of the trim and touch up all the areas we'd missed or messed up. And then it was mercifully done.
I picked up one of Caroline's friends and we spent the rest of the afternoon at the pool. The glorious pool. Where there was no paint or mourning or sadness. Just ice cream and sunshine and the book I'm currently reading.
By the time I got home with the girls, P had cleaned up the entire room. Swept it and everything. I wanted to weep with joy and thankfulness.
And, lo, the room is complete.
(It looks a lot darker in the the bottom picture. I'm not sure why but I'm sure it's not related to my stellar iPhone photography skills.)
Well, not really complete. We're talking about putting a twin bed in there instead of a queen. And moving out some of Caroline's toys to make room for a homework/craft table. And I'd like to get some fun pillows and make it into a great place for her to hang out with her friends.
But then, THEN, it will be finished.
Check back with me in early 2015.
Copyright secured by Digiprove © 2012