Well first I feel like I need to give a shout out to all the Oregon readers. Who knew I translated all the way out to the Pacific Coast? But there are apparently a few of you because you were all excited about the Olympians shoes that match the Ducks.
So, go Ducks.
And truthfully I'm just stalling because I'm overwhelmed at how to fit the last few days into one post. It's going to be a long one. And possibly boring. Consider that your warning.
We have been in the midst of birthday extravaganza since last week. Somewhere Caroline adopted Gulley's theory that everyone is really entitled to a birthday week instead of just one day. Or maybe I did it to her because she's an only child and it's not like I have to duplicate all this excitement two or three more times during the year.
So we have had a birthday week.
Really Monday and Tuesday were just the countdown. And then we met my sister, Amy, and her kids for lunch on Wednesday because they weren't going to be able to celebrate with us on Friday.
That's Caroline with Sarah and Luke. Luke is still a muppet and is going to be three in December which is just more proof that time goes by way too fast.
After lunch we all went over to Mimi and Bops's house. Amy brought cupcakes for the kids and then Caroline opened her present.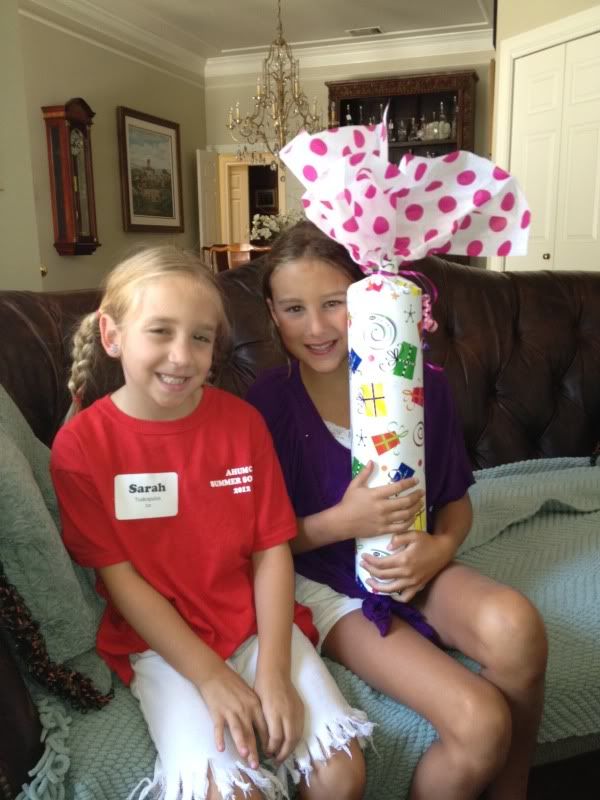 It was a lava lamp.
A lava lamp.
And so now between the beads on her bedroom door and her lava lamp, Caroline is basically living out a childhood rooted in 1968 but with better technology. She wanted to put the lava lamp in the living room temporarily so we can all enjoy it as a family.
It looks just as classy as you would expect.
P was going to be fishing in a tournament on Caroline's actual birthday so we had a little family breakfast birthday celebration on Thursday morning. We got her a new bike because she'd decided she needed a more sophisticated mode of transportation. Please note that this bike doesn't have anything frivolous like streamers on the handlebars. Streamers are for eight year olds.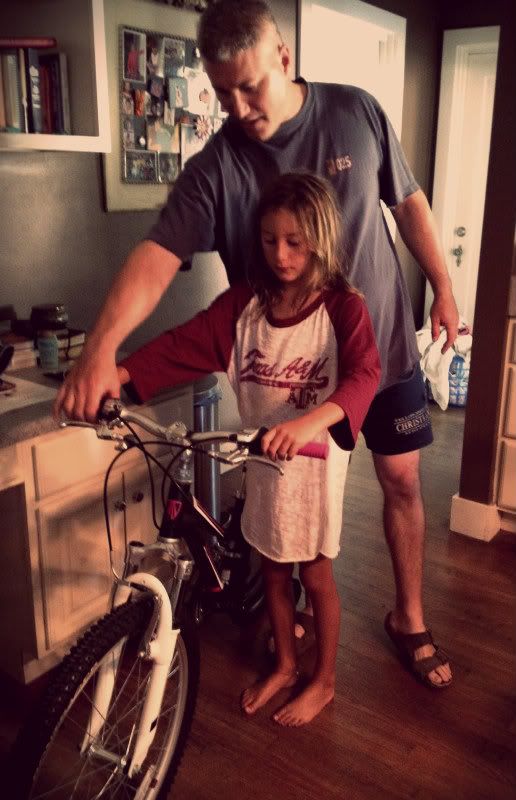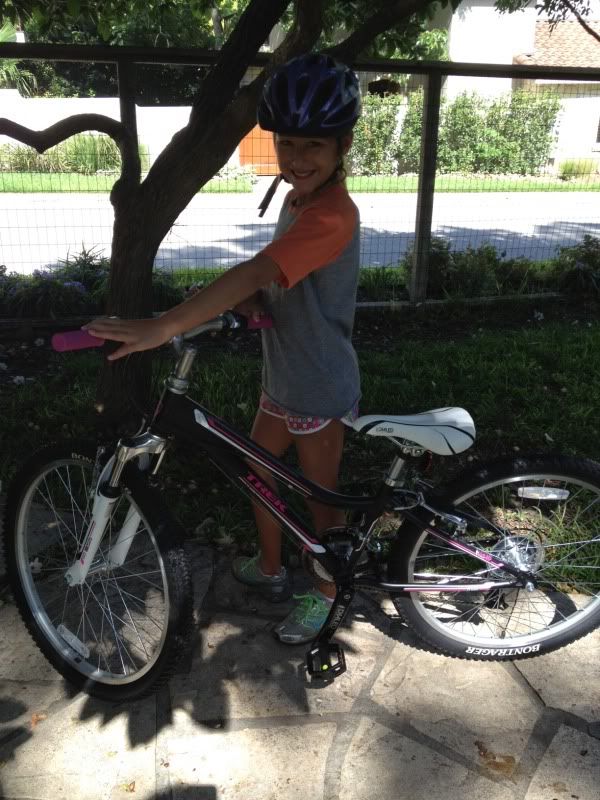 On Thursday we went out the Hyatt Hill Country Resort to spend the night. It was a great place to celebrate a birthday. We all floated the lazy river, ate too many s'mores and stayed up way too late. There was a moment about ten o'clock that night when Caroline wanted me to float with her down the river to look at the moon. It was just this gorgeous full moon and as we floated in that tube together and stared at the sky, I knew it was one of those moments I'll remember forever. Not much is ever perfect, but that was about as close as real life gets.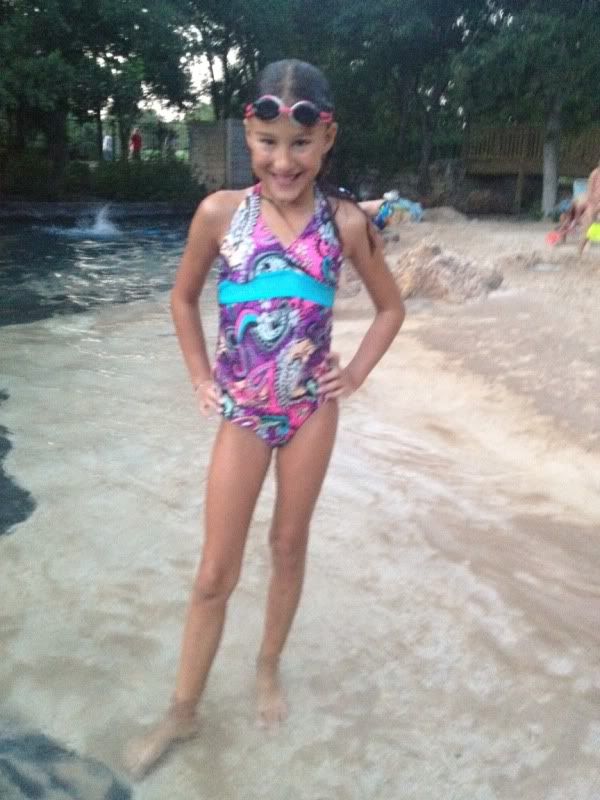 The next morning we ordered breakfast in bed which was a real bargain if you don't consider the U.S. dollar to be an actual measure of currency. And then we spent more time swimming and floating until it was time to head home.
We got home just in time to let the refrigerator repairman in the house to figure out why our fridge decided to hate us on Thursday afternoon. Yes. That's right. The refrigerator and freezer decided to quit working right as we were trying to get out the door. It was super convenient.
Fortunately we were able to load everything into our outdoor fridge and freezer, but there was a gallon of Dreyer's Chocolate and Peanut Butter ice cream that didn't make it.
Let's all have a moment of silence for that perfectly good ice cream that went to waste.
Anyway, the guy was able to fix it. Apparently something called the "relay" broke. I don't know why you need to know that but I had no idea a refrigerator had a relay and figured we'd just blown the flux capacitor. But now if your refrigerator ever goes out you can sound really knowledgable and ask the repairman if he thinks it might be the relay.
You're welcome.
Caroline's Gigi came by and gave her a monogrammed robe for her birthday which has become her favorite new thing to wear around the house. I mean, she pretends it's a karate outfit and practices kicks but at least she looks pretty doing it.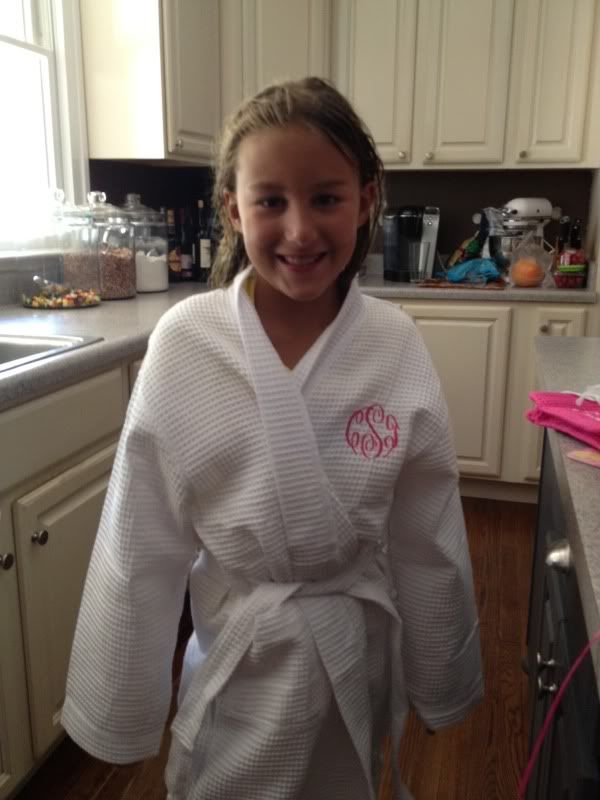 And then Friday night Caroline requested that we go eat dinner at the hibachi grill at Formosa Garden. She'd gone there for a friend's birthday party several months ago and insisted that's where she wanted to go with Mimi and Bops for her birthday. I honestly had low expectations because I don't really like Chinese/Japanese/Thai food, but it was so much fun.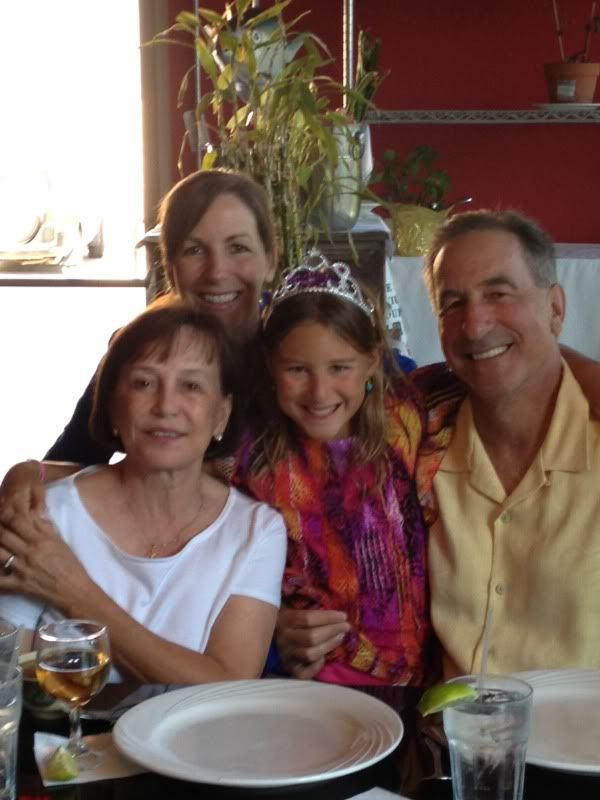 The hibachi chef was so funny, the food was delicious, and we all had the best time. Caroline never quit smiling.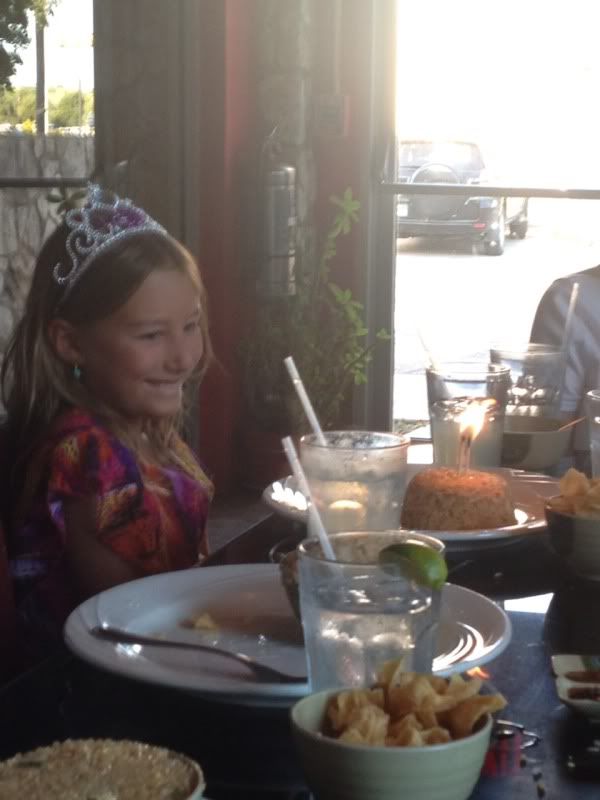 I may want to go back for my birthday and I'm not even kidding. If you live in San Antonio and want to do something fun you need to go to the hibachi grill at Formosa Garden. It was a hit.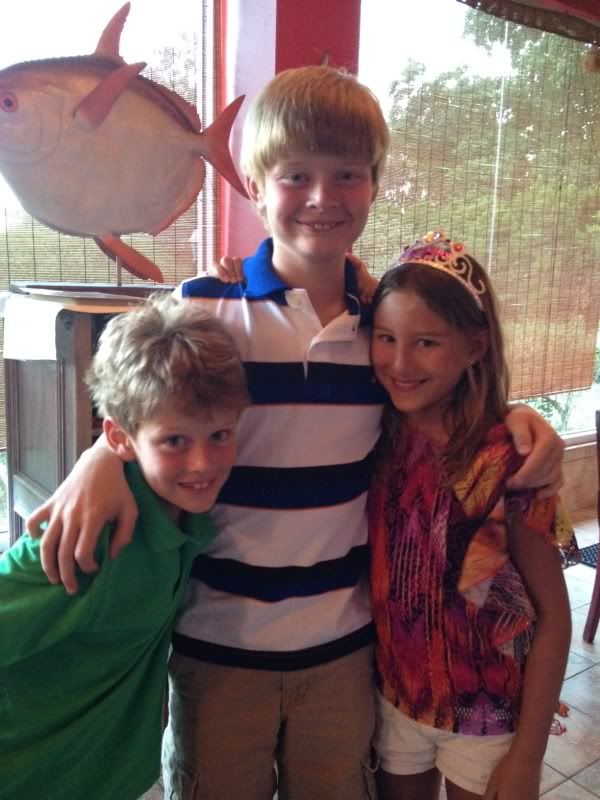 We came back to the house to have birthday ice cream. There was no cake because Caroline has decided she doesn't like cake so we had ice cream instead. Mimi and Bops bought her Guitar Hero complete with a microphone and so we all gathered around the T.V. like the Ingalls family and sang some songs.
Or maybe we were more like the Partridge family but with better pants.
Jackson, Caroline and Will sang a few songs and then Caroline wanted Bops to get up and sing something. Bops replied, "No. Bops doesn't really sing."
She looked at him and said, "Please, Bops?"
And then it was like that SNL skit where Kristen Wiig says, "Don't make me sing" while she's clearly dying to sing. Bops took that mike and proceeded to sing all seventy-four verses of American Pie.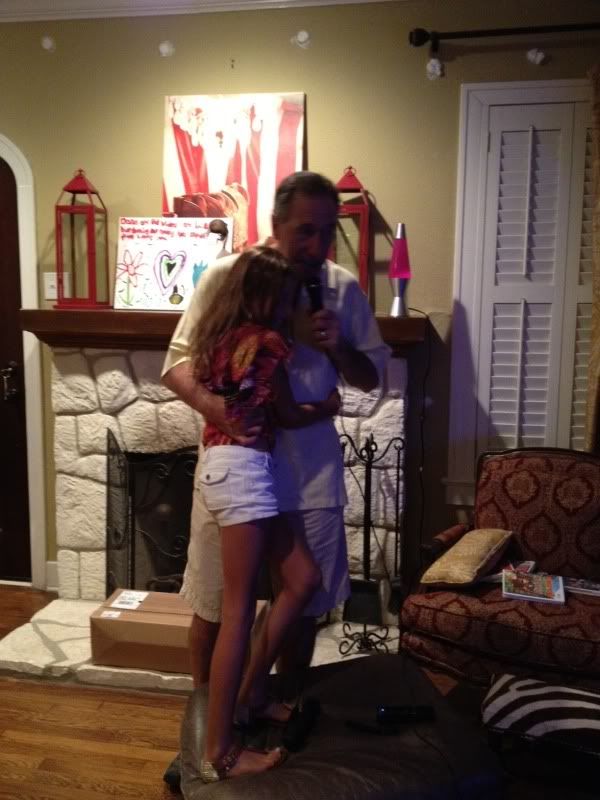 It will go down as one of the highlights of my life.
Which pretty much sums up how I feel about Caroline's ninth birthday.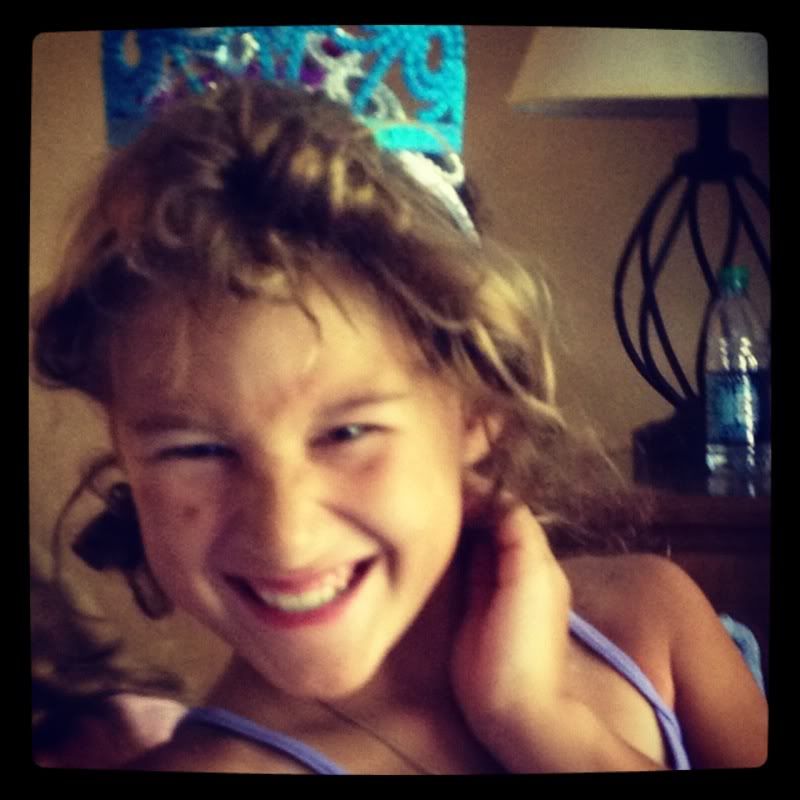 The good news is she feels the same way. On Saturday morning she hugged me tight and said, "Thank you for the best birthday I ever had."
And then she put on her robe, turned on her lava lamp and began to sing Space Cowboy on Guitar Hero.
I might be raising a lounge lizard.
(Yes. Those are holes in my wall. It's a long story that I'll share when I have the strength and/or think it's funny.)
Copyright secured by Digiprove © 2012