Based on the number of photos I just uploaded from my phone, this post is basically going to be like a family album. And given the fact that I took most of the photos and possess limited photographic ability, it will most likely resemble one of those 1970's photo albums with the pages that go "SCRITTTCHH" as you pull back the clear coating to reveal yellowed, blurry pictures of that time your Pa-Pa took you to Kiddie Park.
We had a nice long weekend. Caroline was in the fourth grade school musical on Thursday night and so we all went to watch her perform. The theme was School House Rock and Caroline had a role in the Interjection song where she had to yell out, "OH NO! YOU CAN'T GIVE ME A SHOT DOWN THERE!" and, also, "HOORAY!" I don't want to sound like a stage mother, but I'm pretty sure I smell a Tony nomination.
And then on Friday, we went to go see The Croods in 3D. Here's my quick review: It's about cave people. I was distracted by their enormous bodies and abnormally small feet. I realize the animation folks probably did extensive cave person research, so this is just my own hang up and I tend to have feet issues under the best of circumstances.
After the movie, Caroline and I went on a last minute shopping trip in the hopes of finding her some cute sandals for Easter. I could elaborate on our excursion but I try to avoid profanity on the blog so I'll just say we didn't find any that we agreed on. Which meant she was either going to wear her black casual flip-flops or her black Converse hi-tops with her Easter dress.
Perfect.
She doesn't even know how hard we had it in the 70s with our itchy lace tights and white patent mary janes that always rubbed a blister.
Saturday morning she and P left for a day at the ranch while I got everything at the house ready to host Easter brunch for Mimi and Bops and my sister and her family. I also may have watched some television.
P texted me this picture in the early afternoon.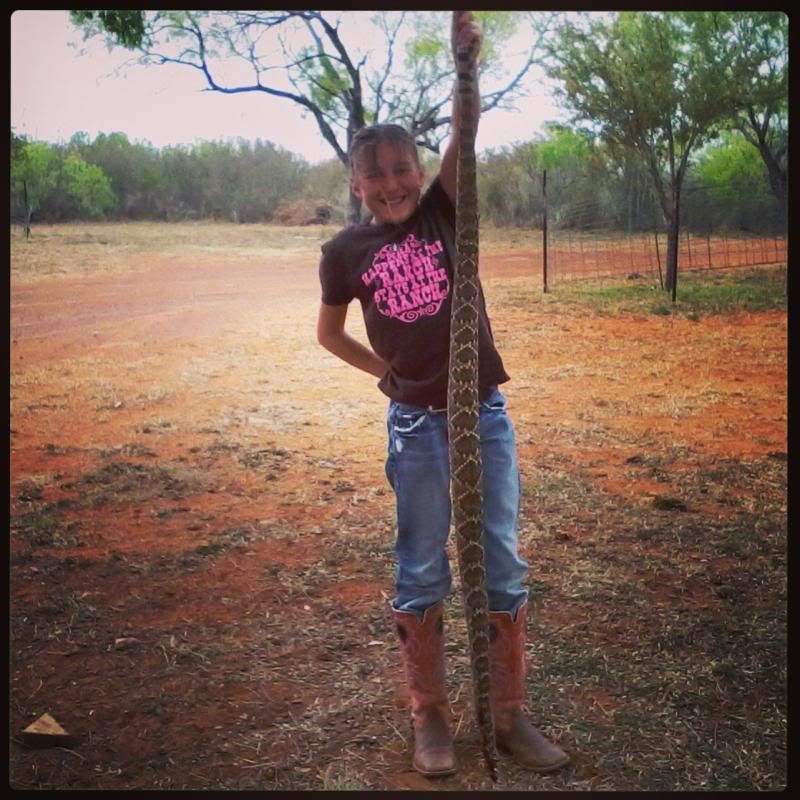 They found it right by the ranch house and Caroline shot it herself. It's too bad we didn't have enough time to turn it into a nice pair of Easter sandals. Timing is everything.
On Sunday morning we all woke up bright and early to see if the Easter Bunny had visited our house. Sure enough, he'd made an appearance.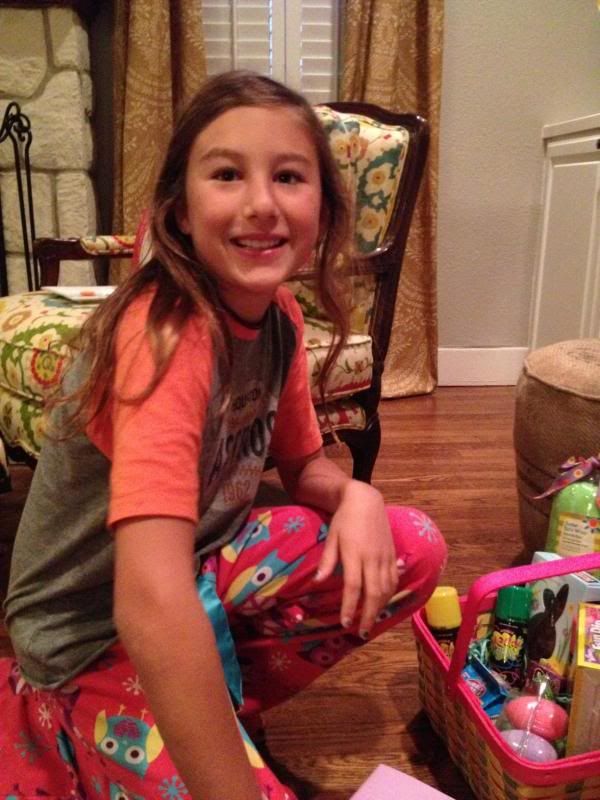 And brought Fun Dip. A pack of 16 Fun Dips to be exact. You'd think the Easter Bunny has never heard about the cost of modern day dentistry.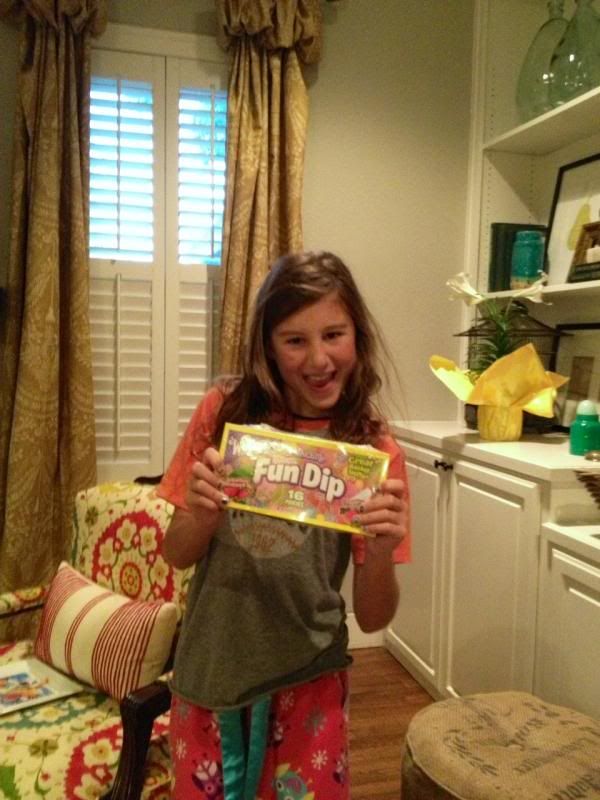 After a few arguments and a possible meltdown (mine) over appropriate Easter Sunday hair, we finally made it to church. And the hair argument seemed silly in light of the fact that it was 158% humidity outside with a nice humid wind. But that's why I'd wanted her to go with the side ponytail instead of wearing it down.
(Really, though. I'm over it.)
We came home and took some pictures because we are almost never all dressed up at the same time and it seems important to capture the moment for posterity.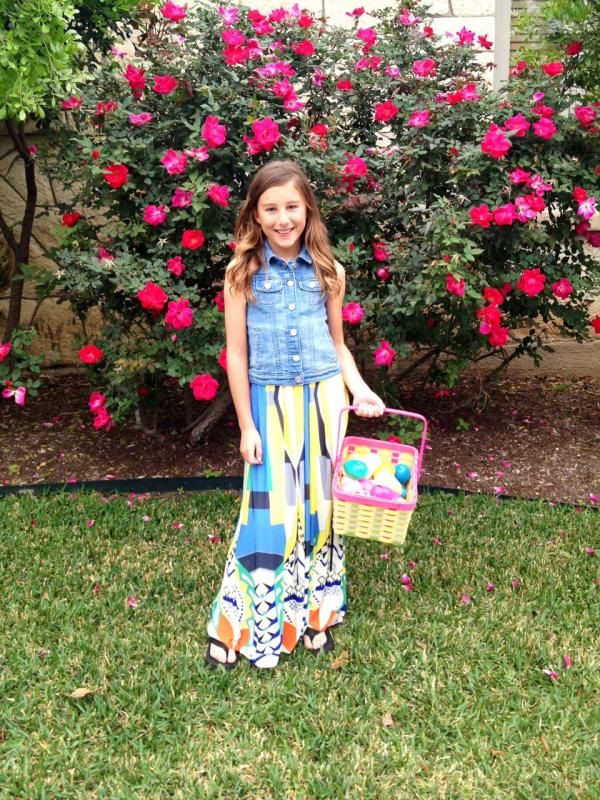 I was so excited about and totally envious of her denim vest. However, I couldn't show my excitement because then she wouldn't have worn it. So instead I just casually mentioned, "Hey. I bought you a denim vest thing to wear over your Easter dress if you want to. Whatever. No big deal."
(Note to self: Use that same strategy the next time we go shoe shopping.)
I just feel bad because Caroline is so uncomfortable in front of the camera.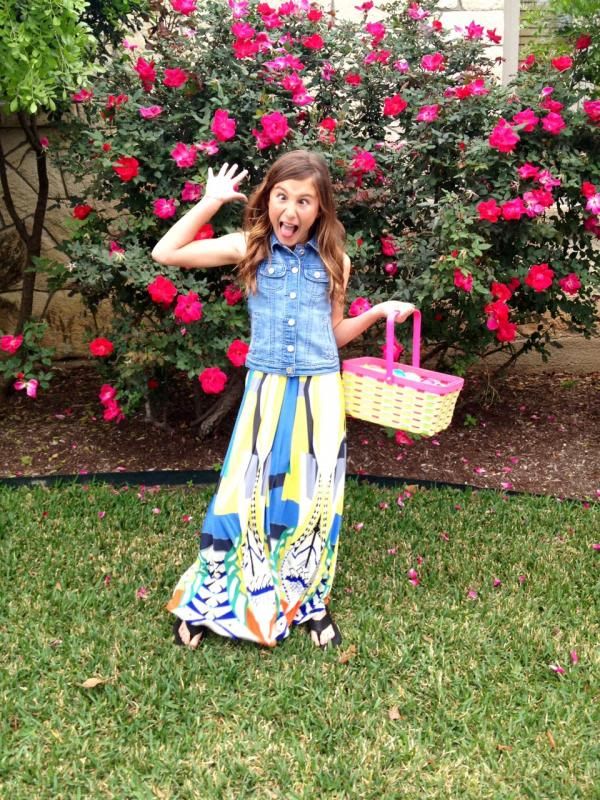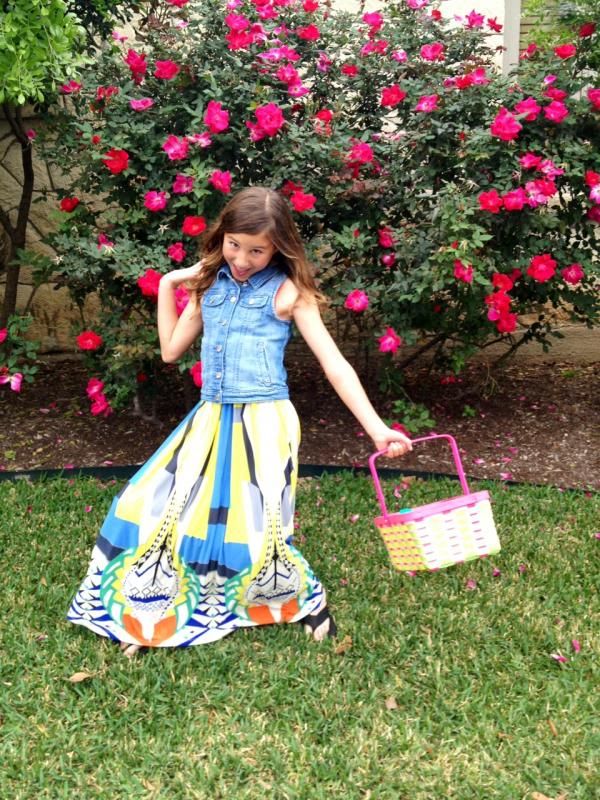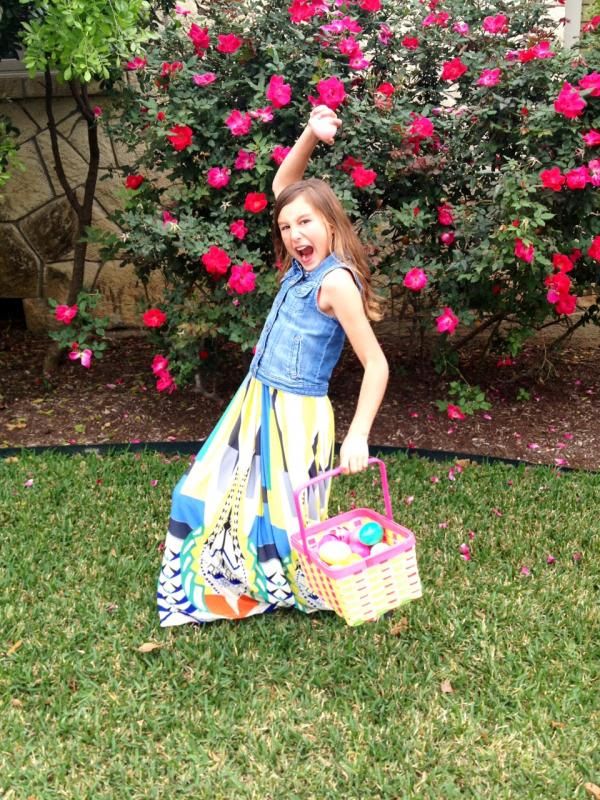 And then there's her mother who chooses to pose as if I need to go to the bathroom really bad. What the heck?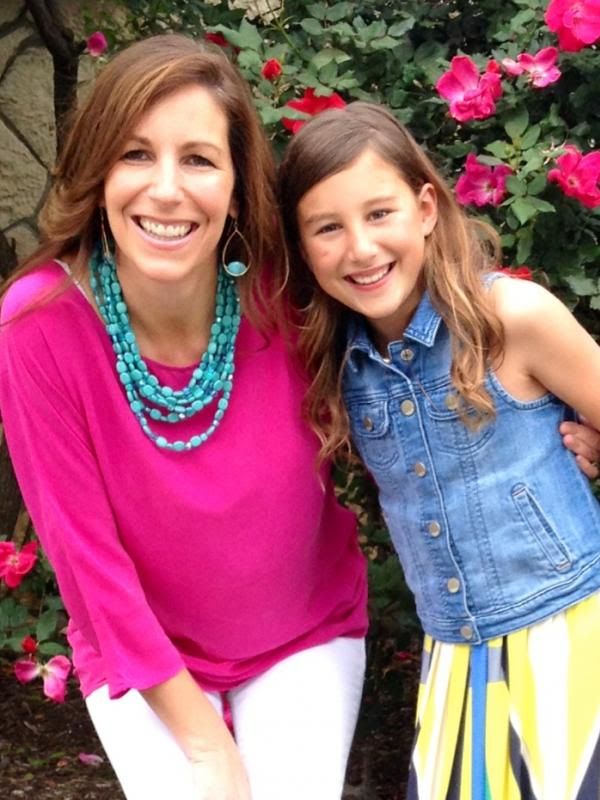 But I love this one of Caroline and P. My Easter peeps. All the love, none of the yucky synthetic marshmallow taste.
Then Mimi and Bops showed up to take a family picture of us.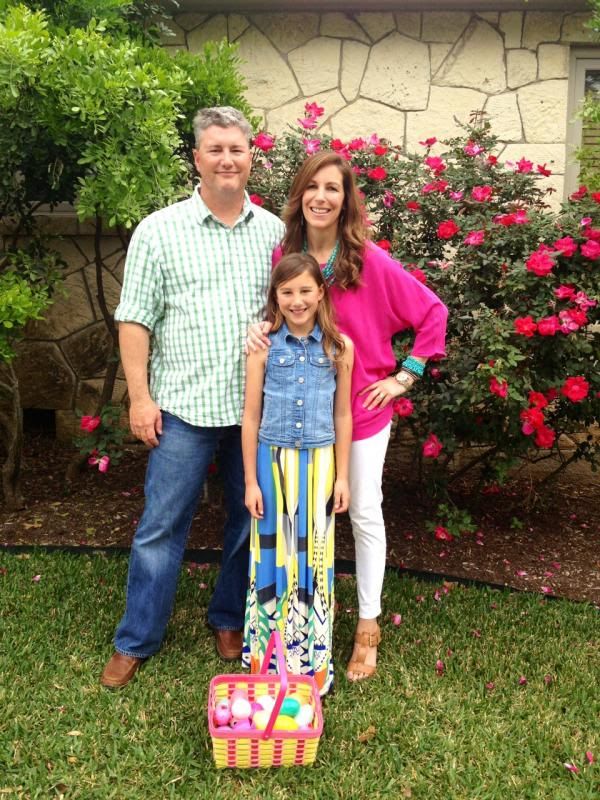 And one with Mimi and Bops.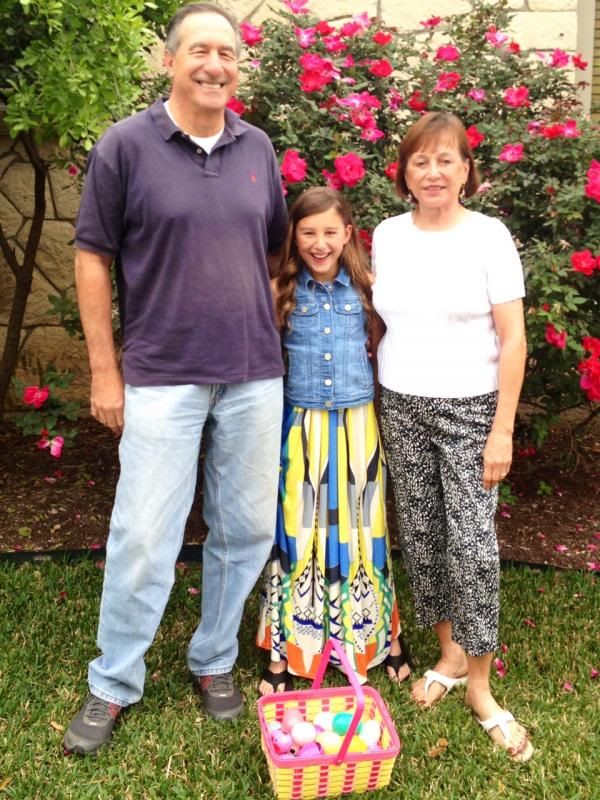 After that we ate Easter brunch and then P and my brother-in-law, Chris, hid eggs outside for a big egg hunt for the kids. I took the next two stellar shots.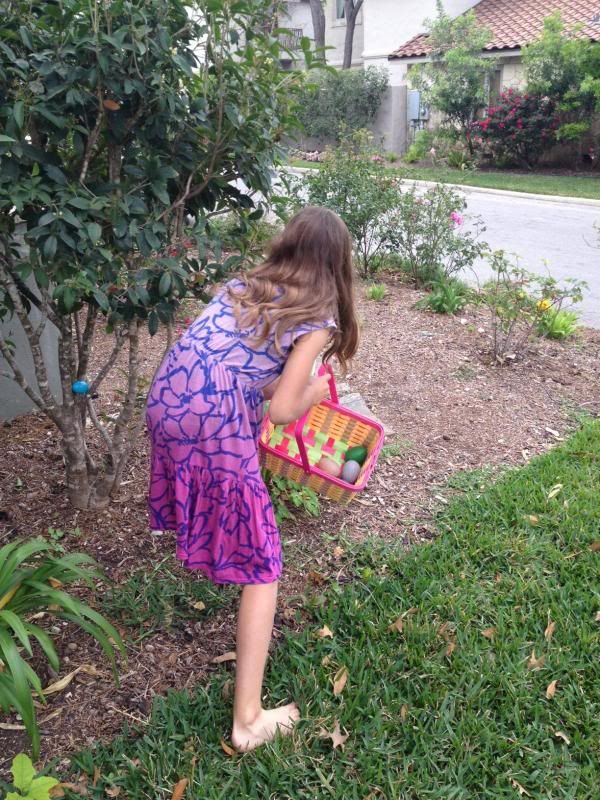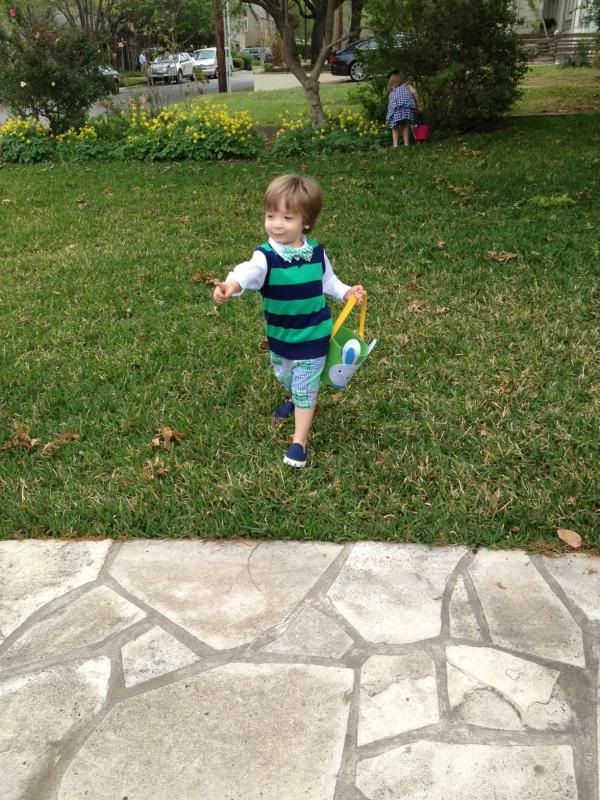 And then my phone camera went dead. Maybe it couldn't handle the cuteness of Luke in his bowtie and vest. That's just my theory.
It's also possible that my phone is HORRIBLE and I really need to take it into the Apple Store but have been procrastinating. And now Gulley is going to read this and ROLL HER EYES because she is so tired of listening to me complain about my phone that she made an appointment for me last weekend. But I had to cancel it because Caroline came home sick from school that day.
After everyone left, I finished cleaning up the cascarones remains and silly string and then sat down to relax and look at everyone's Easter photos on Facebook. That's really when the best part of my day happened. Because I saw on my news feed that my mother-in-law had changed her cover photo on Facebook.
To this: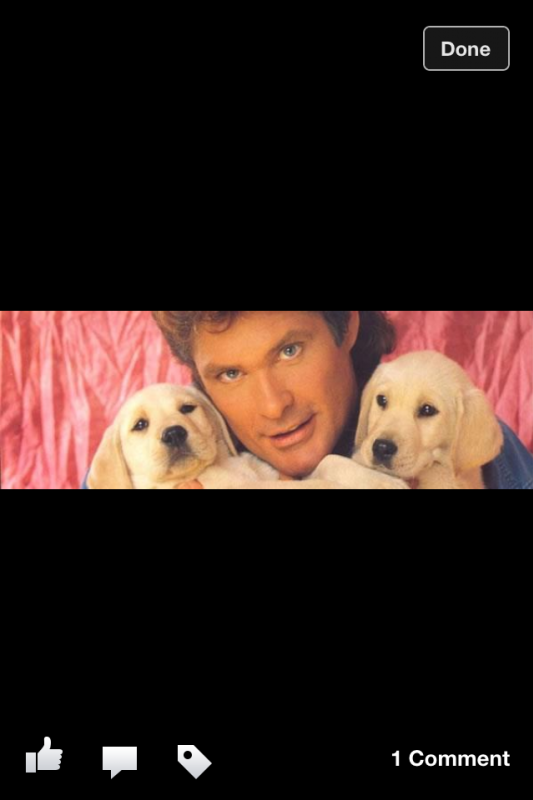 Why yes. That is David Hasselhoff with two lab puppies.
Here's what you need to know. There is no way my mother-in-law made that photo her cover photo. Mainly because she wouldn't know how. And also because she only got on Facebook about a month ago for the sole purpose of keeping up with her children. I'm almost positive this was the work of one of my brothers-in-law. To whom I say WELL PLAYED.
Finally, we watched the sky grow darker and darker the rest of the afternoon and prayed for rain because we desperately need it. And, not only did we get rain, we got hail. Lots of hail. Like I'm pretty sure we might need a new roof kind of hail because it sounded like a herd of horses in tap shoes ran across our roof eighty-five times.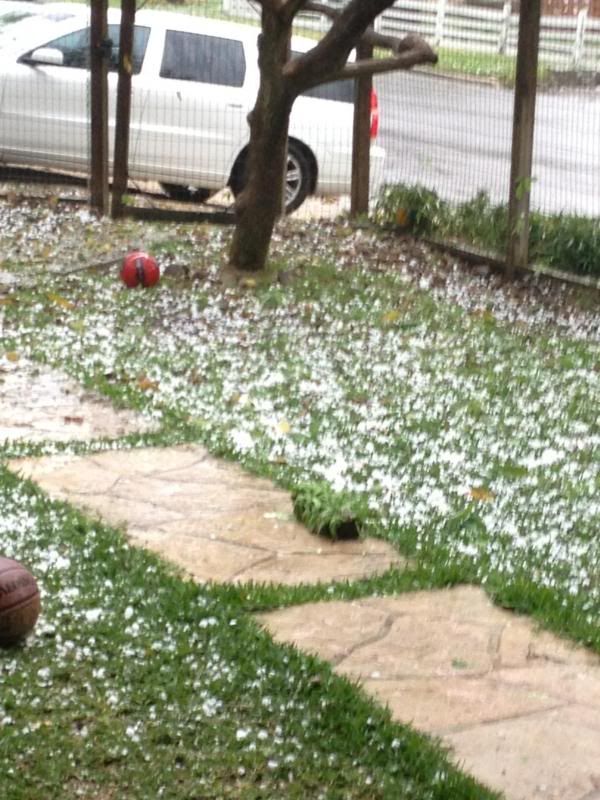 Sadly, that's my car in the background of that picture. I feel bad for it. But not as bad as I feel for my neighbor's Range Rover that was in their driveway across the street.
In the words of my friend Debbi, God busted open the gates of hail on Easter.
I hope you had a good one filled with family, friends, and some of those Sweet-Tarts shaped like chicks and bunnies.
Copyright secured by Digiprove © 2013