First of all, I was totally right about my mother-in-law and Facebook yesterday. She had no idea she now had a cover photo featuring David Hasselhoff and two lab puppies. In fact, she didn't even realize she had her own Facebook page. She just thought she was "on Facebook".
The best part is she only discovered these things after she read the blog yesterday. And then she promptly sent out a group email thanking my brother-in-law for his "computer help".
In other news, I returned to Smart Barre this afternoon for the first time since last Wednesday. The rest of last week got busy and I didn't have time. Not to mention that I could barely get off the couch to drive to the workout studio. There was honestly a point on Thursday night when I wanted to roll over in bed because my right arm was asleep but decided it wasn't worth the pain.
So here's hoping my triceps don't cramp up in the middle of the night tonight. Or my quads. Or anything else that might cause me to yell out in pain and frighten my family and the dogs.
But I have to keep working out because I have discovered a new dessert. Specifically, I have discovered the wonder that is the Cinnamon Roll bundt cake.
Remember several weeks ago when I was lamenting about my bundt cake insufficiencies? I'm sure you do because it was a harrowing tale of sorrow and first world problems involving Pam and falsely labeled non-stick surfaces.
Well, the day I wrote that post I received an email from Shay at Mix and Match Mama. I'd just met Shay about a week earlier at the DotMom Conference in Dallas, but it had escaped me that she is actually the queen of bundt cakes.
It was as if God had brought her into my life at the very time of my deepest bundt cake need. She's like my Queen Esther of bundt cakes. For such a time as this.
Shay said she would love to send me a few things that might be of assistance as I walked through my bundt cake trials and I said, "YES, PLEASE. PLEASE HELP MY FAMILY LIVE TO SEE A PRETTY CAKE AGAIN."
I emailed her my address and a few days later I received a large package in the mail. Or maybe it came UPS. I don't know because details aren't really my thing. Which may actually be the root of some of my bundt cake troubles. 1/2 cup of oil? Eh. Close enough.
Imagine my delight when I discovered the contents of the box included not only a shiny new bundt cake pan, but also a recipe and ingredients for a new cake recipe. And, perhaps greatest of all, an autographed photo.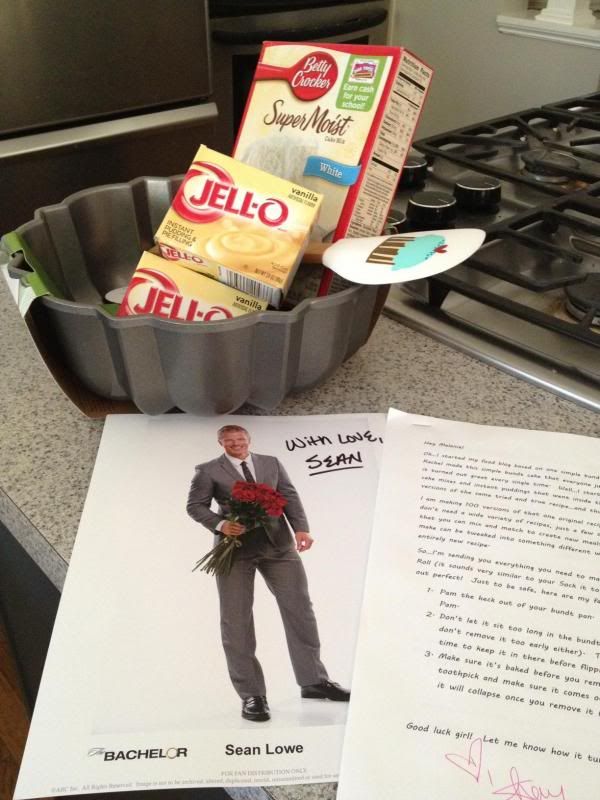 Oh yes. That is Sean the Bachelor. Who happens to be Shay's brother. And, technically, he's not really The Bachelor anymore because he found true love with Catherine in Thailand and they rode elephants and everything.
However, he is on Dancing With the Stars right now. I just thought you should know.
And so I couldn't wait to try this new recipe in my new bundt cake pan with Bachelor Sean and his bouquet of roses to cheer me on.
But then I got the stomach bug. And cake was dead to me for a long, long time. Also dead to me? Any type of fish. And various potatoes. And Chinese food. But the Chinese food isn't because of the stomach bug because I've had Chinese food issues for a long time now. It involves a bad Chinese meal in Durango, Colorado followed by a seventeen hour bus trip home. Let's quit talking about it.
Finally, this past Friday, I felt like it was time to make the cake. I'd even remembered to buy powdered sugar at the grocery store because that's an essential ingredient. So I whipped it all together with Bachelor Sean giving me moral support from where he lay flat on my countertop and then I did the bravest thing of all, I flipped it out of the bunt cake pan onto my cake carrier.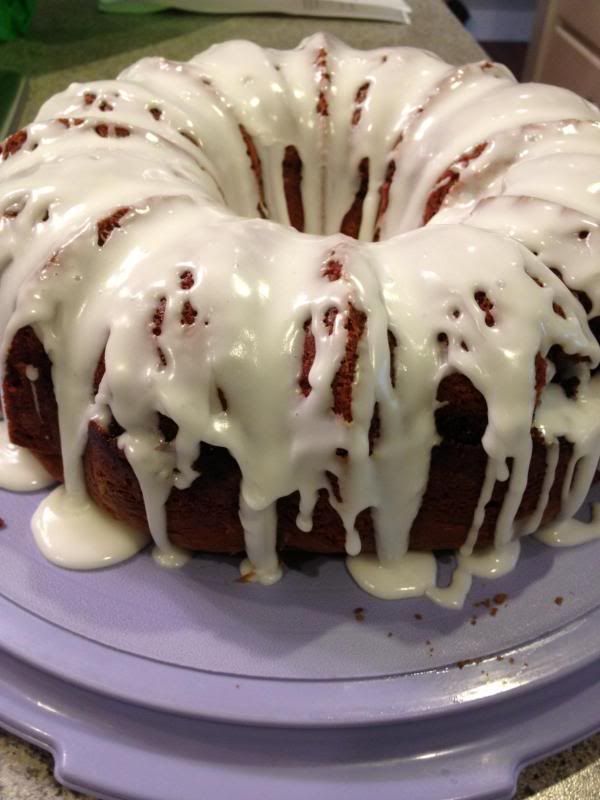 And, lo, it came out in one piece like a good cake should.
Angels sang. Children wept. My bundt cake past had been redeemed.
Then I did an even braver thing and brought it to some friends' house for dessert even though I'd never tasted it and had no idea if it was any good. That's how much I trusted Shay. I mean, how can you not trust a girl who will send you a new bundt pan through U.S. mail or UPS or maybe it was FedEX? Clearly she had my best interest at heart and wasn't going to all that trouble just for me to bake a mediocre cake.
Here's the verdict. There were six adults and two children at our friends' house for dinner on Friday night. And there were exactly two pieces left of that entire cake when we left. It is delicious. Like a big hot cinnamon roll right out of the oven.
And who doesn't like that? Because that sounds like a person I don't want to know for fear we have nothing in common.
So bake yourself a Cinnamon Roll cake today. Or tomorrow. You'll be glad you did. Unless you're allergic to cinnamon. In which case you might want to check Shay's website for some other recipe options.