After spending the weekend in Greenville, South Carolina at the Allume Conference, I flew back into San Antonio. My flight landed at 2:45 and by 3:15 I was sitting on the metal bleachers at Caroline's soccer game. I originally thought I wasn't as tired as I usually am after a weekend away, but then I realized at one point I almost fell asleep sitting up on the bleachers and decided maybe I was perhaps more tired than I originally thought.
Then after the game was over Caroline got in the car and began to recap the weekend. And as she began to talk about the week ahead she mentioned, "Tomorrow is pajama day."
Huh.
So I asked, "Why is tomorrow pajama day?"
"Because this week is Red Ribbon Week at school and we dress up every day. Oh, and I signed you up to chaperone our field trip on Wednesday. And then Wednesday afternoon is the Howdy Parade and Thursday is Halloween. And at some point we need to carve our pumpkins."
And all of a sudden I regretted not taking that brief moment of peace on the metal bleachers to partake in a nap.
So that's what our week has looked like. I neglected to take a picture of pajama day on Monday because, well, every night is pajama night at our house and it's not really a novelty. But here's a picture from Tropical Day which was Tuesday.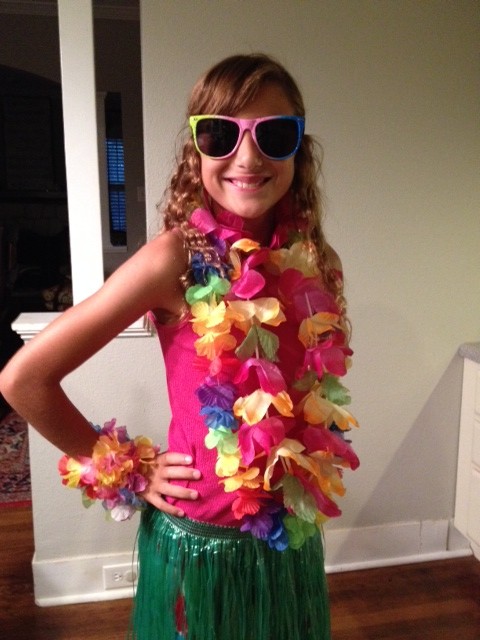 I decided Tuesday afternoon after school would be the best time to carve pumpkins because it was the only afternoon we didn't have anything else going on. And so we carved our pumpkins out in the crisp 85 degree October day with 99% humidity while the flies buzzed all around us. It was just like a scene out of a movie as long as the movie you're thinking of stars Jeff Goldblum.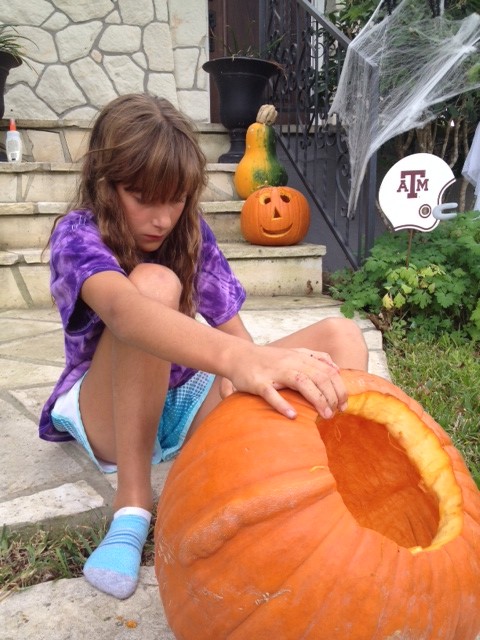 Please note the mosquito spray in the background.
And while we were in the midst of pumpkin carving, Caroline decided our faux spider web and spider in the corner of our front porch weren't quite creepy enough and took it upon herself to add to the decor. She disappeared into the house for a while and when I looked up this is what I saw.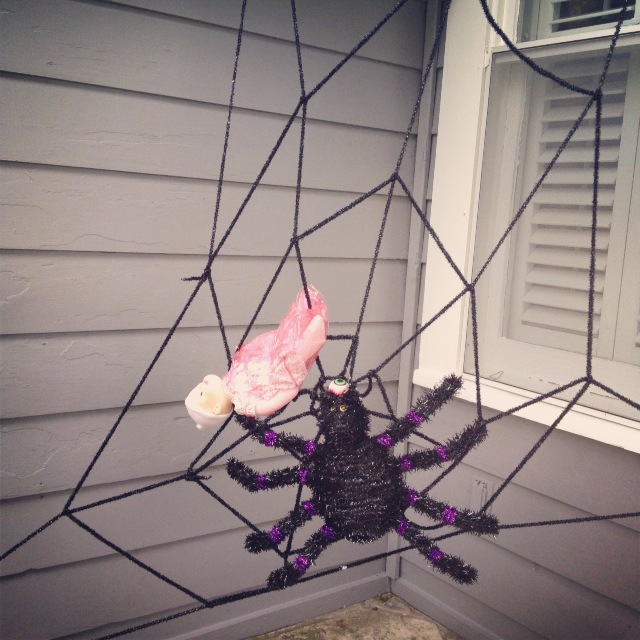 She added a baby to the spiderweb.
And not just any baby. A baby that she first wrapped in Saran Wrap. You know? To look more like it had been caught in the spider's web.
Clearly she doesn't share my dislike of haunted houses and all things remotely disturbing.
She was so proud of her ingenuity. And so that's why the baby still remains in the web. Who am I to take away from that kind of creativity?
On Wednesday morning the Great Halloween Watermelon made an appearance at our back gate.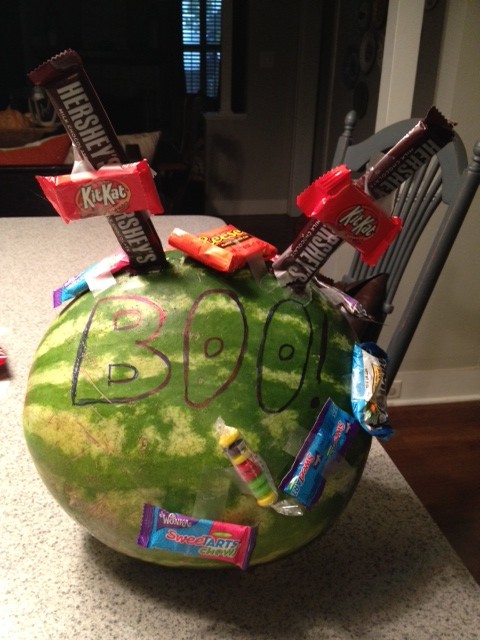 Maybe you're thinking you've never heard of the Great Halloween Watermelon and that's because you haven't. It's a joke my friend Laura started last year after she left a watermelon she'd had since the 4th of July on my front porch for Halloween. Talk about scary.
Then it was time to head off to chaperone the field trip. It was at the Witte Museum and included two presentations on various scientific properties and laws. Something about Isaac Newton and mass and gravity and matter. My biggest takeaway was that fifth graders are goofy as all get out and have energy to burn. Which was why I was glad there was a rock wall for Caroline to climb.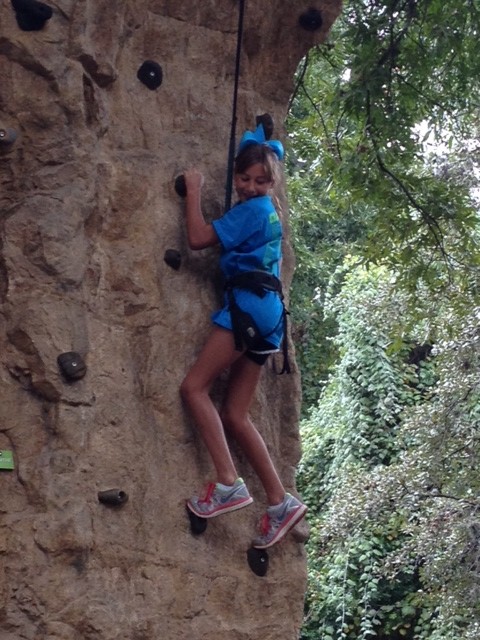 After the field trip I grabbed a quick lunch with one of the other moms and then ran home to change clothes, pick up Caroline from school, get homework finished, feed her a quick snack and hurry back up to the school to walk in the Howdy Parade with all the fifth graders.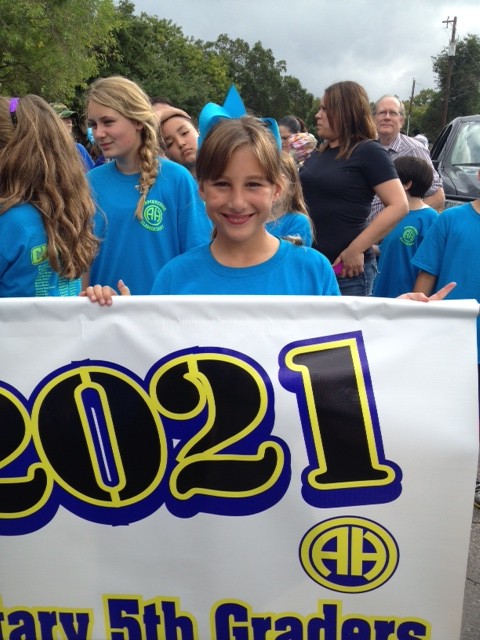 The parade is part of Homecoming Week around here and so all the schools in the district participated. There were kids everywhere. It was like a parade of wet cats being herded, except not as calm. And the whole time the sky threatened to open up and pour down rain. But instead it just hovered around 1056% humidity. My hair has never been flatter.
Now it's time for Halloween. And then it will be time for a nice long nap except we have to be at the soccer fields at 8:00 a.m. on Saturday morning.
And here's the thing. I truly love all this stuff. I wouldn't trade this season of life for anything in the world. I love the dress up days and the parades and Halloween and field trips and soccer games and pumpkin carvings.
But it might be nice if they didn't all happen in the same week.
Copyright secured by Digiprove © 2013