***Comments are now closed and the winners have been chosen using Random.org. I'll be contacting them via email.
Here are your random numbers:
272 56 85
Timestamp: 2013-10-30 13:04:06 UTC
272 – De Anne
56 – Becky
85 – Marissa
Listen. At second glance I realize that title is deceiving. Sadly, I am not giving away the Pioneer Woman today. Although how awesome would that giveaway be? Someone to live in your house who is constantly trying new recipes and cooking new delicious things? I think they might have that in heaven.
But, almost as good, I'm giving away three copies of Ree Drummond's gorgeous new cookbook, The Pioneer Woman Cooks: A Year of Holidays.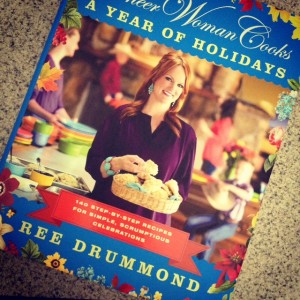 I received an early copy about a week ago and I have already looked through it so many times that it looks like I've had it for years. Of course I have yet to actually cook any of the recipes and we ordered pizza from Papa John's last night, but that's beside the point. I've been busy.
However, I already have big plans for Halloween, Thanksgiving and Christmas after looking at all the recipes, including a Bagel and Cream Cheese Baked French Toast recipe that might change my life. And there's a grilled corn dip that I am absolutely making for the Aggie game this weekend.
And in addition to all the recipes, her cover photo has inspired me to mix purple and turquoise from here on out because GORGEOUS.
Anyway, I love it so much that I wanted to share it with you. It officially releases today and is available at Barnes and Noble online and in their actual stores and on Amazon and probably some other places, too.
But like I said earlier before I began to ramble, I'm giving away three copies today. All you have to do for a chance to win is leave a comment telling me about your favorite holiday food. I will not judge you if it's a starch.
I'll leave comments open until 7:00 a.m. on Wednesday, October 30th and then choose the three winners through random.org. No duplicate comments please. They'll be deleted and make my life hard.
Good luck and happy cooking!
Copyright secured by Digiprove © 2013