For twenty-three Fridays I have dispensed fashion advice to anyone who takes the time to read it.
God bless you for reading, ma'am.
Then I was looking through some old photos the other day and found disturbing evidence as to why I may not be the best person to dole out fashion wisdom.
So, in honor of tomorrow being the big Fashion Fiesta and so many of y'all being worried about baring your fashion souls, I'm going to share some sins from my past.
Because we must look at the fashion past to embrace the fashion future.
Coco Chanel said that.
Actually, she didn't. But she could have.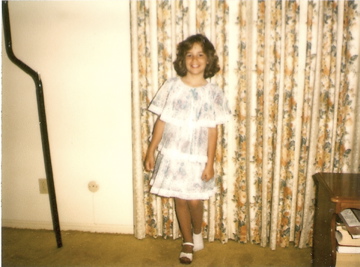 I am nine years old in this picture.
Please note that I am not wearing a sweet, white Yo-Yo on my other foot because it is wrapped in an ace bandage. Although now that I look closer, it's not so much an ace bandage as it is just a footie sock.
So, clearly, SERIOUS INJURY.
"Nurse, we need a footie sock, STAT."
I spent most of elementary school with some sort of bandage on various appendages, not because I was accident prone as much as just a chronic hypochondriac with a touch of drama queen.
It's a shame because that footie sock really detracts from what would otherwise be a stellar look complete with Suntan pantyhose. I mean who doesn't want tiers of fabric cascading down their body creating a triangle configuration that blends in perfectly with some quality 1970's draperies?
By the way, that pole was used to hold up the T.V. in my mama's bedroom.
Because the 70's were a time of technological innovation.
This is my sister and me. Easter 1985.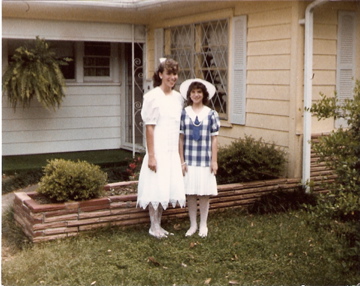 I could talk at length about the influence Madonna had on my dress and lace tights (and I'm not talking about Jesus' mother), but I think the real story here is my sister's hat.
Amy spent most of her childhood wearing some type of hat on her head. In fact, for an entire year of her life she wore a yellow satin nightgown on her head and pretended it was long, blonde hair. She'd even walk around with a brush and demand you style it for her. I can't tell y'all how many hours of my life I spent braiding the sleeves of a yellow nightgown to appease my sister.
That's not strange.
Honestly, looking at those bangs crowning my sick mullet, a hat wouldn't have been such a bad thing.
This next picture is Gulley, my sister, and me.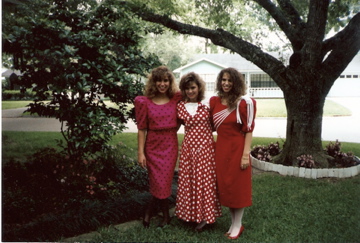 Between the three of us, I feel certain we helped Leslie Lucks fund a European vacation for her entire extended family.
When I first saw this picture I was impressed at how small our waists appear and then I realized whose waist wouldn't look small when you add three times your body's dimensions to your shoulders with foam padding?
Especially combined with hair that has seen more than its fair share of perm solution.
And nevermind that I look more like I'm on my way to some sort of Fandango dance show than Easter Sunday services.
I remember this Easter fondly because Gulley came home with me to spend it with my family. We all went to lunch at Steak and Ale and my Big Bob asked my stepfather to bless the meal.
My stepfather was about halfway through the blessing when my Great Aunt Maddie had a delayed response to the whole event and just yelled out, "OH I THINK THAT WOULD BE GREAT!"
I don't know that I've ever laughed louder or longer at such an inappropriate time.
Well, until I found these pictures.