Welcome everybody, it's finally here.
I'm sure many of y'all had to take a Tylenol PM last night just to help you sleep in spite of all the hype and anticipation.
I didn't need the Tylenol PM, but I do find that a Hunt's Chocolate Snack Pack is the perfect nightcap.
One Snack Pack and I'm all, Buenos Noches, Suckers.
I don't know what I'm talking about. I'm giddy with all the anticipation.
So, I thought long and hard for the better part of three minutes about what my own personal Fashion Fiesta! would look like. I finally decided that I'm going to keep it totally real and show y'all the items of clothing I would most likely have on my body if Ed McMahon were to show up unexpectedly at my door with one of those large checks.
Then, I will show you a few items I would like to go purchase with the aforementioned large check.
Do you hear me Ed? I'm here waiting. Waiting for my oversized check and the girl with the balloons to show up at my door.
First up is what I like to call the parade of t-shirts.
The observant reader will notice these are all college baseball t-shirts. Part of the reason for this is that I like baseball and part of the reason is that I received each of these t-shirts FOR FREE IN COLLEGE while I was a Diamond Darling for the Aggie baseball team.
For those of you playing at home, that means, at the very least, they are all over fifteen years old.
Clearly I am not one to quit on a garment just because it has a little wear. Or because it has SWC Champs 1993 on the sleeve, which is the equivalent of a neon sign declaring I am old.
But let me say a few words about these shirts. First of all, kudos to the cotton industry because WELL DONE, MY FRIENDS. You have created some superior garments that have withstood almost two decades of continuous wash and wear. And while they have all seen better days, there is nary a hole in any of these shirts.
And also, the Duke baseball shirt used to belong to Gulley but I either stole it from her sometime back in 1994 or she gave it to me. I'll never give it back because it has become a part of me even though I'm not necessarily a Duke fan or really know anything about their baseball program.
Although I hear their basketball team is decent.
Next up.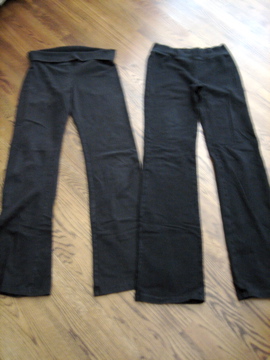 Yoga pants.
Y'all didn't think I just wore those t-shirts did you?
These are my beloved yoga pants. Looking at this picture either one of these pairs is too short or one is too long. Clearly, both are way faded and in need of replacement but we had a nice, cozy winter full of good times.
So, now that it's hot enough to put the yoga pants out of their misery, what's my casual go to?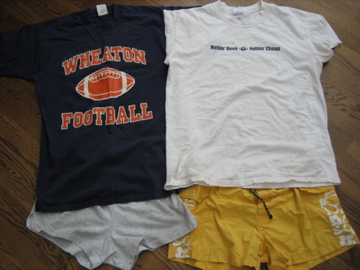 Oh yes. The gray Soffe brand shorts favored by cheerleading squads all over America and some bright yellow Abercrombie shorts that I brought on my honeymoon. Ten and a half years ago.
Those are my backup t-shirts for when I grow tired of the baseball shirts because a girl needs options.
Next up, is what I wear when I'm actually in public doing something other than dropping Caroline off at school or hosting a hobo convention.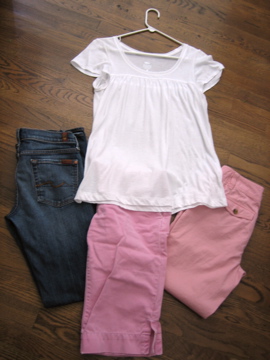 I bought that white shirt at Target and it is so comfortable, but it looks cute with my variety of pink bottoms and also with my jeans. It works for trips to the HEB, childrens' birthday parties, and going out to lunch.
Here's my other option.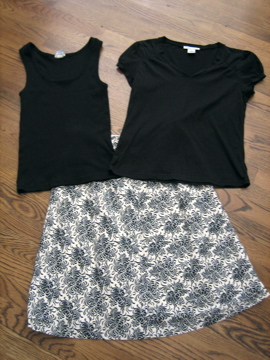 This works well for when I get to the point in the summer where it's so hot I'd like to just take off my skin and sit in front of an oscillating fan. I adore the skirt option and have a closet full of cotton skirts in various colors and prints.
I highly recommend the cotton skirt with tank or tee option depending on your comfort level in baring arms.
As for shoes, I have two different levels of footwear.
Cute shoes.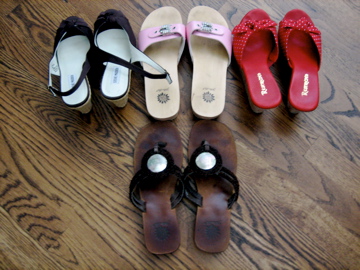 Practical shoes.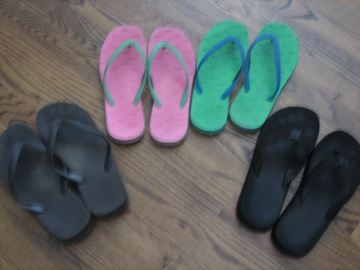 I will wear those black Reef flip-flops until there is a three-inch deep outline of my foot or the straps break, whichever comes first. They are the Hunt's Snack Pack of my shoe inventory.
Comforting and will never let me down in my time of need.
I hesitate to even show y'all this last item because I don't want to cause anyone to stumble in the tricky area of coveting what belongs to your neighbor.
If you are in fact now wondering how you yourself could acquire such a fine garment, then let me just go ahead and let you know it's not possible.
Unless you can find a time machine to take you back to Old Navy for the summer of 2002.
And if you want to know how much I wear them, then I'll confess that I had to pull them out of the dirty clothes to take this picture.
Remember how when you were in 8th grade and your Guess overalls were dirty and you'd beg your mom to please wash them because life would not be complete until you had your Guess overalls back in your closet, clean and ready to wear?
That's how I feel about these shorts.
So, if Ed McMahon were to show up at my door and I could purchase a new summer wardrobe I'd probably buy these outfits. And these.
And this skirt.
So, you know, the entire Boden catalog.
I'd also throw in a few things from Anthropologie. Including this shirt.
Oh, and these shoes from Nordstrom.
But I still wouldn't give up my baseball t-shirts and my Old Navy shorts because you can't buy that kind of comfort anymore.
Except at your local Salvation Army.
I can't wait to see what y'all have to share. Just make sure you leave the link to your specific blog post down below. If you don't know how to link to a specific blog post, then go read this. I'll close the Mr. Linky at midnight on Monday, April 13th and announce the winner of the new blog header on Monday morning.
Viva fiesta and Happy Friday, y'all!