I didn't even mention daylight savings time yesterday.
It's not that I don't appreciate gaining an hour. Because I do. I totally do. I just don't really understand the point of the whole thing. We are no longer a nation made up of farmers who need more or less daylight or whatever the original intent. But like so many other things in life, the government doesn't seem to realize that the earth being tilted on its axis as it rotates around the sun really takes care of the whole daylight issue and God doesn't really need Congress to keep the clock straight.
And then last night I dropped Caroline off at soccer practice at 6:00 and ran to Target and I felt like it was the middle of the dadgum night. I walked the aisles at Target and wondered about all these nightowls that were out roaming the streets at the ungodly hour of 6:25 p.m.
To add to all this disconcertment, I noticed something else as I drove back through the neighborhood to pick up Caroline from practice. Inflatable turkeys. Enormous inflatable turkeys in several front yards. Is this a thing? Are we doing this now? Because I don't know that I'm equipped to live in a world that requires Thanksgiving yard decorations.
It was bad enough when people began to put up orange lights and spider webs at Halloween. I gave into that madness but I'm drawing a line in the sand with the turkeys. This is not what the Pilgrims had in mind.
In other news, I have a confession to make. When I wrote yesterday's post I hadn't actually taken those clothes to Goodwill yet, although everything was bagged up and ready to go. I just ran out of time on Sunday afternoon and planned to take them yesterday.
But then someone left a comment yesterday morning on my Facebook page suggesting that maybe I shouldn't get rid of the Texas A&M Football '94 sweatshirt because the Aggies beat LSU in Baton Rouge in 1994 and maybe that sweatshirt would bring us good luck as the Aggies head back to LSU on November 23 this year.
And this is just the kind of crazy logic and superstition I buy in to. Like Coach Sumlin might need me to wear that sweatshirt on November 23 to ensure an Aggie victory. Of course he does.
However, I like to pretend these kind of crazy thoughts haven't taken up residence in my brain so I kept the sweatshirt in the Goodwill bag all afternoon and only thought about it occasionally.
Until I got this text from my dear friend and college roommate, Jen: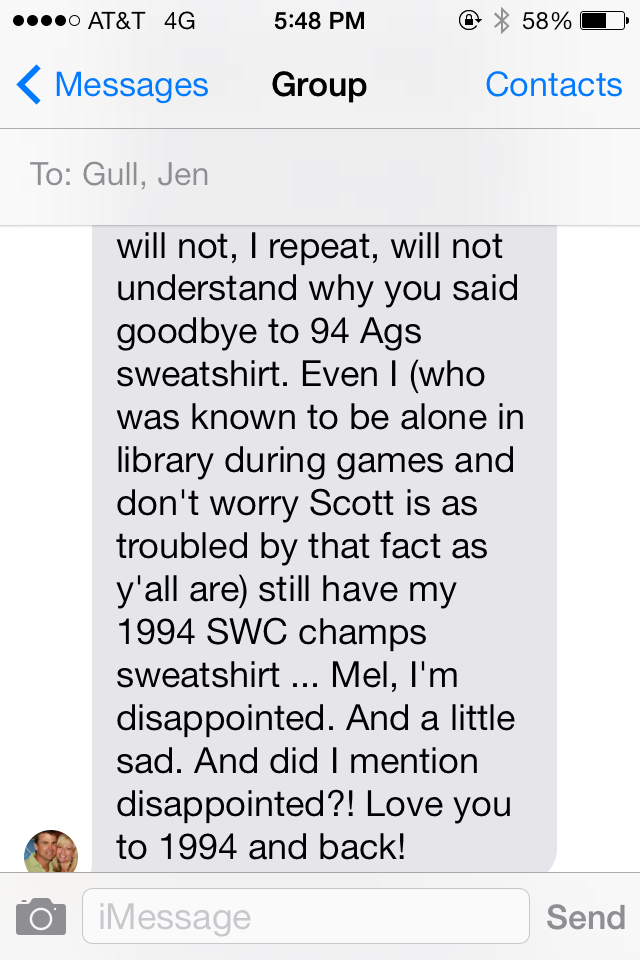 Well that felt like a gauntlet had been thrown. A sure sign that I had almost made a tragic mistake. So I texted Jen and Gulley back: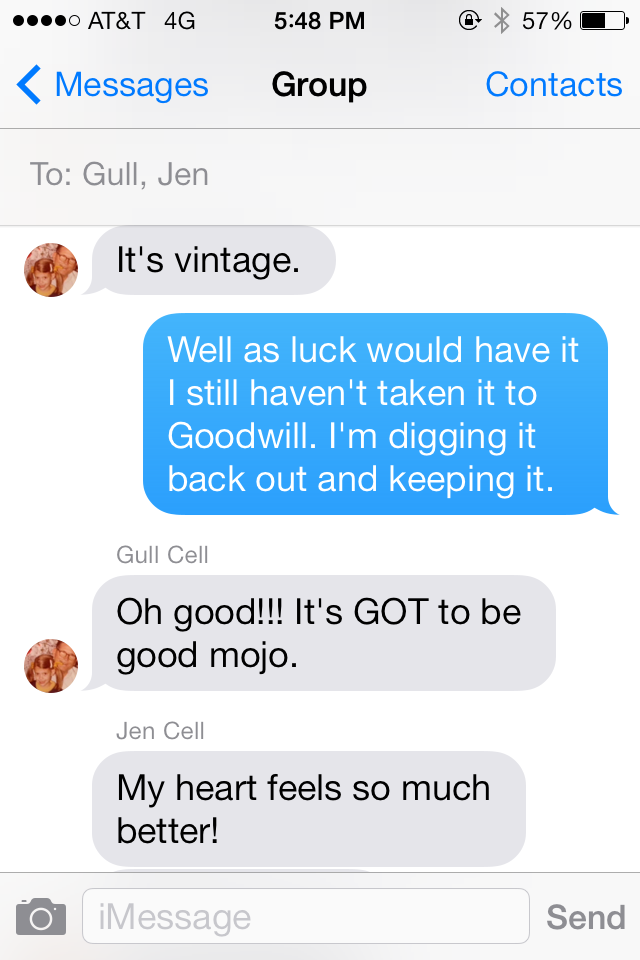 And included this picture:
Adding to the already clear signs that I was supposed to keep the shirt was the revelation that 94 happened to be DaMontre Moore's number until he left for the NFL after last season. For those who don't know, DaMontre was a phenomenal defensive end for Texas A&M and also known as DaMonster. And so if I were to ever wear that sweatshirt out in public I could totally claim it was a retro-chic tribute sweatshirt to DaMontre and certainly not the year I graduated from college.
Immediately, my twenty year old sweatshirt became cool again. Even though my enthusiasm was dampened slightly when I googled DaMontre to make sure I spelled his name right and discovered he was born in 1992. Which means a player now playing in the NFL is only two years older than my Aggie sweatshirt.
But I still absolutely plan to wear it on November 23 just in case Johnny Manziel and Coach Sumlin need a little help beating the Tigers.
Even though I'm a little concerned those enormous sleeves are going to get in my way while I cheer the Aggies on to victory.
Copyright secured by Digiprove © 2013