I bet y'all thought when I said I'd be back later with a post that I meant later that same day.
And that is what I meant but then I filled up my day by sitting on the couch and staring into space.
But in my defense, I needed some sitting and staring time because this weekend was filled with muchas activities. It's all part of my master plan to ensure that someday when Caroline writes her memoirs that I'll get a shout out for making sure her life always included plenty of funnel cakes and face paint.
Fiesta, for those of y'all who know not of what I speak, is essentially a ten-day party held in San Antonio every year during April. I'm not sure of all the history and stuff because I don't really care.
It just involves stuff like real-live fake royalty and a lot of parades.
I grew up in Beaumont and all we had was the Neches River Festival which is basically Fiesta's poor cousin. On crack.
Oh I kid. The Neches River Festival is every bit as lovely as the Neches River itself.
Friday night we went to what used to be just a little neighborhood carnival with plenty o' fun for the kids. You know, the type of place where you can drop $80.00 on bounce castles, a pony ride and some face paint, all the while eating carny food that will boost your cholesterol well into the 300's.
Good times.
I'll have the sausage stick with a Lipitor chaser.
However, over the years the little neighborhood carnival has developed the tendency to turn into a singles bar gone wrong after 8 p.m., so our strategy is to get there when the doors open at 5:30 and leave as the increasingly over-tan crowd in skimpy tank tops show up.
And that's just the men.
But we still go every year because the carnival holds special meaning for P and me because it was at this same event eleven years ago that he watched me serve fountain drinks to the throngs of people and knew without a doubt that he was ready to propose to me within the week. So we attend every year for the nostalgia factor.
And the funnel cakes.
And the brisket tacos.
We promised Caroline she could get her face painted and with that accomplished we headed home before the meat market was in full swing.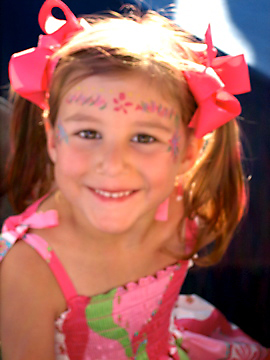 Oh look! We also won a baby while we were there.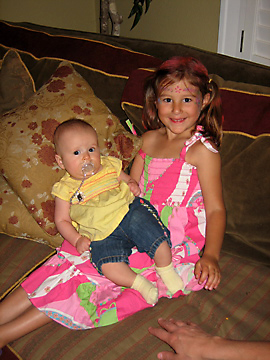 Not really, but that would have been cool. She belongs to our friends, W and E.
We spent the rest of the evening sitting on our back porch with some of our friends listening to the huge party our neighbors were having behind the walled fortress that used to be Tillie's house.
No kidding. They built a wall. To ensure they don't have to see the neighborhood.
I'm pretty sure it was our faded Little Tikes slide that pushed them over the edge.
Anyway, on Saturday morning Caroline was up before the sun in spite of being up way past her bedtime the night before.
In spite of a Saturday filled with meltdowns brought on by exhaustion, we still had to attend a birthday party for one of her classmates. The whole party was a Longhorn theme with instructions to wear your favorite game day apparel.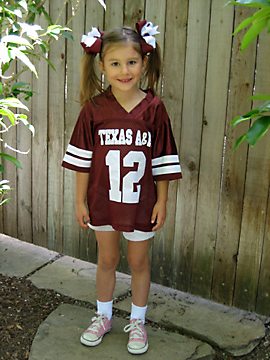 It is our job to spread light to a dark world.
Finally Sunday arrived and we spent the evening with some friends at another Fiesta event that involved the best homemade gorditas I have ever had, several bounce castles, and even more face painting.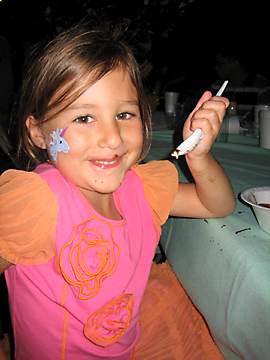 Oh! And fireworks!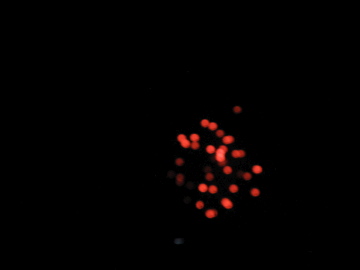 They were much better in person than in that showcase of my limited photography skills.
Caroline was in absolute awe of the fireworks until she decided it was more fun to roll down the hills on the golf course. And really, what's better? Chinese manufactured pyrotechnics or the thrill of getting dizzy while getting grass stains all over a cute skirt that will never be the same again?
Then, mercifully, the weekend was over.
Yesterday morning, Caroline actually slept until 8:20 and woke up just in time for me to quickly get her dressed for school. I knew she was tired because she let me pick out her outfit and comb her hair without a fight.
But as I dropped her off at her classroom, I realized how tired I was from the weekend because I'd sent her to school with half a unicorn still on her face.
Viva fiesta.