It's Fiesta time here in San Antonio which means that we've had a really busy weekend and I've eaten more than my share of fried foods on a stick.
In fact, we had a late night last night filled with fireworks, homemade tortillas, and Mariachi bands.
So, I'll be back later with a real post but in the meantime who wants to know how to make Chicken Cakes?
You do. I promise you do.
Even if you don't think you do.
Plus, I promised my dear neighbors that I'd post this recipe on the blog because they let me borrow an egg. Without that egg there would have been no chicken cakes last Tuesday night.
And our home would have been filled with much weeping and sorrow.
Thank you Jana and Bill for that egg. My family is indebted to you for saving us from a fate of Hamburger Helper.
Chicken Cakes with Remoulade Sauce
2 tablespoons butter
1/2 medium size red bell pepper, diced
4 green onion, thinly sliced
1 garlic clove, minced
3 cups chopped cooked chicken (I buy Tyson roasted chicken because I believe I've mentioned I cannot deal with raw chicken without a resulting need for extensive therapy)
1 cup soft bread crumbs (I use Progresso bread crumbs with Garlic and Onion)
1 large egg, lightly beaten
2 tablespoons mayonnaise (you can use light or fat free)
1 tablespoon Creole mustard (or stoneground mustard if you can't find Creole)
1 tsp. Creole seasoning (like Tony Chachere's)
1/4 cup vegetable oil
Remoulade Sauce (recipe follows)
Melt butter in large skillet over medium heat. Add bell pepper, green onions and garlic. Saute 3-4 minutes or until vegetables are tender.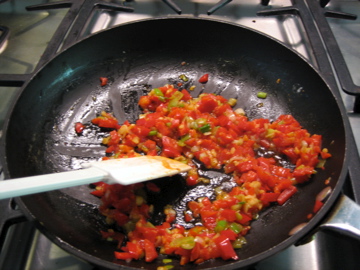 Stir together bell pepper mixture, chicken and next five ingredients. Shape mixture into 6-8 patties depending on the size (you can also make mini-patties to serve as hors douerves)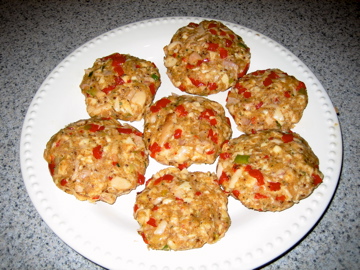 Fry 4 patties at a time in 2 tablespoons hot oil in a large skillet over medium heat 3 minutes on each side or until golden brown. Drain on paper towels. Repeat until all patties are cooked. Serve immediately with Remoulade Sauce.
And here's where I'd show y'all the finished product, but I ate them too fast and forgot to take a picture.
Remoulade Sauce
1 cup mayonnaise
3 green onions, sliced
2 tablespoons Creole Mustard
2 garlic cloves, minced
1/4-1/2 tsp. ground red pepper
Stir together until well-blended.

And if you have leftovers the next day, put some remoulade sauce and a chicken cake on some toasted bread.
You will be so glad you did.