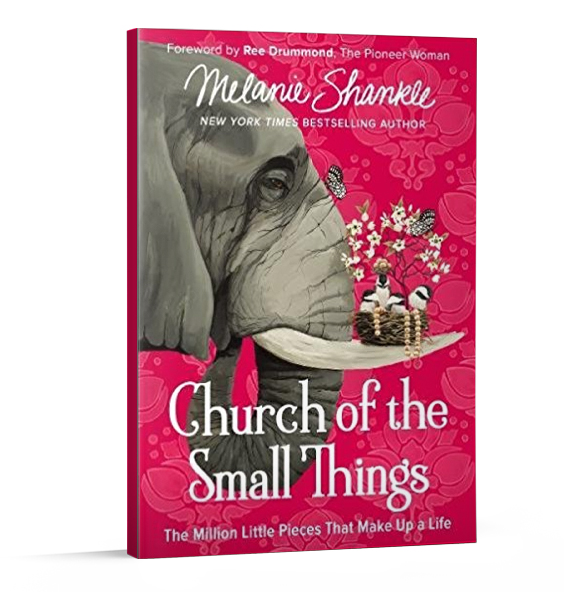 Church of the Small Things
Is my ordinary, everyday life actually significant? Is it ok to be fulfilled by the simple acts of raising kids, working in an office and cooking chicken for dinner?
Book Description
What do cooking dinner, driving sugar-buzzed junior high girls to a soccer tournament, and being nice to that coworker who perpetually gets on your nerves have to do with making a lasting impact? In Church of the Small Things, Melanie Shankle reminds us that God does extraordinary things in our most mundane moments of faithfulness. Through her hilarious reflections on being a mom, wife, and writer, Melanie helps us embrace a meaningful life as we find the beauty and the laughter that lie right beneath the surface of every ordinary, incredible day. God uses the smallest acts of faithfulness to love and influence the people around us—and sometimes that looks a lot like packing sandwiches for lunch, working in a cubicle, or playing tea party one more time even though you feel like gnawing your arm off.
Melanie Shankle knows what it's like to get so caught up in wanting something to take our breath away that we lose our amazement for every breath we take. In Church of the Small Things, she invites us to view our daily tasks as the holy and precious callings they are. As we see how real life meets eternity every day, we can let go of the pressure to experience big moments and delight in the small ones instead—even those peanut butter sandwiches.
---
Video Based Study
In this six-session study video-based Bible study (DVD/digital video sold separately), bestselling author and popular blogger Melanie Shankle speaks directly to the heart of women of all ages who are longing to find significance and meaning in the normal, everyday world of attending class on their college campus, driving carpool to soccer practice, cooking a meal for their family, or taking care of a sick loved one. There's a quote that says "Life is not measured by the number of breaths we take, but by the number of moments that take our breath away." And the pressure of that can be staggering, as we spend our days looking for that big thing that promises to take our breath away. Meanwhile, we lose sight of the small significance of fully living with every breath we take. It doesn't matter how old we are or what kind of work we do, we've all wondered at times, "Does my life really matter? Do the everyday events and messy moments make any kind of difference? Is it okay to be fulfilled by the simple acts of raising kids, working in an office, and cooking chicken for dinner?" In each session Melanie uses humorous stories told in her signature light-hearted style to offer women the grace to embrace what it means to live a small, yet incredibly meaningful life and how to find all the beauty and laughter that lies right beneath the surface of every moment.
---

Melanie Shankle writes regularly at The Big Mama blog and is the New York Times bestselling author of three previous books, including Nobody's Cuter than You. Melanie is a graduate of Texas A&M and loves writing, shopping at Target, checking to see what's on sale at Anthropologie, and trying to find the lighter side in every situation. Most of all, she loves being the mother of Caroline, the wife of Perry, and the official herder of two wild dogs named Piper and Mabel. The five of them live in San Antonio, Texas.
Media
For press inquiries regarding Church of the Small Things,
please contact Jennifer at [email protected]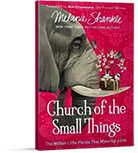 buy church of the small things now
BUY NOW