You will be glad to know that I took some regular cough medicine on Sunday night and slept the sleep of angels. There was nary a squirrel nor a fishing pole in my dreams.
I was so relieved because Sunday was actually kind of a long day. Caroline's soccer team had a game in Victoria, Texas at noon. And in case you're wondering where Victoria is located, I'll tell you. Head straight to the middle of nowhere and then drive about 100 more miles. Like P said on the way there, we must have passed by at least 35,000 other soccer fields we could have played on that would have been a little closer to home. It's not like you have to drive hours away to find girls' soccer teams. We are living in a post-Mia Hamm world. Girls' soccer is everywhere.
But that was what was on the schedule and so we drove three of the soccer girls, including my friend Laura and her daughter Emily. And it was when we arrived at the fields in Victoria (Did I mention it was hours away?) the other little girl in the car realized she'd left one of her soccer cleats at home.
This proves to be very inconvenient when you're supposed to play soccer.
Fortunately we realized she wears a size shoe that is at least in the neighborhood of my size 8 foot and so I let her borrow my Nike tennis shoes for the game since she plays goalie and could get away with not wearing cleats. In turn, she let me wear her Adidas slides. Which is how I ended up sitting on the sidelines sporting this sweet look.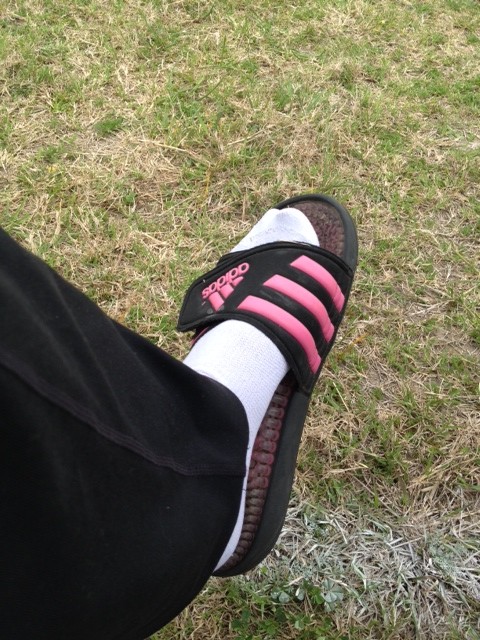 Yep. Just me in my white socks and sandals. Cheering with a voice that sounds like a three pack a day smoker and a cough to match.
Someday this may be something that comes up in therapy for Caroline.
Caroline's team lost but they played really hard. And at one point toward the end of the game she just got nailed in the face with the soccer ball. I held my breath to see what was going to happen next because, I'll be honest, if it had happened to me I'd still be lying on a soccer field somewhere in Victoria. But she never even skipped a beat and was incredibly proud of the shiner she woke up with Monday morning.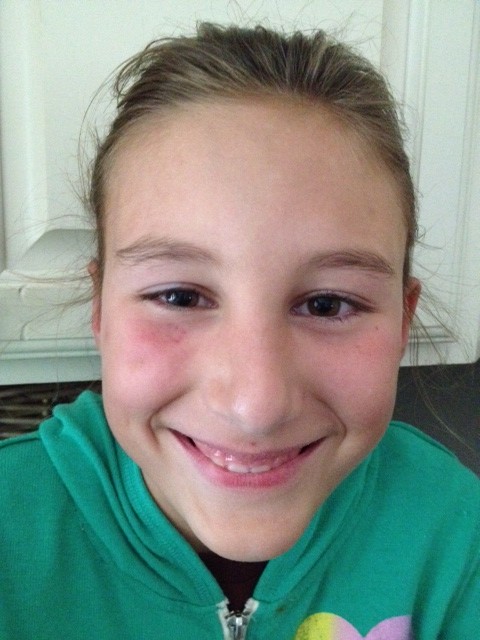 After P took her to school I began to make a grocery list because it was growing apparent that I hadn't made a real trip to the store in weeks. You know? The kind of trip where you fill up your whole cart with toilet paper and lunch meat and dog food and laundry detergent. One of those trips you have to make after you've just been phoning it in at the grocery store for far too long and it finally catches up with you and you can't remember the last time your family ate a vegetable that you cooked.
So I gathered my strength to go to the store because I still don't feel great. I walked up and down the aisles and checked things off my list and didn't have a care in the world.
Until I got to the checkout line.
That's when I was confronted with a harsh bit of current affairs. Sometimes I like to ignore the news. It can make me feel totally stressed out and helpless. Last week I forced myself to spend a full thirty minutes reading about what's going on in Venezuela and the Ukraine just because I felt like I needed to know. Mainly because as Caroline and I left Houston last weekend there were all these people waving signs about Venezuela and I had no idea why.
But there was no way to ignore the headline that stared out at me while I was in the checkout line yesterday. America is in crisis. Frankly, I'm not even sure where we go from here.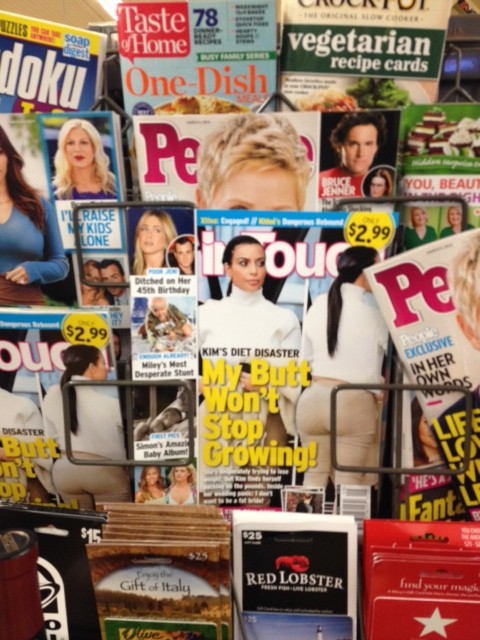 And you think you have problems.
I hope this puts whatever trial you may be facing into its proper perspective.
____________________________________
Quick book related notes:
The Antelope in the Living Room is currently back in stock online at Barnes and Noble here and available here on Amazon and you can also find it at your local bookstore or LifeWay store.
Speaking of bookstores, I'll be at the Barnes and Noble on Texas Avenue this Saturday, March 1 from 10:30 until noon signing books. Would love to see you there if you're in the area.
Copyright secured by Digiprove © 2014