So since I didn't post anything yesterday you might be wondering how our transition back to real life after Spring Break is going. Or maybe you don't care at all. Either way, I'll tell you that it's been rough.
First of all, it's still dark outside when we get up now, which is about seventeen kinds of wrong. Secondly, Caroline's new preferred sandwich is a BLT on toasted bread and I know that may seem like a small thing but the toasting of the bread requires the extra step of turning on the oven in the morning and, long story short, why is my life so hard?
Yes. I have to turn on the oven to toast the bread. There was a time when we were awash in toasters. And by awash, I mean we owned two. We received them both as wedding gifts and Best Buy wouldn't let me return either of them which is why that store is dead to me to this very day. But we used one toaster for the first eight years of our marriage and the alternate toaster for the next eight years until it began to smoke and sparks flew out of it. I'm no Smokey the Bear but it appeared to be a fire hazard and we threw it out.
Now we are toaster-less. Truthfully, I prefer it that way because we don't really eat toast and it took up precious counter space, but I just decided to bore you with the whole story of why we don't own a toaster and I have to turn on the oven to toast bread like I'm Grandma Walton.
In addition to the hardship of the toasted BLT, I also had to help Caroline with a science project that was due yesterday. Technically we were supposed to work on it during Spring Break. To which I say YEAH, RIGHT. Instead, she followed in my scholastic footsteps and we pretty much did the whole thing on Sunday night and Monday afternoon. And then she covered the whole thing in stick on rhinestones and glitter glue because we are very science-y around here. Like Esqueleto says in Nacho Libre, "I don't know why you always have to be judging me because I only believe in science".
(Apparently I have Nacho Libre in my head because I almost quoted it a few paragraphs ago. "I was wondering if you would like to join me in my quarters this night… for some toast.")
That's all the big news here. Which is basically my way of telling you there isn't much going on at all. Other than the obviously huge news about the toasted BLT and the science project.
But I will tell you this. I think it's really spring in Texas. The sun is shining, the wildflowers are blooming and the calendar says it's official on Thursday. I may have even gotten a little bit of sun on my scary white snowman legs while I bathed the dog yesterday.
(Wait! How did I forget to mention earlier that I bathed the dog? That is the stuff of legendary blog posts.)
(I used a new oatmeal and aloe shampoo because Bruiser has itchy skin and flea allergies and undiagnosed OCD which causes him to chew out all his hair in search of possible itches and fleas. It's pitiful.)
Anyway, back to my white legs. And spring. Let's finish out this day by discussing self-tanners. I'd love to know your thoughts on any of them that you've found that will not make me look like an Oompa Loompa.
Because if I'm going to look like an Oompa Loompa, I'd prefer that it be because my green hair and jaunty white coveralls.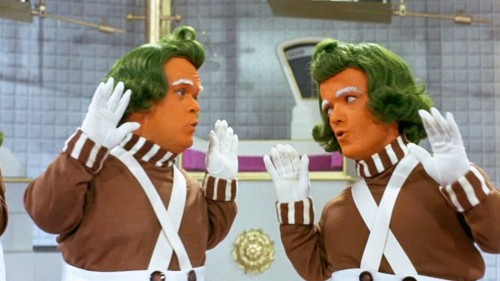 In that past I've been a fan of Jergens Natural Glow lotion and Neutrogena gradual tanner. But I'm always open to learning about new and better tanning technology. Because like I mentioned earlier, I believe in the science.
Copyright secured by Digiprove © 2014