I hate to sound overly dramatic, but I am devastated that Spring Break is over. Now we face the weeks ahead where it will still be dark outside as I make ham sandwiches to put in Caroline's lunch.
And the worst is that I have to act totally enthusiastic about the whole thing because I have to offset Caroline's lack of excitement about re-entering the world of alarm clocks and homework. If she senses weakness in me, then the whole jig is up.
On the upside, Caroline's soccer team won their game yesterday. This may not sound like a big deal until I tell you that it's the first game they've won in two seasons. They're actually better than that makes them sound, but we struggle to score goals. And in case you're not familiar with soccer, it helps if you can score some points.
But yesterday it all finally clicked and her team won the game 3-1. And the reaction of all the parents may have been reminiscent of this clip of Steve Martin from Parenthood.
Here's hoping it's the beginning of a winning streak so we won't ever have to be that obnoxious again.
Anyway, since I'm in mourning over the end of Spring Break and today is St. Patrick's Day and it's associated with the color green and I just happen to have written a book entitled Sparkly Green Earrings, I thought it might be fun to have a little giveaway.
One of you has the chance to wear this pretty pair of green earrings: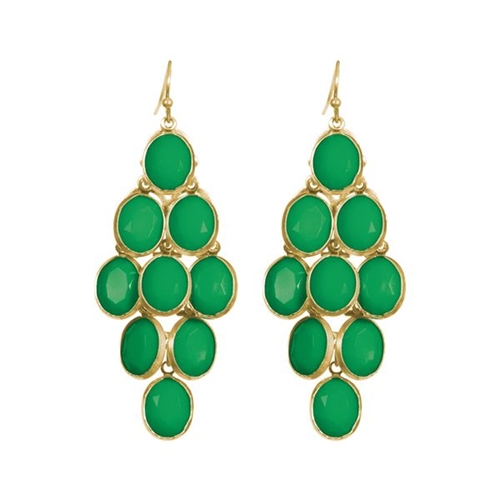 Along with a signed copy of Sparkly Green Earrings AND The Antelope in the Living Room.
(I realize Antelope has nothing to do with St. Patrick's Day, but you have the chance to win both books and let's just call that the luck of the Irish.)
All you have to do for a chance to win is leave a comment on this post letting me know if you do anything to celebrate St. Patrick's Day. One comment per person please. Duplicates will be deleted.
I'll leave comments open until Wednesday, March 20th and then pick a winner at random using Random.org.
Have a great Monday.
Copyright secured by Digiprove © 2014