I've spent most of this week suffering at the hands of various allergens in the air. And also whining about my scratchy, sore throat, fatigue, congestion and itchy eyes.
Wish you were here!
So about five minutes ago, when I realized it was time to write Fashion Friday, I came up with another one of my brilliant ideas.
Thank you, Blair Warner.
I don't have the energy to search all over the internet for fashion finds right now. Sure, I have a lot of questions in my Fashion Friday File and I'll get to them someday. But today is not that day.
I'm going to let y'all do most of the work today because I am the Tom Sawyer of the blog world.
I want to know the best piece of beauty and/or fashion advice anyone ever gave you. And I don't want to hear things like "It's what's on the inside that matters". Blah, blah, blah.
We know that. The inside is the most important thing. I'm looking for shallow, superficial beauty tips that have changed your beauty regimen.
I'll share three pieces of beauty advice that personally changed my life.
1. A tan makes everything look better. It's part of Einstein's Theory of Relativity.
You can't fight science.
Many of y'all have commented or emailed to inquire about what kind of self-tanner I prefer. I use Neutrogena in a medium shade. Sure there are other brands that cost more and might be a little better, but I have always been happy with the Neutrogena. It gives me a good glow and I can buy it at HEB.
I also like Jergens Natural Glow to maintain some good color because I can just put it on like moisturizer and not worry as much about streaking and lines.
2. Never underestimate the importance of plucking your eyebrows.
My mama hounded me for years about tweezing my eyebrows but I completely ignored her. What does she know? My eyebrows look great and aren't at all bushy.
This is a picture of me my junior year in high school.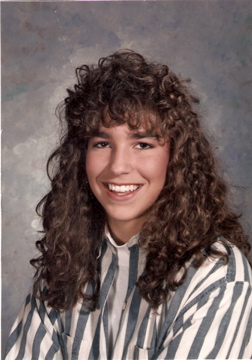 I should have listened to my mother.
In the future whenever Caroline doesn't want to listen to me, I will show her this picture to serve as a cautionary tale about the perils of not listening to your mother's beauty advice.
And on a side note, even if permed bangs looked darling on Meg Ryan in the last scene of "When Harry Met Sally", doesn't mean they work for everyone.
3. A good mascara is worth its weight in gold.
Which wouldn't actually be very much.
So I guess what I'm trying to say is a good mascara is invaluable.
I recently made the best mascara discovery of my life.
It has a rubber-bristled brush that's different than other mascaras so it's like using a fine tooth comb on your eyelashes. It defines and separates each lash in a way that defies logic and convention.
So dear internet, it is your turn. Spill the beans with your best beauty advice.
And have a great Friday!