So I took yesterday off because I take Cinco de Mayo very seriously and wanted to focus on the importance of the day.
Or maybe I took the day off because P was out of town and Gulley came over Sunday night and stayed super late because we had so much to catch up on and I went straight to bed after she left.
Either way.
But we did, in fact, spend part of our weekend immersed in Cinco de Mayo celebrations. Except that we like to call it Crawfish de Mayo because we commemorate the occasion with a crawfish boil. And we also serve guacamole and chips since that's only appropriate.
We started this tradition three years ago when we just happened to plan a crawfish boil the same weekend as Cinco de Mayo and decided it was one worth keeping. So we spent Saturday morning running around town to pick up the crawfish and icing down drinks in coolers and hanging festive decorations in our backyard. And then we made a banner because that is also an essential part of the festivities.
Later that evening I took this picture of the kids in front of the banner.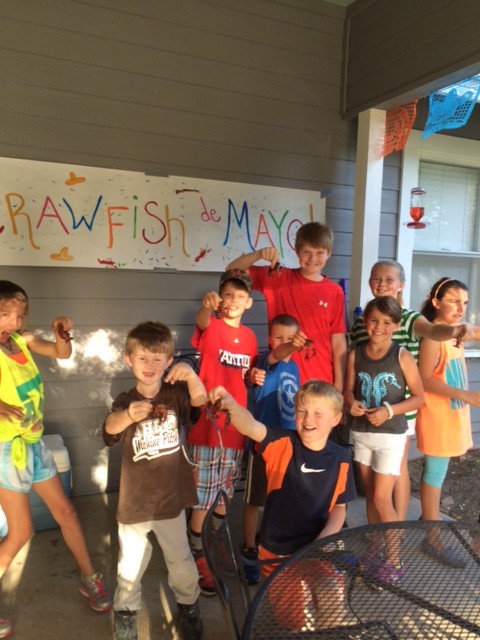 P pointed out that due to my stellar photography skills, it looks like we were celebrating with raw fish. Everyone's a critic.
Thankfully, Caroline had taken this picture earlier so you can see the sign as it actually appeared.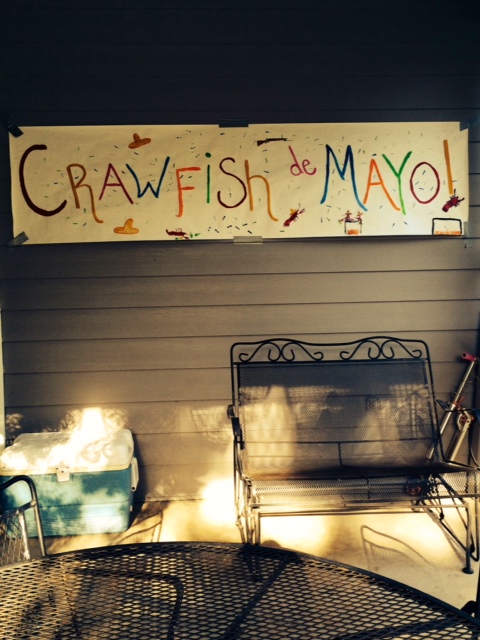 And the best thing about a crawfish boil is that all the kids can have a their very own crawfish pet for the first thirty minutes of the party. However, it's imperative that they don't get emotionally attached since, you know, hard times are coming.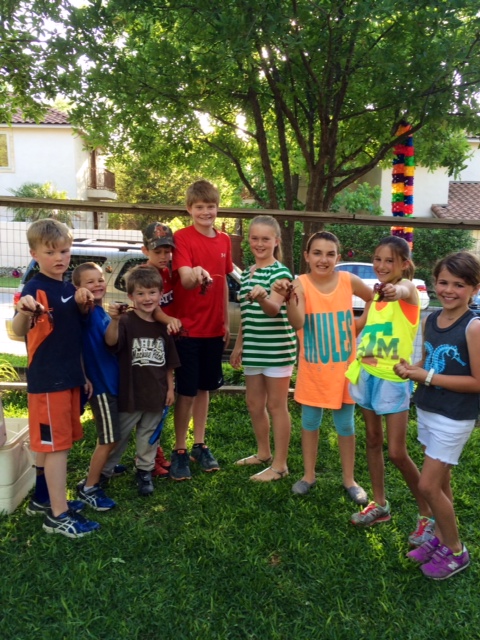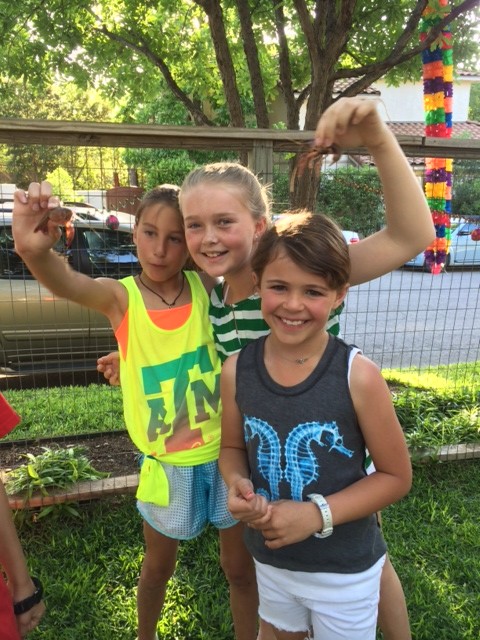 We had a great time getting together with friends and the weather couldn't have been better. In fact, the whole weekend felt like the beginning of summer and that made Monday morning especially hard to bear because I put my summer pants on sometime Friday afternoon and wasn't ready to surrender them. I don't mean literal summer pants, I mean a mindset. Although I did wear shorts all weekend so technically maybe I do literally mean summer pants. I don't know. I'm so confused.
As for the rest of the weekend, we got off to a great start on Friday afternoon. I drove straight from Houston to pick up Caroline from school and she got in the car beaming because she'd just found out her group made the talent show. I cannot even tell you the relief I felt over it.
We celebrated with ice cream at Baskin-Robbins and then spent the rest of Friday just relaxing until P got home from work and then we picked up Mexican food for dinner and watched some unfortunate action movies because no one in this house shares my taste in entertainment.
I believe I mentioned that we had a crawfish boil on Saturday. What I didn't mention is that I was sad to discover our baby birds had flown the nest while I was out of town. They never write, they never call. Maybe they'll show up when it's time to do their bird laundry. It's the least they could do after the way I obsessively stalked them for weeks.
And then Sunday was a big day. It was our first trip of the year to the neighborhood pool. I wasn't sure I was emotionally ready and it's really unprecedented for us to go the very first weekend in May, but Caroline and her friend Sadie were looking for something fun to do and I decided to throw caution to the wind and offer up an excursion to the pool. I even wore a swimsuit. I did not, however, actually get in the water because it was approximately four degrees above freezing.
But the girls didn't seem to mind and that's the beauty of having a ten-year-old. I no longer have to get in the pool. I brought a book, a large hat, Sour Patch Kids and sat in the shade while they milled around and jumped off the diving board and checked in with me every time they needed money for snacks. It was the perfect way to spend a Sunday afternoon.
P left to go on a quick overnight fishing trip later that day, so Caroline and I went to eat dinner with Bops (Mimi's out of town) and ended our night with some yogurt at TCBY.
And then Gulley came over after Caroline went to bed and we solved a variety of problems and caught up on everything from Little League baseball to our thoughts on Russia. Because we are multi-faceted.
Now I'm just gearing up for a busy week that kicks off a busy month. Who was it that first said May is essentially the spring version of December?
They weren't lying.
Copyright secured by Digiprove © 2014