This week has been busier than I planned but also more productive than I planned and so that's a good thing. Caroline ended up wanting to go to a soccer camp from nine to noon every day and I've used that time to go to Starbucks and write.
Or at least try to write.
Unfortunately the Starbucks closest to the soccer camp location is the busiest Starbucks ever and full of people who feel the need to talk very loudly about all manner of things, including one conversation I overheard today about a french maid costume. I will tell you I could have lived forever without knowing some of the details I now know about this woman I never even saw because I didn't dare turn around.
Normally I wouldn't have heard anything, but I realized I'd left my earbuds at home and I might as well have tied my hands behind my back for all that I got done without listening to my writing music. The term writing music makes it sound much fancier and organized than it actually is. I usually just hit Shuffle on iTunes and let it go where it may. This is when it pays off that my collection of songs errs largely on the side of "easy listening".
Eventually I gave up and went to Target to buy a few things we needed along with some things I didn't know we needed until I saw them. This is where Target is sheer genius. Do I need another swimsuit coverup? No. But do I see one amongst all the Mossimo that looks appealing? Of course.
Later on we went to the pool and hung out with friends and it was just one of those nice summer evenings when you realize how nice it is to not have any real sort of schedule.
And since that's basically my day, I thought I'd use this time to answer a few questions and/or share some things.
1. Several of you asked about the dress Caroline wore to graduation. We actually bought it last Easter and I was so happy it still fit because she had only worn it that one time. She is currently anti-dress and so I wasn't wanting to buy something new only for it to languish in her closet. And someone asked if wearing a dress to graduation was a preference thing or a required thing. It wasn't really either, but the majority of girls all wore dresses.
The brand is Sara Sara and I couldn't find anything like it online. However, I did see this super cute maxi dress for girls at Nordstrom.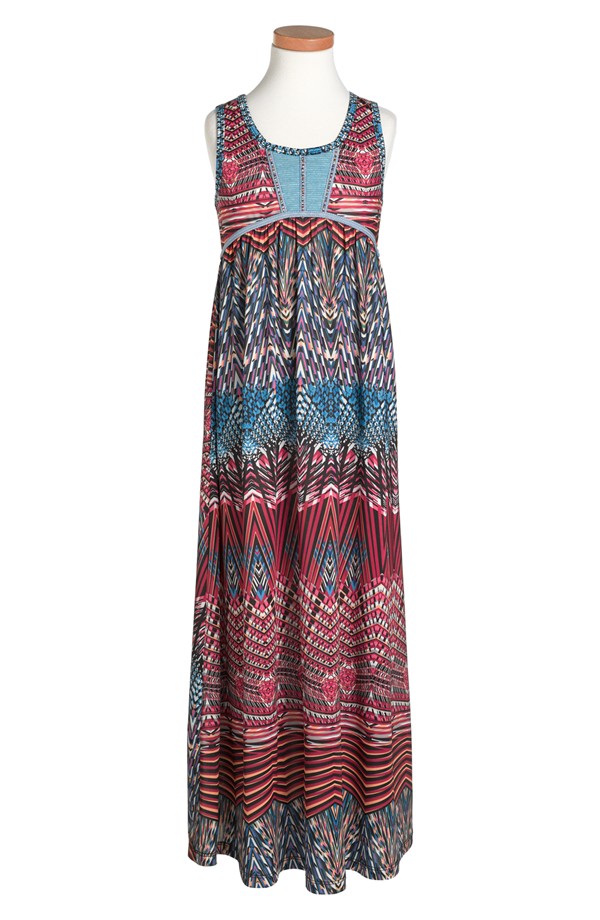 It's a little pricey but I bet it will eventually go on sale if you hold out.
2. Which brings me to another question. Where do I shop for Caroline?
Honestly, we probably buy more of her clothes at Academy than anywhere because her favorite wardrobe items are running shorts and t-shirts. But the clothing thing is tricky for us right now because she's average height, but pretty thin and this makes fit a huge issue.
We've had some success at Old Navy, Nordstrom, Gap and Nordstrom Rack. I've also found some cute things at TJ Maxx. It's really hit or miss all the way around which is why I'm grateful for running shorts and t-shirts. Makes life easier.
3. Wherever the River Runs by Kelly Minter
My dear friend Kelly Minter has written the most beautiful book that has inspired me in so many ways. It doesn't come out until August and I'll be talking about it a lot because it's just that good. In the meantime, here's the gorgeous book trailer.
4. Junk Gypsies
I love the Junk Gypsies. And I'm so excited because season 2 of their show Junk Gypsies season 2 premieres tonight at 8:00 CST on GACTV. If you haven't watched, you will love it.
5. On the podcast yesterday I mentioned I was looking for a couple of good books to read this summer and a few of you left some suggestions. But I'd love to hear from the rest of you if there's a book you've loved recently. I think I'm looking for fiction but I'm open to a good memoir because they're usually my favorite.
And that's it for today. Be back tomorrow with Fashion Friday.
Copyright secured by Digiprove © 2014