Yesterday morning I had an appointment with my dermatologist. I won't bore you with the details but the short version is children of the 70's and teens of the 80's didn't realize sunscreen was an important component to outdoor exposure and now it's sad times as I try to make myself like Cher and turn back the hands of time.
I feel like I should clarify that I'm not doing anything drastic, just using various fancy creams and lotions like wrestlers use. But my life is good! Really good! I get to wake up every morning, at 5:00 a.m., and make some soup! It's the best. I love it.
I'm sorry. I got carried away quoting Nacho Libre as one tends to do.
Anyway, I came home and was folding laundry when there was a knock on the door. It was the UPS man and he was delivering two packages. One was my new pair of white denim shorts from J.Crew which, frankly, would have been enough excitement for one day. As for the second package, it was full of these.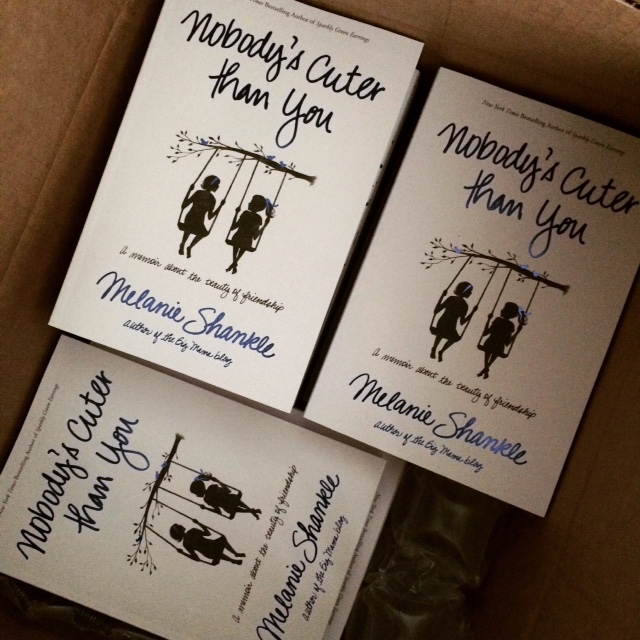 I don't know that I'll ever get used to holding an actual book in my hands and realizing that's my name on the cover. It still seems totally surreal.
But there it is and I am so excited about it and can't wait until you all can get your hands on a copy of your very own. I have so much to say about it but I can't even find the words right now except to say that God had his hand in every bit of the timing of this book about friendship.
(By the way, Caroline is the one that came up with the idea of having two girls on swings and so I've promoted her from Best Daughter to Chief Book Cover Designer because how great is that cover?)
Here's the book trailer video that we made using so many of the pictures y'all sent in. I hope you love it as much as I do. Feel free to share it and spread the word. And if you don't see your picture here, there's a good chance you'll see it somewhere before it's all said and done.
The book releases on Tuesday, April 7th but you can find out more about Nobody's Cuter Than You on the official book page which includes all the various locations where you can pre-order a copy and also find things to tweet and pin and all that business.
Hope you have a great Wednesday.
And bonus points if you immediately knew that Mr. McFeely was the mailman in Mr. Roger's Neighborhood.