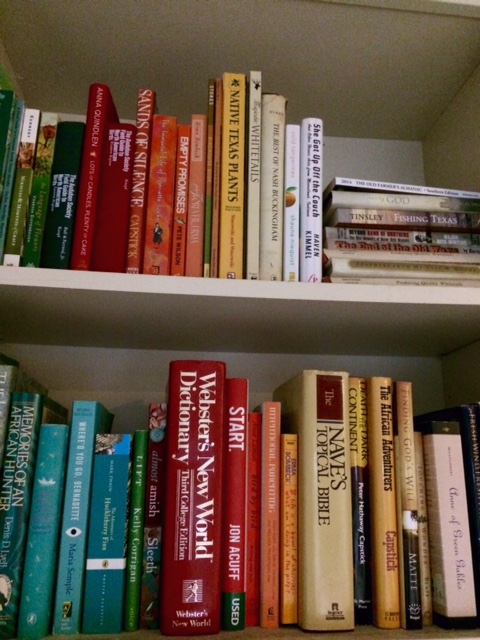 I figured I better make an effort to put together a reading list for myself for the summer or else I would look up and it would be August and the road to illiteracy is paved with good intentions. And so I have come up with a list of twenty books – which I realize is WAY ambitious for the summer but can always carry me into fall – that I want to read at some point in the next two or eight months.
To make this list I used a complicated formula comprised of the books mentioned in the comments on this post I wrote a few weeks ago asking for recommendations and books I've heard mentioned other places that sound like something I may like. I cannot guarantee how good or bad or life-changing the books on my list will be but that's because a book list is like a box of chocolates…you never know what you're going to get.
And if you want a totally different list, you can always check out this list I made last summer or go back to this post and look through the comments for other suggestions. Please don't be offended if I didn't choose a book you recommended. It's important to remember I am a girl who spent the better of part of the 1980's reading every Sweet Valley High book I could get my hands on so my literary taste is suspect at best.
(I'm not going to link to all these books, but you can find them all on Amazon, Barnes & Noble or at your favorite bookstore.)
1. All The Light We Cannot See by Anthony Doerr
I actually just finished this last week so putting it on my list is the equivalent of writing something on a to-do list that you've already done just so you can cross it off. But I will tell you this is a beautifully written book with characters that will make you think about them long after you've finished. Or at least a week after you've finished.
Before I read this, I'd read Life After Life by Kate Atkinson which, honestly, wasn't my favorite. And so when I finished All The Light We Cannot See, I desperately needed to read something light and funny that had nothing to do with World War II.
Which lead to the next book on my list.
2. I Regret Nothing by Jen Lancaster
I downloaded this on my Kindle app a few days ago even though I normally don't like reading on a device, but I was desperate and just wanted something fun. This totally fits the bill. I loved Jen Lancaster's first three books and this one is a return to her memoir style that has made me laugh out loud more than once or twice.
3. The Girl on the Train by Paula Hawkins
Um. Everyone is reading this so I will too.
4. The Blue Castle by L.M. Montgomery
This is sitting on my coffee table right now and will be my next book. So many people mentioned it to me and described it as an "adult fairy tale". Sign me up.
5. Go Set A Watchman by Harper Lee
I realize this isn't out yet, but let's not pretend I won't read it immediately.
6. Wife 22 by Melanie Gideon
7. We Were Liars by E. Lockhart
8. Secrets of A Charmed Life by Susan Meissner
9. Crazy Rich Asians by Kevin Kwan
10. Unwritten by Charles Martin
11. Calling Me Home by Julie Kibler
12. The Lost Wife by Allyson Richman
13. The Accidental Empress by Allison Pataki
14. The Light Between Oceans by M.L. Stedman
15. The Nightingale by Kristin Hannah
16. In the Unlikely Event by Judy Blume
17. Big Little Lies by Lianne Moriarty
18. Driving the Saudis by Jayne Amelia Larson
19. Me Before You by JoJo Moyes
20. A Land More Kind than Home by Wiley Cash
And so there you have it. This list will also be the reason I may not blog every day this summer because reading is good and I need to read other people's words because they never fail to make me think more, write better, and feel like I've just had a mini-vacation to a new world.
__________________________________
On another book related note, I feel like you need to know that my first two books, Sparkly Green Earrings and The Antelope in the Living Room are both currently on sale on Amazon for like $8.40. And Nobody's Cuter Than You is on sale for $12.95.
Copyright secured by Digiprove © 2015