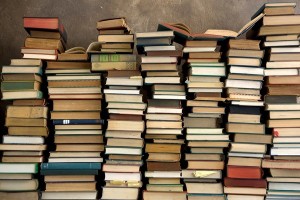 I was talking to Gulley yesterday and we were discussing how many books we've managed to read in the last few weeks. I must confess that there may be some pride involved for both of us. We agreed that part of what has been so helpful were all the book suggestions we got from the comments you left a few weeks ago when I asked for a good book to read.
I mentioned this last week but I've read Mrs. Poe, What Alice Forgot and Looking For Alaska in the last couple of weeks. I'm in the middle of finishing Mennonite Meets Mr. Right and then I'm planning to read The Husband's Secret next. I've also ordered Roses and Somerset, both by Leila Meacham who happens to be a fellow San Antonio author. A friend recently read both of her books and highly recommended them.
Also, I'm sure many of you are familiar with Goodreads. I have known about it for years but have only recently become a little obsessed. If you're interested, you can find my bookshelf here to see what books I've read and have on my "to read" list.
Anyway, I took the time to compile a list of your suggestions from the comments a few weeks ago. The first twenty or so books on the list are ones that were recommended multiple times and then it's the ones that were mentioned at least once. I stopped the list at 75 because I need to go to bed and that comes out to more than a book a week for an entire year which seems sufficient.
Finally, (I've worn myself out with explanations) there is an asterisk in front of the books I've already read and I have to say I enjoyed them all.
Here's a list that you can file away or put on Pinterest or print out and hang in your laundry room. Whatever works for you. Please keep in mind I haven't read the majority of these books so I can't vouch for their greatness, but I've learned that y'all rarely steer me wrong. I think there should be something here for everyone no matter what you like to read. All of these should be available through Amazon or Barnes and Noble. I didn't actually link to them because I don't have that kind of time or motivation.
I'm also throwing in a bonus suggestion written by a reader named Willow Feller. It's called The Epic Undoing of Haley Ann Ewing and it looks delightful.
*1. What Alice Forgot by Liane Moriarty
2. The Husband's Secret by Liane Moriarty
3. Orphan Train by Christina Baker Kline
4. The Invention of Wings by Sue Monk Kidd
*5. Where'd You Go, Bernadette? by Maria Semple
*6. The Language of Flowers by Vanessa Diffenbaugh
*7. The Book Thief by Markus Zusak
8. The Night Circus by Erin Morgenstern
9. The Boys in the Boat: Nine Americans and Their Epic Quest for Gold at the 1936 Berlin Olympics by Daniel James Brown
*10. Outlander Series by Diana Gabaldon
11. The Kitchen House by Kathleen Grissom
12. Sycamore Row by John Grisham
13. Garlic & Sapphires by Ruth Reichl
14. The Storyteller by Jodi Picoult
15. Open by Andre Agassi
16. The Secret Keeper by Kate Morton
17. Me Before You by JoJo Moyes
18. The One and Only by Emily Giffin
19. Hotel On the Corner of Bitter and Sweet by Jamie Ford
20. The Sweetness at the Bottom of the Pie by Alan Bradley
*21. The Guernsey Literary and Potato Peel Society by Mary Ann Shaffer & Annie Barrows
22. Serena by Ron Rash
*23. Glitter and Glue by Kelly Corrigan
24. The Gift of An Ordinary Day by Katrina Kenison
25. Bridge to Haven by Francine Rivers
26. Mark of the Lion Series by Francine Rivers
27. Delicious! by Ruth Reichl
28. The Yada Yada Prayer Group Series by Neta Jackson
29. The All You Can Dream Buffet by Barbara O'Neal
30. The House Girl by Tara Conklin
31. And Then I Found You by Patti Callahan Henry
32. Beautiful Day by Elin Hilderbrand
33. Wild by Cheryl Strayed
34. A Southern Family by Gail Godwin
35. Through A Glass Darkly by Karleen Koen
36. Defending Jacob by William Landay
37. The Shoemaker's Wife by Adriana Trigiani
38. All The Light We Cannot See by Anthony Doerr
39. The Art of Hearing Heartbeats by Jan-Philipp Sendker
*40. The Middle Place by Kelly Corrigan
41. Into the Wild by Jon Krakauer
42. Watermelon by Marian Keyes
43. Butterfly Palace by Colleen Coble
44. Before You Know Kindness by Chris Bohjalian
45. The Girl You Left Behind by JoJo Moyes
46. Best Friends Forever by Jennifer Weiner
47. I Want My MTV: The Uncensored Story of the Music Video Revolution by Rob Tannenbaum & Craig Marks
*48. Bossypants by Tina Fey
*49. Is Everyone Hanging Out Without Me? by Mindy Kaling
50. The Mermaid Chair by Sue Monk Kidd
51. The Almost True Story of Ryan Fisher by Rob Stennett
52. The Aviator's Wife by Melanie Benjamin
53. The Professor by Robert Bailey
54. The Baker's Daughter by Sarah McCoy
55. Eighty Days: Nellie Bly and Elizabeth Bisland's History-Making Race Around the World by Matthew Goodman
56. 11-12-63 by Stephen King
57. Breaking Night: A Memoir of Forgiveness, Survival, and My Journey From Homeless to Harvard by Liz Murray
58. Necessary Lies by Diane Chamberlain
59. My Reading Life by Pat Conroy
*60. Glass Castle by Jeannette Walls
61. The Century Trilogy by Ken Follet
62. The Walk by Richard Paul Evans
63. And the Mountains Echoed by Khaled Hosseini
64. The Monuments Men: Allied Heroes, Nazi Thieves and The Greatest Treasure Hunt in History by Robert Edsel and Brett Witter
65. The Light Between Oceans by M.L. Steadman
66. Lower Than the Angels by Margaret Symmank
67. I Was Told There'd Be Cake by Sloane Crosley
*68. Half-Broke Horses by Jeannette Walls
69. Chasing Francis: A Pilgrim's Tale by Ian Morgan Cron
70. The Patron Saint of Liars by Ann Patchett
71. Heft by Liz Moore
72. Handling Sin by Michael Malone
73. White Gloves and Collards: A Memoir by Helen Pruden Kaufmann
*74. A Girl Named Zippy by Haven Kimmel
75. One Thousand White Women: The Journals of May Dodd by Jim Fergus
Please feel free to leave any other can't miss suggestions in the comments. Happy reading!