Tap, tap, tap.
Is this thing on?
It feels like a million years since I wrote anything besides a quick list of things I need from the grocery store. I almost feel like I've forgotten how to string words together that turn into sentences and, lo, even paragraphs.
In all honesty it's been kind of nice.
I didn't mention this last week just in case there was a band of marauders scouring the internet for potential robbery opportunities, but we took a little family vacation for the Fourth of July holiday. Specifically, we went to Nashville to see various friends. I am not kidding when I tell you it was the first time P has left the state of Texas since 2009. He just doesn't see the point when there is both hunting and fishing within minutes of our house.
But he decided to make an exception because Caroline and I went to Nashville last summer for a little business trip and he had heard all year long about how much we loved both the city and the people there.
So on Wednesday afternoon we caught a flight and two hours later we landed and about thirty minutes after that we were in our swimsuits by the pool with our friends Angie and Todd and their girls. The next few days were a whirlwind of activity filled with lots of pool time, talking late into the night, and various July Fourth activities.
There was swimming in a creek.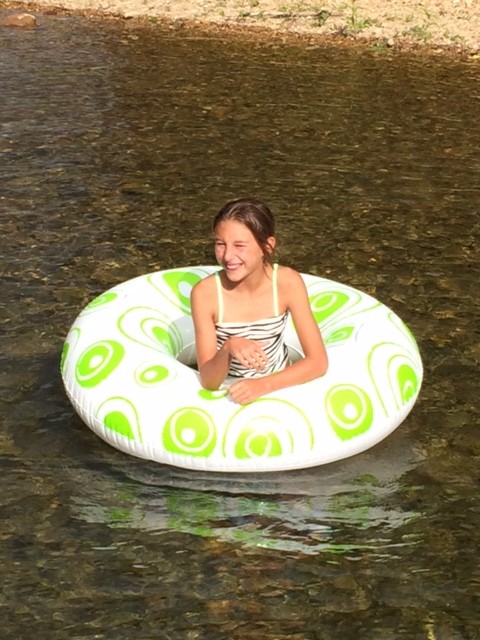 There was an incredible neighborhood parade where the theme was Night At The Movies. You can tell you're in a town full of creative artists when a parade includes a glass elevator from Charlie and the Chocolate Factory, Jaws and Elliot flying over the moon with E.T..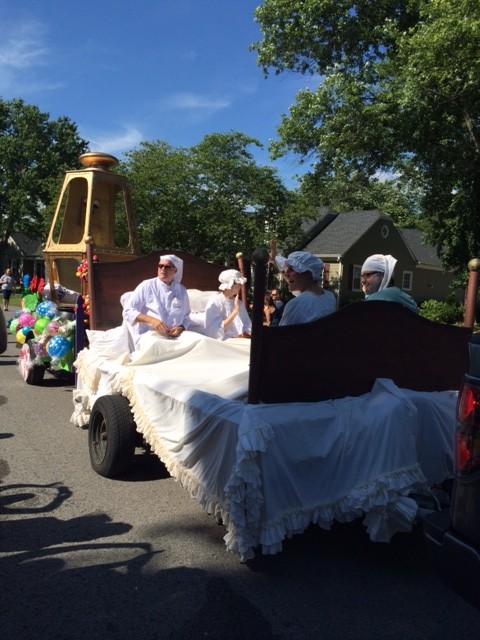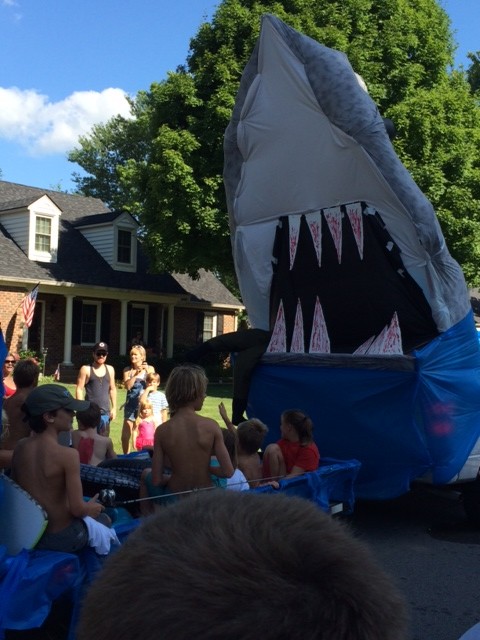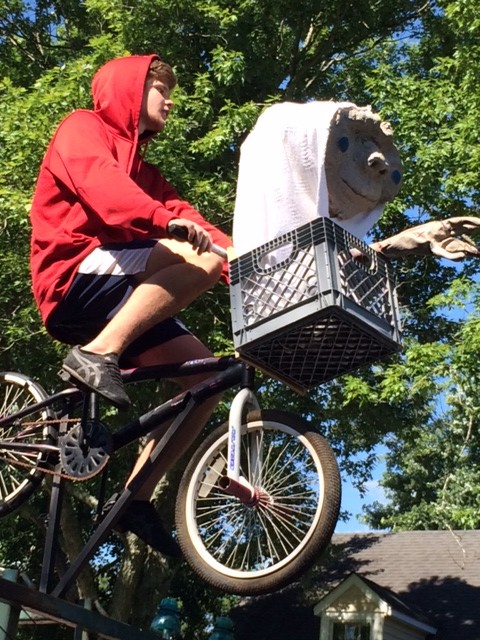 And I would be remiss if I didn't mention there was also this.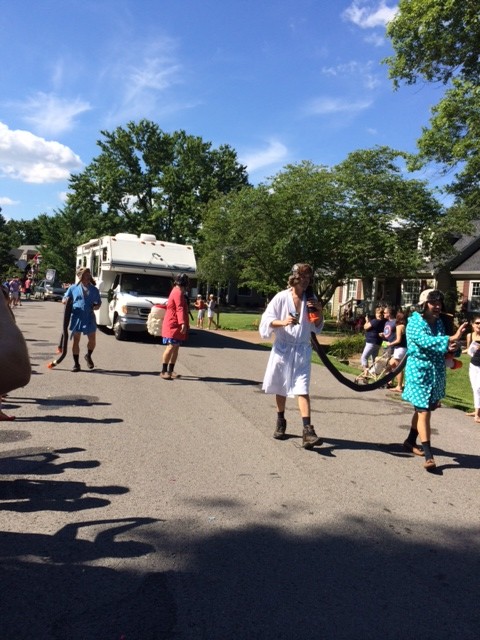 In case you can't tell, that there is an RV, Clark. But don't you go fallen' in love with it 'cause we're takin' it with us when we leave next month.
After the parade we headed straight to the pool where I'm sad to say that Caroline didn't fulfill her goal of becoming a bi-state (or maybe bi-pool) belly flop champion, but all was not lost because Todd and P were on the winning Men's wet t-shirt relay team. You've never seen such athletic prowess in your life. And by athletic prowess I mean they mastered the art of getting a wet t-shirt off one man and on to the next.
I also got to see my first greased watermelon competition where two teams compete to see who can get a greased watermelon out of the deep end and on to the other side of the pool first. I've never been more certain I was about to witness a holiday tragedy. If ever there was a time for the phrase, "I don't feel like this will end well" it was at that moment.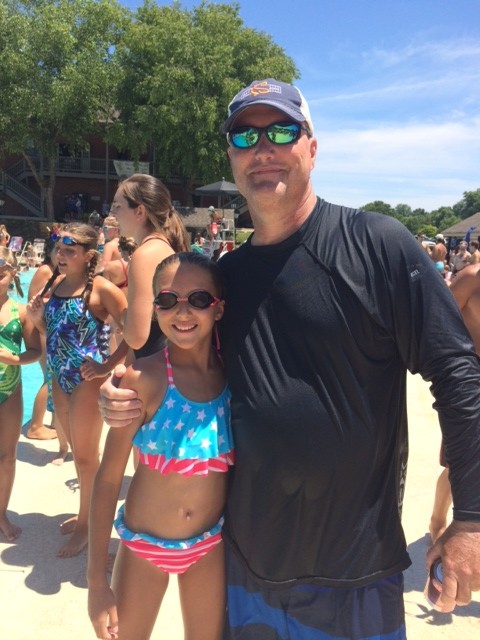 Later that night, after a little break in all the fun, we went back down to watch a theatrical production performed by the neighborhood kids about the history of the United States. I am not kidding when I tell you it started with Marco Polo and an hour in we weren't even to Herbert Hoover. I've never felt more like I was living out a scene from Waiting For Guffman. Then it was time for the fireworks and they were amazing.
Here's a picture that doesn't even begin to do it justice.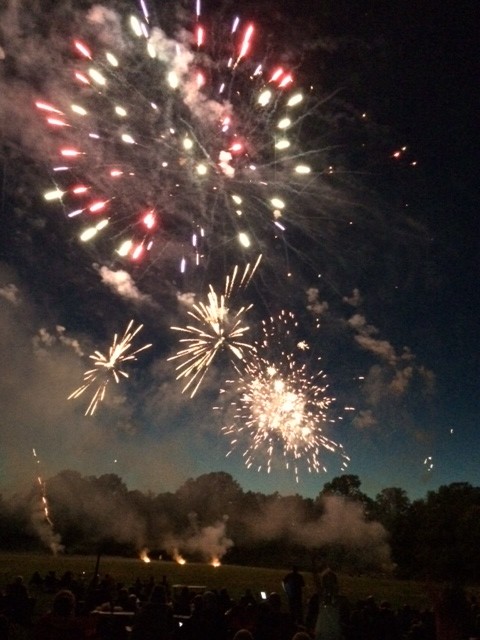 The best part was watching and listening to Caroline who was sitting right beside me and giving new meaning to the word "joy".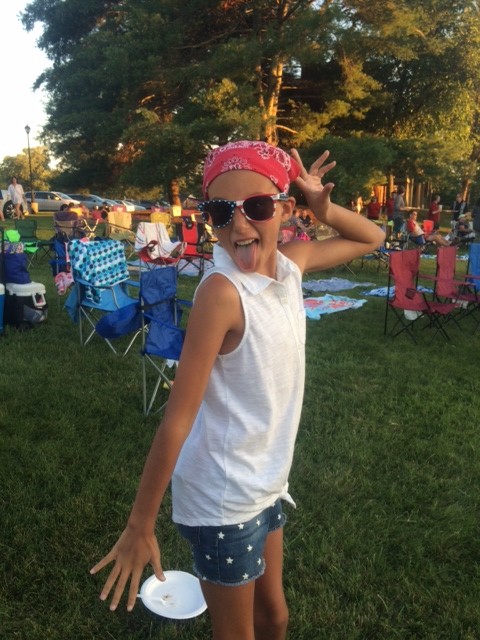 She couldn't contain herself and laughed and yelled, "THAT'S AWESOME!" and basically just put a voice to what we all were thinking. It was an incredible show. Pyrotechnics the way God and the Founding Fathers intended.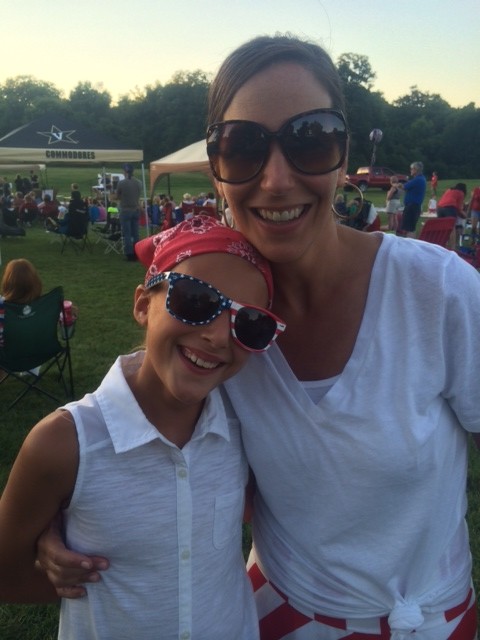 We drove back to the house, tired and a little sunburned, but satisfied that we'd partied like it was 1776.
The next morning we slept in and then made our way to downtown Franklin for a quick stop for ice cream before we headed to the airport.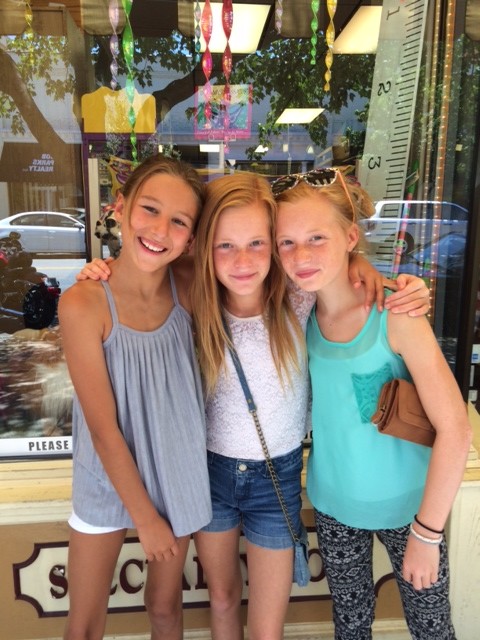 Then we took a quick group selfie before we all hugged and shed a few tears that the trip had ended way too soon.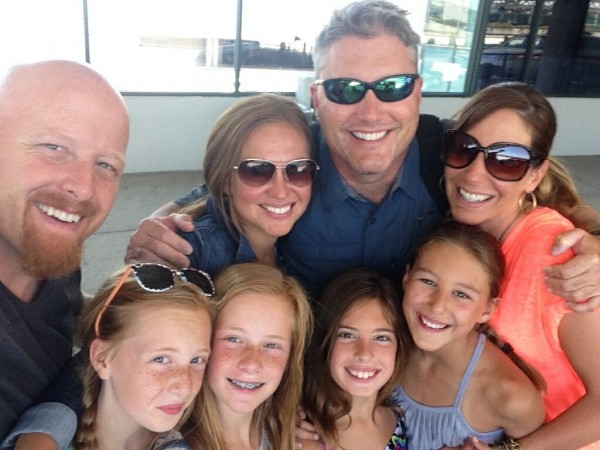 And P, Caroline and I got on the airplane and talked about all our favorite parts of the trip but I think there were too many to count. It was four days full of staying up late, talking nonstop, laughing so much and just enjoying being with friends we don't get to see nearly often enough. It was the perfect way to spend the holiday.
I also need to share what I feel was a personal breakthrough for me. After the first night I told Angie that I couldn't believe P and I had slept so well in a queen-size bed given my various and sundry sleep issues. Which is when she informed me it was actually just a full-size bed. And so the way I see it, I pretty much camped out for three nights and lived to tell about it. There is no doubt that I have grown as a person.
Of course maybe it was just that I didn't have to worry about these two yahoos who spent their Fourth of July at the kennel and were beyond thrilled to see their people when we returned.
Okay. So maybe I missed them, too.
Copyright secured by Digiprove © 2014