I fell into bed on Monday night, totally exhausted and so ready to go to sleep. Which made it extra frustrating when I laid there for two hours and found myself wide awake thinking about important things like what color books I need to display on the coffee table and if I'll ever find a pair of running shoes I like.
Side note: This is actually a real thing right now. I desperately need a new pair of running shoes but can't figure out what I want. I thought I found some I wanted to order the other day but Caroline told me they looked like something her first grade buddy would wear to school. But that's the problem. All the athletic shoes range somewhere between "These are elderly, orthopedic shoes" to "My eyes! My eyes!" and I'm not sure where I fit in that spectrum.
Anyway, I finally fell asleep but woke up at 2:23 a.m. when I heard a loud crash and our house alarm started going off. That'll wake a person up.
P jumped up to investigate and it turned out that one of my decorative plates fell off the wall and triggered the alarm. So all was well and good except I looked like this for the rest of the night.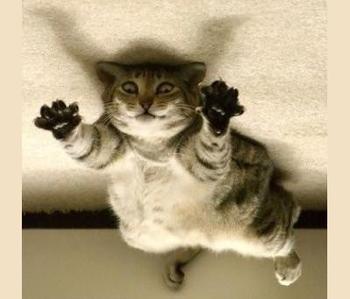 I got Caroline off to school, but we were all a little less enthusiastic than we'd been the day before. Getting three hours of sleep and being awakened by an imaginary burglar will do that to you.
And when I picked Caroline up from school she announced that she is totally unorganized and it's all because she needs a different binder. And different dividers. And a different calculator. And, oh yes, she left the one set of gym clothes she has until we get her new ones in her locker so she has to wear something else to school.
And I tried a new recipe for dinner that I found on Pinterest and it was less than delightful.
What I'm trying to say is we are back to true form around here.
And that I need to go crawl in bed after I check to make sure all our decorative plates are securely fastened to the wall.