That's right.
Seventh grade. How on earth did that happen? I promise it was just two years ago when I walked her down the hall to her Kindergarten classroom and now she's a seventh grader. And it's so weird because seventh grade is a year I distinctly remember.
I started seventh grade in a brand new school in a brand new city. I remember walking into school that first day feeling something in the realm of overwhelming nausea and cautious excitement. I know that I wore a pale pink Izod with Jordache pleated jeans, a ribbon belt and a pair of pink Keds. And the girls at my new school didn't wear Jordache jeans, they wore Levi 501's and so I had to have a pair immediately.
This is me in seventh grade.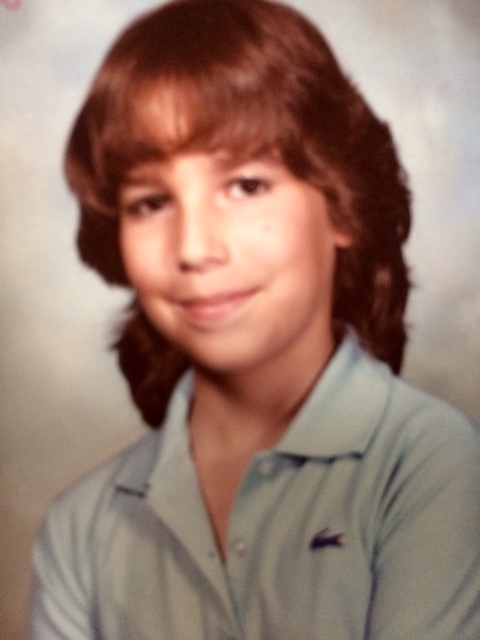 You don't want to know how long it took me to get my hair to look like that. It took some serious effort. And, as it turns out, curling your bangs under with a curling iron isn't a great idea.
Also, P spoke at our Community Worship Service on Sunday about how we can become complacent about the good things God has put in our lives and we need to remember to count our blessings. So middle school girls everywhere should take a moment right now to thank God in heaven that the bi-level haircut isn't a thing during their junior high years.
Caroline woke up bright and early for her first day. And she was dressed and ready to go at least twenty minutes before we had to leave the house. This was a nice change from the way we ended last school year which looked more like a NASCAR pit crew tire change than a peaceful morning. I realize it won't last through this Thursday, but I'll take it for now. It helps significantly that she has Athletics first period every day so from here on out she just wears her gym clothes to school and has to pack what she's changing into for the rest of the day. This will hopefully eliminate fourteen early morning outfit changes that result in clothes being draped over the chair in her bedroom and my need for a nerve pill.
I managed to get her to pose for a few pictures before we left and my heart kind of caught in my throat because she already looks so big this year compared to last year.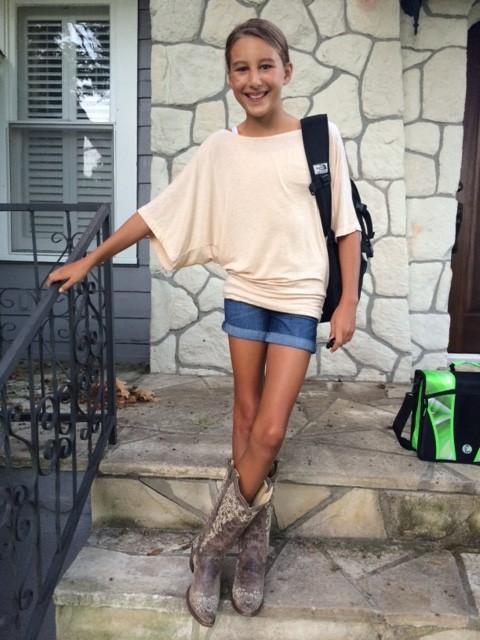 We got in the car and I prayed for her day and the school year as we drove to school. And I guess my voice cracked a little bit because she patted me on the arm and said, "Don't worry, Mom. After you drop me off you can have a good cry and go get a Chick-Fil-A biscuit."
Dang. She's on to me.
But I'll have you know I didn't go get a Chick-Fil-A biscuit. However, I did cry. I do it every year on the first day. It's just such a marker for the passage of time. And I think I was especially sensitive because it seems like so many of my friends have dropped a kid off at college this year. All those posts and pictures of dorm rooms and packed suitcases nearly did me in. One of my friends put up a pic of the day his college-bound son was born and captioned it "Time flies when you're having fun" and I thought I was going to have to get in the bed.
So I had my little cry and then worked on a few things I'd been needing to get done around the house and took the girls to the dog park where Mabel was fully-psychotic. A lady there with her dog remarked, "I just love watching your dogs run! They are like poetry in motion!" which made me question what kind of poetry she reads.
I ended up meeting Gulley for an unplanned lunch and then ran a few more errands before it was time to pick Caroline up from school. I was anxious to hear how her day had gone, especially since she'd texted me that morning asking about her locker shelves and when I texted back and asked how the day was so far, she replied, "I'll tell you later. Got to go."
Really? That's all I get? Got to go. She could've typed "good" with less effort and eased her mother's mind.
As it turns out, she had a great day. She got in the car full of stories about her new classes and her new teachers and was thrilled with almost all of it except for the part where she has a bottom locker. But I told her some things are in our lives just to build character.
And she should be thankful her character-building doesn't involve a bi-level haircut.