We've spent the weekend getting ready for the first day of school and here's what you need to know. I have peaked for the 2015-2016 school year on August 23. The house is clean, my refrigerator is full of groceries, the school supplies are organized, the laundry is finished, Caroline's first day of school outfit is laid out on her bed, and I cooked a roast in the oven all day so we could have a home cooked meal.
I feel it's important to document this occasion because it's all downhill from here. And somewhere around October 7 when Caroline has lost her third school agenda and I pack an overripe banana and a SlimFast bar in her lunchbox and I'm on my second glass of wine at 5 p.m. due to math homework and I'm calling Papa John's to deliver dinner, I'd like to look back on this day in history, smile to myself and know that I was great once.
So let's talk about Piper and Mabel.
Many of you have asked for an update. We ended up boarding them at the vet while we were at the beach. It wasn't my first choice, but when you're a canine delinquent your options are limited. They were kicked out of the first two doggy day camps we tried (presumably for trying to sneak in cigarettes and sharing them with the other dogs) and then we briefly visited a third option but I left before I even attempted to leave them there because the whole place felt too much like a maximum security prison. Ironically, this probably would have been the place that actually worked. And I do have one more place I'd like to try for future trips, but they were already booked the week we were going to be gone.
The good news is we knew they were safe at the vet and it is familiar to them. I know a lot of you suggested having someone come stay at our house, but it takes the girls a long time to warm up to people they don't know and they can be so wild that it's not a task for the weak. So basically we need to make a strong, new friend who can come to our house on a regular basis and feed Piper and Mabel loads of treats. Or maybe just invest in a case of doggy Valium.
I'd like to tell you how they came home from the vet after our beach trip and noticed Scout was no longer with us. A story about how they cried actual doggy tears and moped around for days. But that would be lie. If they've noticed he's gone, they have shown no sign of grief. Which I knew Mabel wouldn't, but Piper seemed to enjoy having grandpa around on the rare occasion that he wasn't sleeping and so I was surprised she never looked for him at all.
Although Mabel did write several haikus after our vacation and her stay at the vet:
All day in this place
they want me be to be their friend
I bow to no one
Dogs on my last nerve
How long, O Lord, will I wait?
Need my house, my bed
Sister is so dumb
Making friends to get more treats
I will not be bribed
And I guess Piper got bored enough to write a poem of her own:
I like food. Food is good. Please give me more of that food. Where is my food? I'd like more food.
But since our vacation, life has gotten back to normal for the girls. They've enjoyed a couple of trips to the ranch with P where they were able to chase frogs and jackrabbits and swim in the tanks. And I take them to the dog park every day which has become my saving grace for getting rid of some of their energy. As soon as they hit the gate they take off running as fast as they can. Eventually, Piper slows down and just mills around and smells things like a normal dog. But Mabel never stops. She runs at full speed and never stops, constantly looking for a new dog to run and chase.
In fact, I looked at her the other day after we'd been there for awhile and her face was kind of sunken in from all the exertion and her tongue was hanging way out, but she was still frantically scanning the park to see if there was fun she was missing.
And I thought to myself that she's the super hyper kid on the playground that starts off fun but then people want to avoid because maybe she looks a little nuts. That's when it dawned on me.
This is Mabel at the dog park.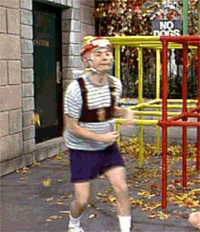 I wish this was an exaggeration. Frankly, it would be more accurate if I could find the clip where Mike Meyers actually pulls the jungle gym out of the ground and runs down the street dragging it behind him. On the upside, if my car ever stalls at the dog park I can give her a Snickers bar and a can of Coke and Mabel can tow me home.
I can't imagine why she got expelled from a place where normal dogs go and manage to act like they're not insane, but it does explain why she curls up like this about 7:00 every night and barely moves until twelve hours later.