About a month ago, I came up with the idea of having an ugly Christmas sweater contest. It seemed like a brilliant idea at the time, but that was before I realized how many pictures of ugly sweaters I would receive in my inbox. Let's just say that we are in the midst of an ugly Christmas sweater epidemic in America.
The other factor in all this is that I've discovered the game Pathwords and have developed a wee bit of the addiction. And I used the word "wee" because I type it about a hundred times a day while I try to beat my high score. It's a sickness really. A sickness that will most likely end with me completely losing all use of my right hand to carpal tunnel syndrome.
You may be wondering what Pathwords has to do with the Christmas sweater contest. Well, it distracted me from all the Christmas sweater viewing and I procrastinated until the last minute, and then spent my Thursday evening looking at ugly sweaters until I felt like I could feel the poly-blend synthetic material and had to go take a shower.
Before I announce the winners, I'll share a couple of things I discovered along the way.
Apparently, the holiday season puts folks in the mood to put on some sort of vest. I kind of knew this already because of an unfortunate incident at a college Christmas formal when my date wore a sweater vest. It was horrific and gave new meaning to the phrase, "Don we now our gay apparel".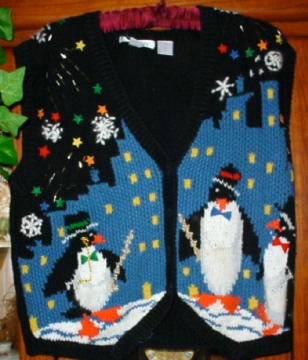 But I don't know that I've ever seen someone wear a vest with this kind of aplomb and style.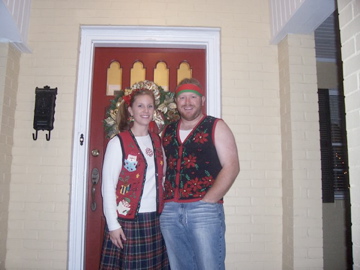 According to all the entries, there is nothing that brings yuletide cheer like some sort of teddy bear or a kitten, probably because everyone knows that the teddy bears and kittens were the first on the scene at the birth of sweet baby Jesus.
If PETA is looking for a real cause they need to forget the fur coats and worry about the continual abuse of kittens on a knitwear canvas.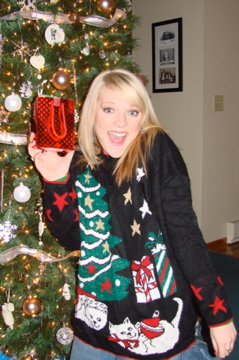 And, while teddy bears and kittens are the favorites, birds aren't exempt from spreading some Christmas gaiety.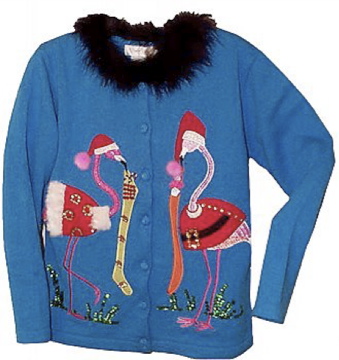 The other travesty that occurs on the holiday sweater is what people do to poor Santa Claus. Clearly these sweaters were designed by people who are still bitter that Santa didn't bring them the Barbie Townhouse (complete with working elevator) when they were in second grade and view him as Christopher Walken Santa.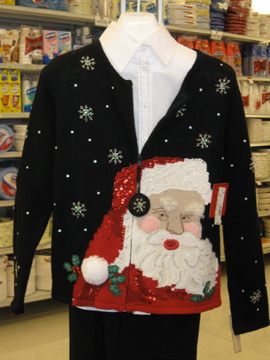 Of course I don't know that it's any more right to turn him into Cowboy Santa complete with surrounding cacti.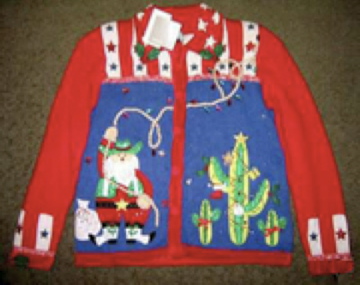 The best part of the sweater is its ability to cause normal people to tap into some latent desire to don a fake mustache and pose for cheesy pictures.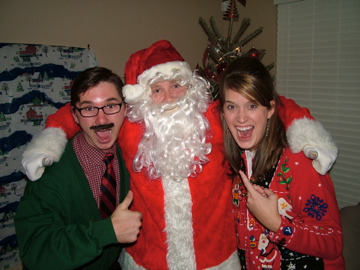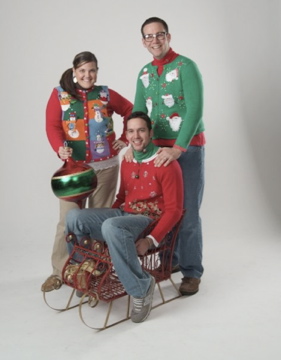 Needless to say, I had a terrible time deciding on the winners. There were so many incredible entries to choose from and I actually had to call in help to make my final decisions. Thank you all for participating and sending in your hilarious and often frightening pictures.
Now for the winners.
3rd place and the winner of a $15.00 gift certificate to Amazon is Tammy at Grateful in Georgia for this entry that is basically a sweater all hyped up on steroids and bows.

2nd Place and the winner of a $25.00 gift certificate to CWDKids is Judi for an entry that is basically a total cliche' of the holiday sweater because nothing says "Merry Christmas" like some teddy bears doing a pyramid in the shape of a tree.

1st Place and the winner of an original piece of jewelry by Lisa Leonard Designs is Nicki at The Kenningtons. Technically this is a Christmas sweatshirt, but there is no doubt that it is just wrong.

Who takes a perfectly fine red sweatshirt and thinks "Wow! What this really needs is some KITTENS! And some POINSETTIAS! And some STOCKINGS! And some GARLAND! AND, OH WAIT! DON'T FORGET THE CHRISTMAS CLOCK AND THE CHRISTMAS CANDLE!"?

I'll tell you who. Someone with questionable taste and attention deficit disorder.

Please email me at [email protected] to collect your prize for your truly bad entries.
By the way, I feel that I should mention no one is exempt from the holiday fashion faux pas. Wednesday night I met my group of girlfriends known as "The Birthday Club" for our annual Christmas dinner and wine exchange. I wanted to look festive, but not overly Christmas-y so I chose a red coat over a black shirt with a Burberry plaid scarf.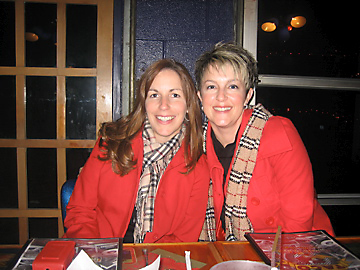 So did my friend Steph.
There really isn't anything dorkier than two women in their thirties dressed totally alike and sitting next to each other in a restaurant.
Well, until one of them pulls out her camera to take a picture.
Y'all have a great Friday.