Just in case you thought you may not get anything good for Christmas this year, we're giving you the gift that will keep on giving for 45 minutes or so.
And sure, it's basically a whole lot of nothing involving discussions of top teen idols of our youth and ill-spent Sunday nights at Mazzio's Pizza after youth group. But where else can you find that kind of random content on the internet for free besides everywhere you look?
The good news is that the podcast was ready in time for me to put it up today because I am in the midst of great Christmas festivities in Bryan/College Station involving unbelievably long lines to see Christmas lights and hayrides and therefore am extremely busy.
So, y'all enjoy.
Click on the picture below and select episode 13 to listen.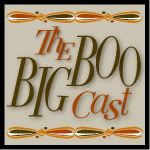 Also, for the record, we never intended the podcast to become a bi-annual event. It's just turned out that way through the miracle of modern technology and our lack of anything interesting to say.
Fortunately, we didn't let that stop us this time.