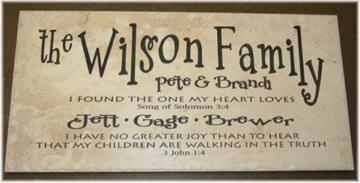 I have always been a big fan of anything monogrammed or personalized. In fact, I believe it was fourth grade when I became aware of an invention that changed my life called the paint pen and promptly used it to write my name on anything that stood still long enough, although the ink didn't really adhere that well to the surface of my cat.
And I'm sure if we dig deep enough there might be a reason why I need to mark all my belongings with my name, but let's not really go there because I am frightened at what we might discover.
Anyway, since Caroline was born I've been able to fulfill my need for monogramming and such through her wardrobe. However, the day is drawing nigh when she will refuse to wear cute sundresses with a big "C" on the front because she has no appreciation for carrying on the legacy of Laverne DeFazio. Also, all she wants to wear these days are jeans with a Tinkerbell t-shirt that says "High Maintenance".
You know what they say, if the shirt fits….
My point in all this rambling is that I was thrilled when Kaye from Engraved Euniques emailed me and asked me if I would be interested in doing a giveaway on the blog for one of her custom-made plaques and even more thrilled when she made one for me because did I mention I'm a fan of personalized things?
Kaye makes the cutest stuff and you should definitely go check it out. They would make a great gift for just about anyone or you could get one for yourself. They look a lot nicer than paint pen on a piece of construction paper is what I'm saying.
To enter the giveaway, here's what you need to do.
1. Click over to Engraved Euniques and look at all the great stuff Kaye makes.

2. Come back here and leave a comment about which one you like the best. It is just that easy.

3. Please leave just one comment per person.

4. I'll pick the winner using Random.org and announce it on Sunday, January 25th.
Y'all have fun!