I had big plans, BIG PLANS, to write a great Fashion Friday post that would make y'all weep with joy over the superbness of the fashion tips and advice.
But, sadly, there will be no superbness here today and I will tell you why.
Last night, I was invited to attend a Girl's Night Out Event in Houston with Lysa Terkeurst and Renee Swope of Proverbs 31 Ministries, and Kate Gosselin from "Jon and Kate Plus Eight". I had the best time and didn't get back to the hotel until 1:00 in the a.m.
You know what I don't do at 1:00 a.m.? Write superb Fashion Friday posts.
And on a side note that is kind of fashion-related, Kate Gosselin has let her hair grow out a little in the front and she had some seriously good hair going on. Do you want to see a picture?
I would love to show you one, but I forgot that I had my camera with me until I got back to the hotel at 1:00 a.m. and found it in the bottom of my purse. So here's what you get a picture of instead.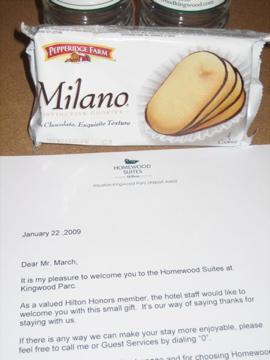 In case you can't tell, those are a pack of Milano cookies that were left in the room with a nice letter welcoming a Mr. March. I guess he didn't show up and, if he ever does, he will find that he is missing his Milano cookies.
They were delicious.
So, to recap. No picture of Kate Gosselin's hair. Great picture of Milano Cookies.
I'm just here to serve.
Anyway, since tiredness is the mother of invention or something like that, I've come up with a brilliant solution to the Fashion Friday or lack thereof dilemma.
In the last week many of you (at least 2 or 3!) have emailed to ask how Fashion Friday started, so wouldn't it be fun to go back to the posts from my original week o' fashion that started the whole thing?
Just say yes.
And if you want to say no then just click away and come back next week.
2. Borrowing some wisdom from Tim Gunn
3. It's all about a good jean pool
4. Questions, we have questions
5. I promise this is it…for now
Chances are good that a lot of information in these posts is no longer accurate and I'm positive most of the links won't work anymore, but that's how it all began. One week of fashion posts turned into Fashion Friday.
And the rest, as they say, is a very uninteresting history.
Y'all have a great Friday!