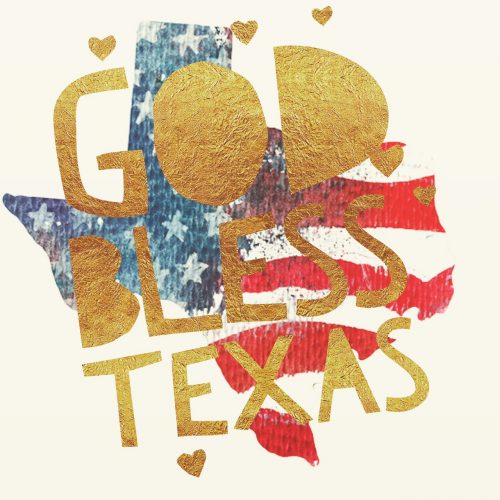 (graphic by August Joffe)
Well if you're like me then you haven't been able to quit watching the news coverage of the devastating effects of Hurricane Harvey on Texas over the weekend. We are just fine here in San Antonio after some rain and wind, but our beloved Texas coast and Houston area won't be the same again for a long time. I'd like to ask you all to pray for Houston since the rain is projected to continue falling for days. Pray that God would calm this storm, cause the rains to cease and that Hurricane Harvey would go away for good. Pray for the people who have been affected, lost their homes and have nowhere to go at this point.
As I watched the news over the weekend, I was moved to tears several times by the outpouring of help and love demonstrated over and over again. In a time when it seems that all we hear about is the worst of humanity, this weekend we saw the very best of it in my dear home state.
Here are some ways you can help in case you are interested. All of these are organizations I trust to be diligent about using the money to help those in need.
1. You can request help, offer help, or donate to the Bayou City Fellowship Hurricane Harvey Outreach. This is my friend Amanda's church and I know without a doubt that they will be good stewards of any money given and make sure that 100% goes straight to help victims.
2. AirBnB is coordinating free housing for those who need a place to stay. You can find a place to stay or offer a place here.
3. JJ Watt of the Houston Texans has started a Houston Flood Relief Fund. You can donate here.
4. You can donate through Samaritan's Purse here.
5. The South Texas Blood & Tissue center needs blood donations, especially O negative and O positive blood. If you're in San Antonio or the New Braunfels area, go to their website or call 210-731-5590 to schedule an appointment to donate blood.
6. The Texas Diaper Bank could use monetary donations and also actual diapers, for both babies and adults to help out families displaced by the hurricane. You can donate here.
7. Donate to a local food bank: San Antonio Food Bank
Corpus Christi Food Bank
Houston Food Bank
8. Convoy of Hope is taking donations here.
9. Disaster Assistance to apply for assistance online if you are in immediate need and are in one of the disaster areas.
If you happen to know of any other reliable charities or ways to help, please feel free to leave them in the comments. I'd encourage everyone to check the legitimacy of various organizations through Charity Navigator.