So I'm going to tell you about a great new book by a brand new author that you need to order, but first I'm going to tell you a little story.
Many, many years ago (Gulley and I decided it goes all the way back to the days of dial-up internet), I started watching a brand new show called The Bachelor on ABC. Who could've imagined it would still be on television 48 years and 37 "amazing journeys" later? But I believe it was during Trista and Ryan's season when I was pregnant with Caroline that my sweet Jen forwarded me an email, written by a girl named Lincee Ray, that was a recap of the previous week's episode of The Bachelor. It was love at first read and, as Gulley said, we clearly loved reading it because that was back when it took a solid sixteen minutes to log on to the dial up internet just to check email.
These Bachelor email recaps became a highlight of my week and one of my secret goals in life was to meet the clearly hilarious Lincee who wrote them because I felt like we were destined to be soulmates. Not in The Bachelor sense of the word, but in that I thought she was so witty and clever. And funny has always been at the top of my friendship priority list.
Fast forward many years and seasons of The Bachelor later and Lincee Ray emailed me to let me know she'd written a review of my book Nobody's Cuter Than You for Entertainment Weekly. My excitement level at receiving a personal email from her was somewhere in the same vicinity as if Meghan Markle were to email me asking for wedding dress advice. In other words, OFF THE CHARTS.
Thus, Lincee and I began our very own amazing journey and became real life friends. She drove to San Antonio and we met for coffee and she confessed that she'd been thinking about writing a book. I basically told her she had to do it because I needed a great book to read and I had no doubt she would write a great book.
And you know what? I was right. Her first book called I Hate Green Beans: And other confessions about relationships, reality tv, and how we see ourselves is officially out today. You are going to love it so much. It's just like Lincee herself; warm, hilarious, endearing, honest and refreshingly normal. That's how I always feel after being with Lincee…like she's one of my people. She just gets it.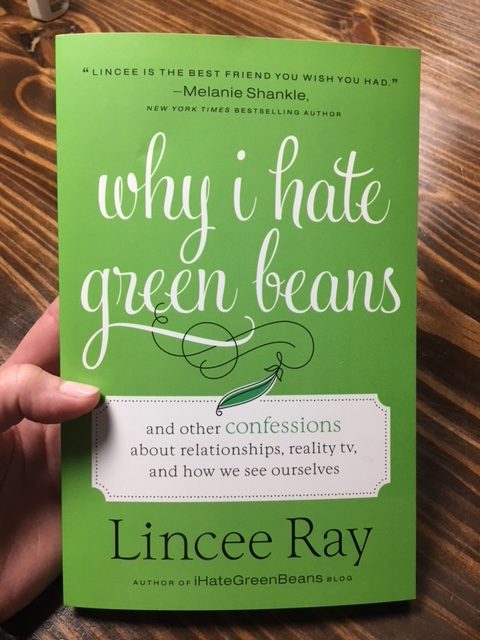 Here's the official book summary that describes it better than I ever could:
"If there is one thing Lincee Ray has learned over the years, it's that the majority of women on the planet struggle with insecurities. Our skinny jeans mock us. Our just-trying-to-help mothers are just driving us crazy. Our social media feeds taunt us with everyone else's picture-perfect lives. It's enough to send you on a gummy-bear bender while binge-watching Friends reruns and not showering for a week. Lincee knows. She's been there. Right there, in fact. Gummy bears and all.

For every woman who's ever wondered if she's unlovable, uninteresting, or unattractive, Lincee offers her particular brand of hilarious (and hard-hitting) self-reflection. Like a true friend, she shows us that the fastest way to happiness is to embrace ourselves in all our imperfection, trust that God knew what he was doing when he made us, and maybe go buy a new tube of mascara."
You are going to love this book filled with her hilarious and relatable stories and you're going to love Lincee. You can order it here on Amazon, here on Barnes & Noble, and you can find her blog with her hilarious Bachelor recaps and her weekly podcast here.
Happy Tuesday!
Copyright secured by Digiprove © 2018