So I thought since we are fully into summer at this point that it might be a good time to share my current summer beauty favorites. But, first, I wanted to share this beauty.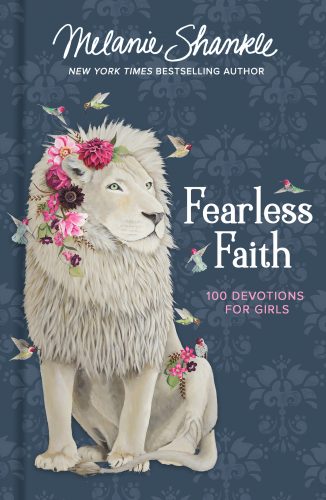 Fearless Faith is my new one hundred day devotional for girls that officially releases on Tuesday, August 7th. My friend Heather Gauthier did the cover art, just like Church of the Small Things and Everyday Holy, and I could not love it more.
I'll be talking about it more when it gets closer to the release date, but my publisher is offering a special pre-order incentive. If you order it before August 7th, you can email a copy of your receipt to [email protected] and receive an immediate download of the first seven days of Fearless Faith. You can pre-order here on Amazon or here on Barnes & Noble. It would make a perfect back to school gift for any girls in your life who are between about 8 to 16 years old.
And now here are the products I'm loving right now.
1. teddie organics rosehip oil
If there is a product other than Cetaphil that has become a staple for me, then this is it. I love this rosehip oil. It's moisturizing and healing all at the same time. Remember in My Big Fat Greek Wedding how her dad would spray Windex on everything? That's me with rosehip oil.
I put it on my face first thing in the morning and let it soak in before I put on sunscreen. Then I put it on again at night after I wash my face. I'll sometimes use moisturizer over that if my face feels really dry but that's not really an issue in the summer.
2. charlotte tilbury healthy glow moisturizer
I really don't wear much makeup at all during the summer, but I am loving this healthy glow moisturizer. It goes on gray but then blends into your skin and just gives a little bit of a glow that helps even out your complexion without feeling or looking heavy.
3. revlon colorstay ultimate suede lipstick
I am the queen of just throwing a random lip color that looks promising into my cart at the grocery store and this one has actually been a success. It's a matte lip color that stays on a really long time without feeling dry. And it even works well if I layer a lip gloss over it.
I like the supermodel color and the boho chic, but there are a bunch of great colors to choose from and they are all lighter than they appear in photos.
So I heard about this from Jamie Golden on her Insta-story. (She does the best beauty insta-stories just in case you're looking for that kind of thing.) It's an online skincare service with dermatologists who create custom skincare products for whatever your skin issues happen to be. It's $25 a month but you can get an initial trial for just $4.99. You take photos of your skin and answer questions about your skin problems and concerns, then they give you a daily regimen/
I decided to try it for Caroline because she's been having normal teen breakouts along with some hyperpigmentation from the sun. It's only been a week and her skin already looks noticeably clearer and brighter.
5. physicians formula butter bronzer
This is a great bronzer if you're in the market for one. It goes on smooth and not powdery, plus it's just the right pop of color.
6. dr. gross alpha beta peel extra strength formula
These peels are amazing. They help with breakouts, discoloration and just general skin texture. I don't use them as much in the summer as I do in the winter, but I still use them about once a week.
7. dr. gross hyaluronic marine dew it all eye gel
I mentioned this on the podcast and it really is a great eye cream. I can immediately tell a difference in my fine lines right after I put it on and it kind of tingles so you know it's working.
8. jergens natural glow daily firming moisturizer
So my days of spending a lot of time in the sun are over, but I do like a tan. I use this daily during the summer and it helps me not frighten children with my white legs.
Now, if you need a good self-tanner before an event or a vacation, then this st. tropez self tan express bronzing mousse is pretty amazing. You definitely want to apply it with the mitt so it doesn't stain your hands, but it goes on easily, dries quickly and doesn't have a terrible smell. Leave it on for one to three hours depending how dark you want your color and then rinse it off. It gives a nice golden brown with no hint of orange.
I also love the dr. gross alpha beta glow pads for face for my face. I can use them about once a week to keep good color on my face.
And if you want a budget option, then this neutrogena micromist airbrush sunless tan is actually pretty good and the spray makes it super easy to apply.
9. laura mercier caviar eye stick
I bought this in the spring and I love it. It's a great creamy eye color that stays on and doesn't get flaky or crease. I like just a hint of light color for the summer and this is perfect.
This is a lip gloss that I always go back to. A tube lasts a long time and it looks good layered over a color or just by itself. And it tingles and plumps your lips which is always a plus.
11. bumble and bumble don't blow it hair styler
This is our summer hair product around here. The last thing I want is a hair dryer blowing hot air on me when it's one thousand degrees outside so I tend to just let my hair air dry. This gives it volume and body, but it leaves it feeling soft and smooth like I've blown it dry. It's a winner and a little goes a long way.
But if I have to blow dry my hair, I really like this aquage uplifting foam. It gives great volume and hold without feeling heavy.
So there you have it.
Feel free to share any of your favorites in the comments.