We are officially in the middle of our first week back to school. And, honestly? It hasn't been too painful. Even the earlier mornings and packing the lunches doesn't bother me, although I'm going to need to come back here in mid-October and read that sentence back to myself so I can remember my kinder, gentler, most glass half full self when I'm rolling out of bed with the attitude of a troll every morning.
I think part of the reason that school starting isn't as sad for me as it used to be is because summer with a teenager is decidedly different than summer with a younger child. Let's start with this photo of her closet that I took after I'd told her to straighten it up last week and after she allegedly did what I told her to do.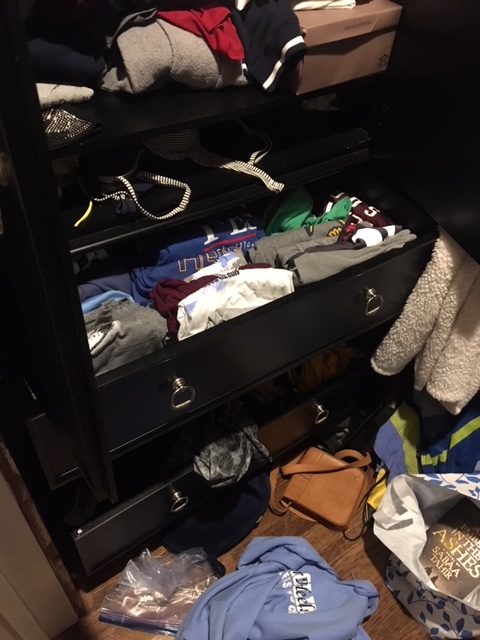 Clearly we have different definitions of what "clean up your room" means.
And then there's the reality that a fun summer daily activity for a teenager no longer involves going to the neighborhood pool with their mom, but instead they just need you to drive them places to meet up with various friends. Essentially summer with a teenager involves a three month stint of being an Uber driver, Favor delivery and an ATM machine all rolled into one human being. To add insult to injury, they are mild to moderately embarrassed by you at all times even when you really try hard not to rap along with Cardi B. when their friends are in the car.
So I woke up one day in early August, realizing that I was both out of money and out of patience, and decided that the first day of school would be a welcome relief. Not to mention the fact that she'd started to watch Dance Moms on Netflix with an intensity that frightened me for her future SAT scores.
Anyway, all that to say, HELLO SCHOOL! Welcome back!
This is Caroline on the first day of her sophomore year. Sophomore year. What on earth? This has been the year that I can't read anyone's social media posts about dropping their kids off at college with going into a full on ugly cry.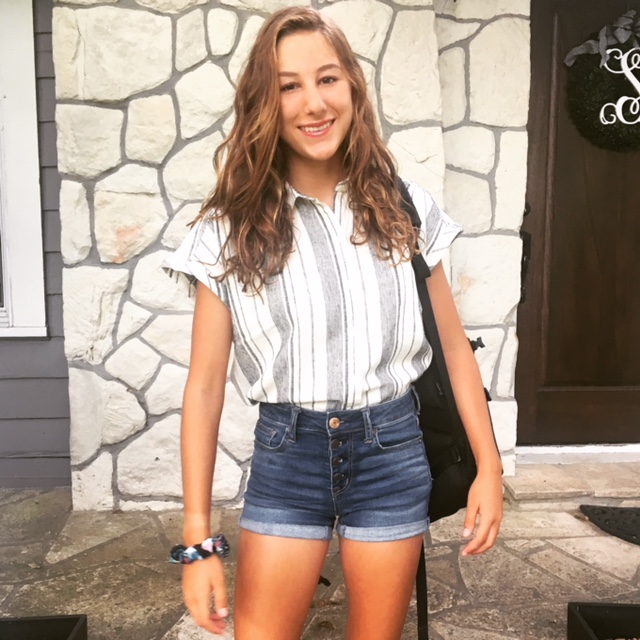 And just for posterity's sake to commemorate this sweet time in our life, this is the first picture I took. Please notice the way her hand is motioning for me to hurry up. The nerve of me loving and adoring her and wanting to document her life.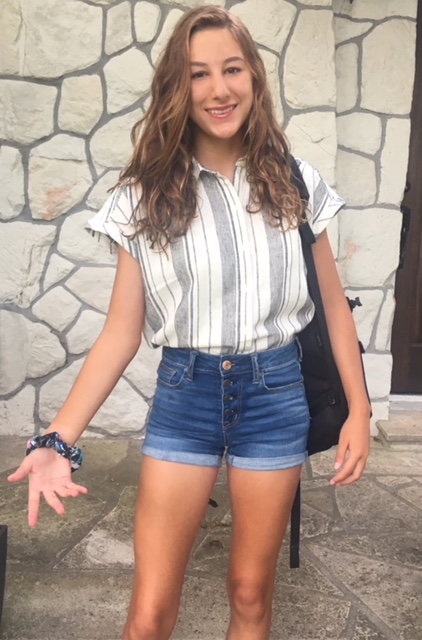 This first few days have actually gone really well. She likes her teachers and all her classes and even though it's probably not as mentally stimulating as watching Dance Moms, I'm sure she'll have a great year.
This past weekend we had our first soccer tournament of the season. It was approximately 184 degrees outside and I think part of my soccer chair melted in the sun. We picked up brand new uniforms on Friday evening before the tournament started on Saturday morning because her SA United soccer club is now part of Sting Soccer which means the same team and coach, but new uniforms and a new league. I realize this is more information than you asked for, but there you have it. Anyway, one of the new uniforms is solid white which gave me pause from the beginning and then this happened.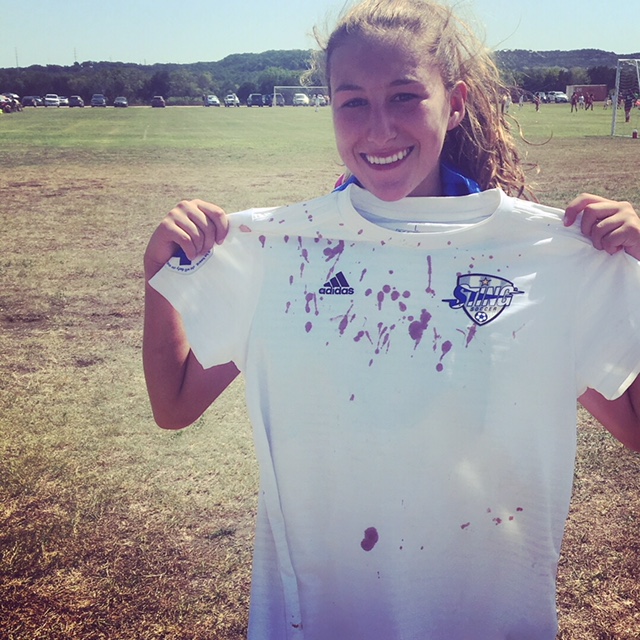 During the second game on Saturday, she took a ball right to the nose. I've been a soccer mom for almost ten years now and so I'm really not one to freak out over an injury because I know a lot of times they look worse than they actually turn out to be. However, the sound her face made when that ball hit caused my insides to shrivel up and curl into the fetal position. But she kept running down the field toward the goal until the ref realized she was bleeding and made her go out. Meanwhile, I'm trying to figure out if it's her nose or her brand new expensive straight teeth that sustained the most damage.
As it turns out, she was fine. There was blood everywhere, but once they got the bleeding to stop, she changed into a teammate's uniform and went back on the field and scored two goals. I think it's obvious that she gets her mental toughness from her mother. (Insert sarcasm font) I've been known to get in the bed to recover from a hangnail.
And thanks to the power of social media, I discovered that the best way to get blood out is hydrogen peroxide. My kitchen sink looked like a crime scene, but her white uniform is as good as new.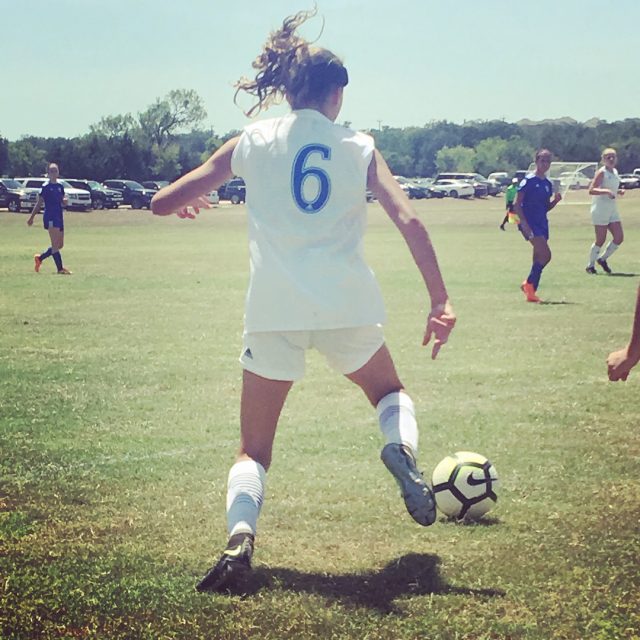 Then on Sunday, she sustained an injury to her toe. I'm going to spare you the pictures because even her coach told me they belonged in a medical journal and not on the blog. The bottom line is she ripped a huge callous off the bottom of her big toe and I may never get over the trauma of it. Our neighbor who's a doctor came over to look at it for us on Sunday after the game and I thought I was going to have to get my smelling salts and find a fainting couch. But by later that evening I was at least able to channel my best self and tell her she needed to "TOE-Tally have a great first day of school" and that she needed to literally "put her best foot forward". She laughed and said, "Oh Mom, your sense of humor is delightful!"
Or maybe she just rolled her eyes and told me to please stop. I can't remember.
But her team did win the tournament so I guess we at least have a medal to show for our weekend 'o calamity.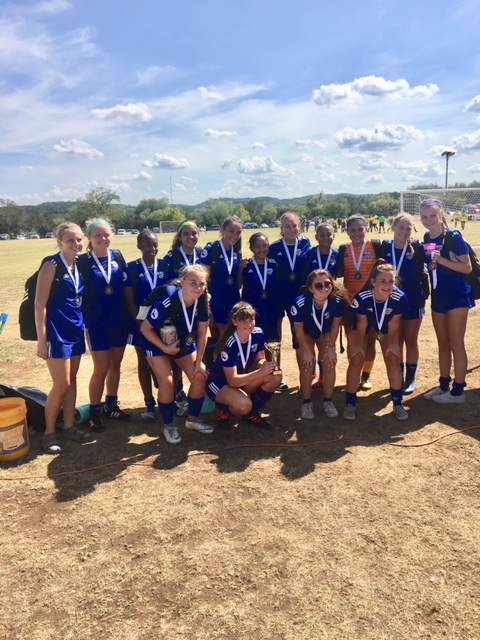 Along with enough hydrogen peroxide, blister bandages and Neosporin to start our own medical clinic.
But we're headed to College Station this weekend to do it all again.
Hope everyone is having a great first week of school and/or getting ready for school and/or watching Dance Moms on Netflix like it's your job.
Copyright secured by Digiprove © 2018