Well.
I read something the other day (Don't ask me to quote a source because I cannot.) that said it really takes being six weeks into a new school year before it feels like a routine. And so I looked at my calendar and counted the weeks since school began and it was six weeks as of this past Friday. So that means I should be in a normal routine any day now. I can't wait for that to happen. Then I can say, "It only took me forty-seven years and six weeks to get into a normal routine".
The truth is I looked at my calendar yesterday and couldn't believe we are already to October. That means that if I were to walk into Michael's or Hobby Lobby right now – which I don't plan to do because I don't hate myself – I could buy Christmas decorations. We are officially at the time of year when we'll look up and it will be December and we'll have decaying pumpkins on our front porch and dead mums in the planters and wonder where on earth the time has gone.
All that to say, we've been busy with life but not with anything necessarily noteworthy. It's a lot of getting up in the morning, cooking breakfast, packing a lunch, going to workout, trying to write, taking Piper and Mabel to the park, picking Caroline up from school, reminding her to finish her homework, taking her to soccer practice, picking her up from soccer practice, heating up her dinner, and then telling her to go to bed until I'm finally too tired to care and go get in bed whether she's in bed yet or not.
This may explain why my T.V. show of choice is currently watching old episodes of Frasier on Netflix. It's like my version of Valium. I find it infinitely relaxing because I can pay attention or not, laugh when I feel like it and not ever worry about missing any pivotal plot lines because I've seen the entire series already. I told a friend that the other day and she admitted she's been watching old episodes of Love Boat and I laughed but part of me had to admit that I'm just one news cycle away from watching Isaac and Doc and Julie cuchi-cuchi with Charo on the Lido Deck.
In other news, this past weekend was Homecoming. Earlier in the day, we watched the Aggies play Arkansas and, just as I've come to expect, the game lasted approximately 74 hours and took six years off my life. It started off with us returning the opening kick-off for a touchdown and I naively thought this was the year I'd be able to just relax and watch the game. I WAS SO WRONG. I hate that game. I hate it every year. But I'm thankful we managed to pull out the win even though it was a little sloppier than I wanted it to be.
Later that day, Caroline had some friends over to get ready for the dance on Saturday night and I brought all my hair products into her bathroom for the girls to use. One of them said, "Wow, Caroline. Your mom knows a lot about hair." And in that moment, I knew that was what I'd been training for all my life. Can I help with Algebra? No. Can I assist you with your science project? Not in a million years. Any chance I remember anything about ancient Greece? Nope. But do I know how to curl hair and use some product? YES MA'AM I DO. You don't grow up in the 80s, the golden age of Aussie Sprunch Spray and perms, and not know how to fix hair. I was born for such a time as this. I don't know much, but I believe in my ability to do good hair.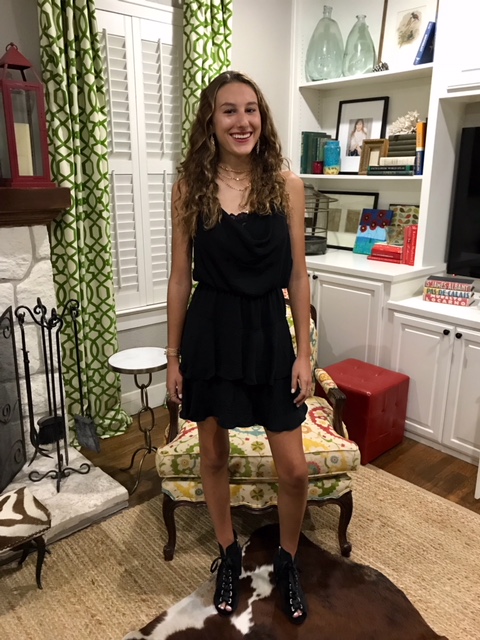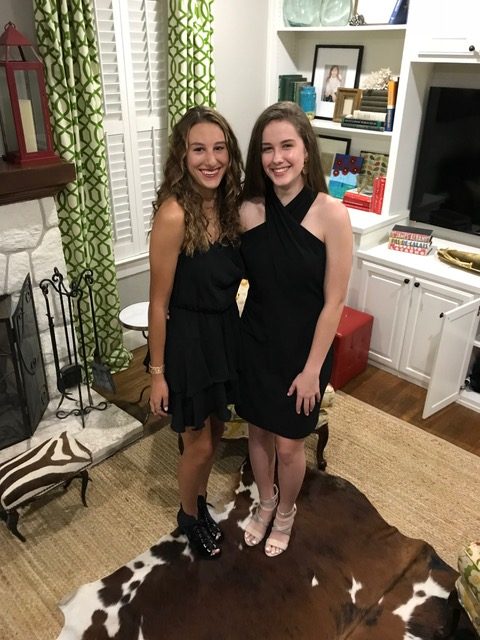 Less than ten hours after the Homecoming festivities were over, we were at the soccer fields for the first game of Caroline's club season. We were supposed to have our first game several weeks ago but the rain caused two different weekends of soccer to be cancelled. The girls played a great game and won 1-0. I was especially happy to watch Caroline play because she's been struggling with on and off injuries since last spring and she is finally healthy again. As much as I hated the rainouts, it really worked out and gave her time to fully heal so that's been a good thing.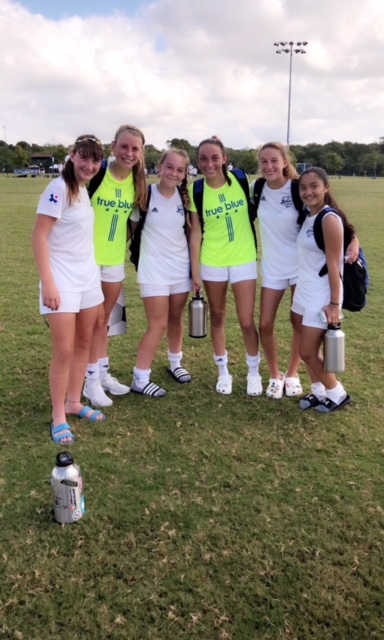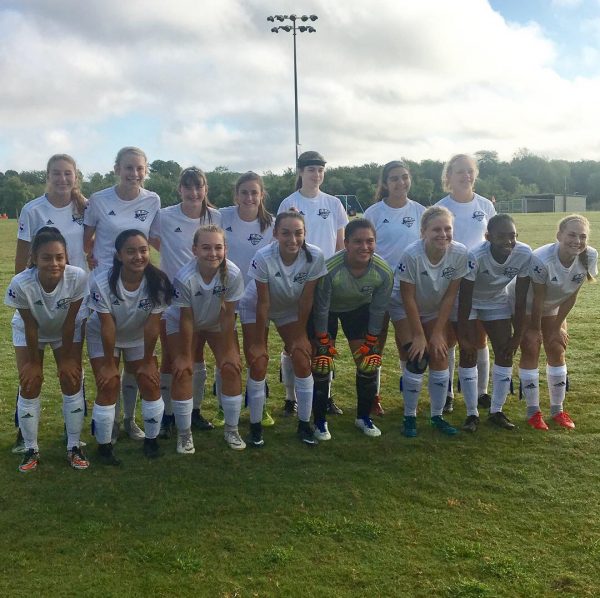 And, finally, I will leave you with this. I was driving Caroline to Young Life earlier tonight and we were talking about a situation that's been going on. I'd suggested several times over the last few weeks that maybe she could talk to her Young Life leader, Bella, about it. Except I didn't say just Bella because Caroline goes to school with several Bellas and so every time I mentioned it, I'd say, "Maybe you can talk to Bella Thorne about it" and Caroline would just kind of nod her head and not say anything.
Tonight I suggested it again saying, "Maybe you can talk to Bella Thorne about it" and Caroline just started laughing at me. That's when it finally hit me. Bella Thorne is not the name of her Young Life leader. Bella Thorne is a young actress who's popular with the kids. I have no idea what movies she has been in but she has over 18 million Instagram followers and that's what matters most. So I've been telling her for the last three weeks to go talk to some actress.
Perfect.
I am officially 100 years old and have turned into my grandmother.
Somewhere this totally cancels out the fact that I know how to do hair.
I asked her why she didn't correct me all the times I'd said it before and she said, "Because I haven't really been paying attention to you."
Honestly, I can't even blame her.
Copyright secured by Digiprove © 2018