This is where I will resist the urge to post a picture of Justin Timberlake, but sufficed to say it is now May. It is also almost Cinco de Mayo so this is me wishing you all a happy Cinco de Mayo.
Here are some cute things I found this week:
1. relipop sheer chiffon kimono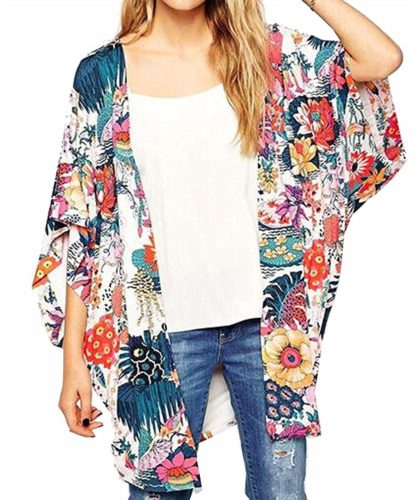 So there was this darling sheer kimono on the Nordstrom website earlier this week and I was so excited to feature it, but it is completely sold out. That's how cute it was.
But then in that weird way that Instagram ads know what you're thinking, this one popped up in my Instagram feed. I think it may even be cuter than the one at Nordstrom. It comes in several patterns and color combinations, but this one is the one I like. It's $17.99.
2. sigma espadrille knotted bow sandals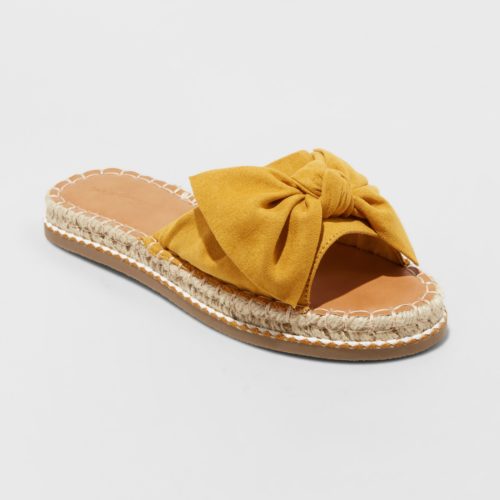 I am a little bit in love with these espadrille slides. They are $24.99 and also come in orange.
3. old navy mid-rise linen blend shorts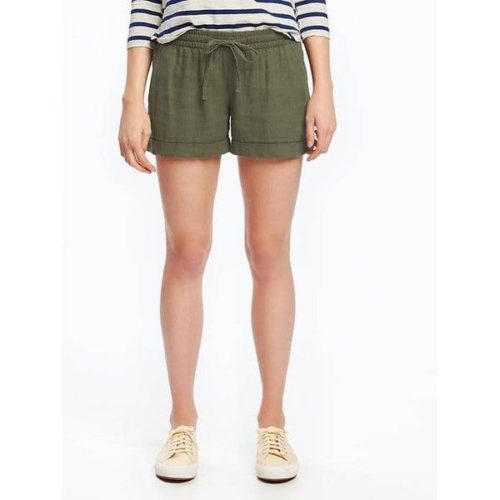 I believe that shorts are just a necessity when you live in the south during the summer. There are just times that nothing else will do. I bought a version of these drawstring linen shorts this week and they are so cool and comfortable because they don't cling or stick to your legs.
These from Old Navy are $12-$20 depending on the color you choose and they have a 4-inch inseam which means they aren't too short and you can always size up and wear them lower on your hips.
4. old navy ruffle trim swing dress
Several of you asked about the dress I wore for Easter. Well, this is it.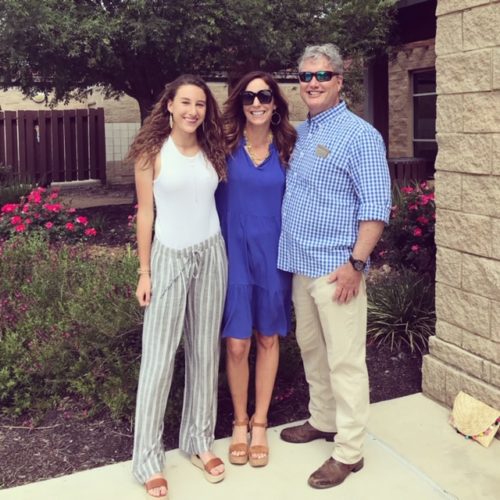 It is so comfortable and the color is prettier in person. The key is to leave that top button unbuttoned unless you like that higher neckline/keyhole thing.
It's $39.99 but 20% off with code SWEET at checkout.
And the necklaces I have on are the charmed medallion necklaces from Noonday Collection. You can find them here. I wear them almost everyday.
5. greta tiered ruffle mock neck maxi dress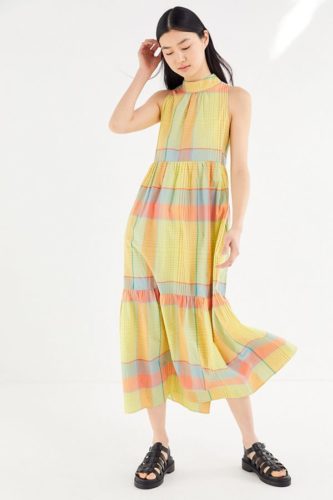 I think this is so summery and pretty. It's $79.99 but there is currently 30% off dresses and rompers at Urban Outfitters with no code needed at checkout.
6. tucson dress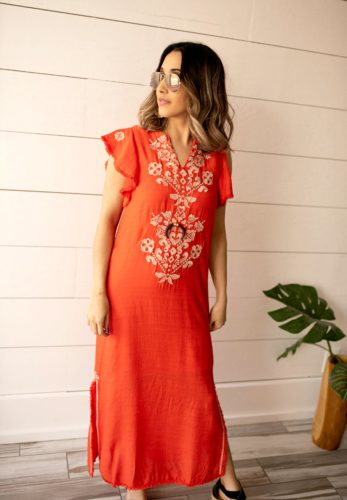 Several of you asked about a dress I wore to the polo match we went to a few weeks ago. I bought it last year and couldn't find it anywhere. But I did find this cute dress for $64 at the same online boutique where I bought that dress so I guess that's something.
7. valeria top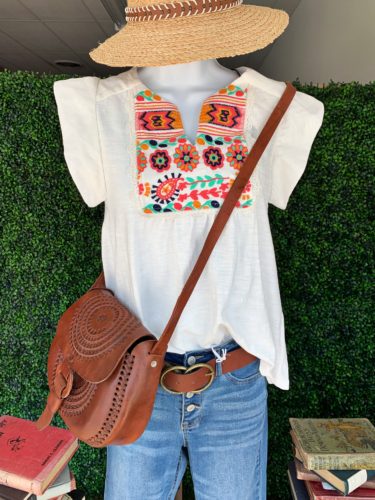 I love a bright, colorful embroidered top for spring and summer. This one is $44 and comes in off white or navy.
8. there you go again embroidered top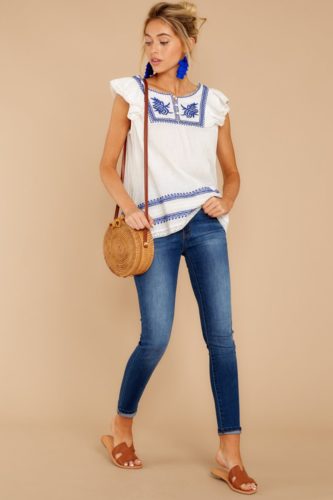 See what I mean? I love the crispness of this white with royal blue embroidery. It's $48.
9. spring up white beaded floral earrings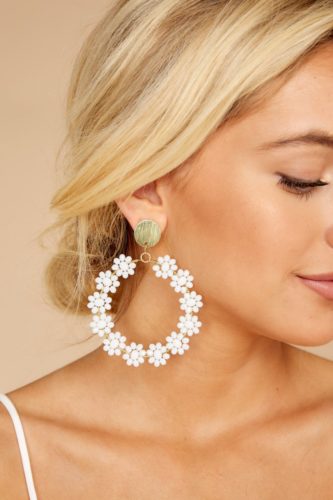 I think these earrings are so darling. They are $20 and they also come in orange.
10. free people gotta have you tunic top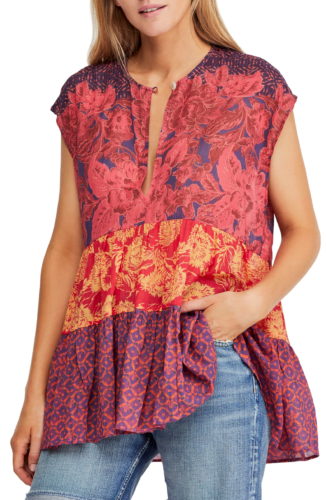 I saw this tunic top in Nordstrom and it is so cute in person. I didn't buy it because I'm not allowing myself anymore tunics at this current moment. But it's on sale for $68.60 and it also comes in two other colorways.
11. universal thread sleeveless v-neck tank dress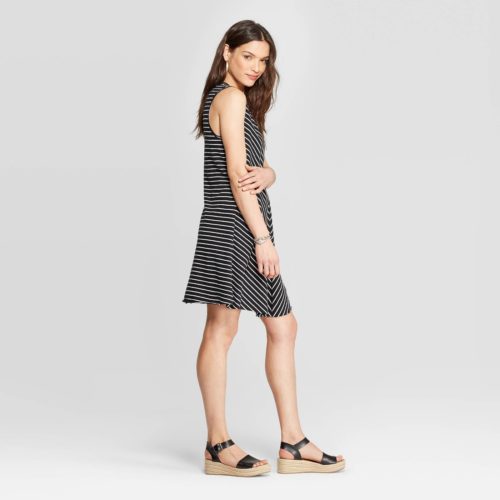 I ran in Target the other day and saw this dress. It's the perfect summer dress because it's lightweight and so soft. And it's just $19.99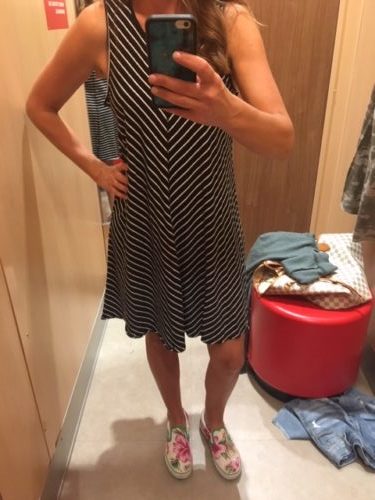 This is me in the dressing room. I ended up buying the medium because it was just a little longer and I liked it not being quite as short.
It also comes in camo here but it's pretty much sold out online. However, they may still have it in your Target store.
That's it for today.
Have a good Friday.
Copyright secured by Digiprove © 2019