Happy Mother's Day to all the moms out there.
And, just remember, you can buy yourself a Mother's Day present even if you aren't a mom. My motto is to do what Tom Haverford and Donna Meagle would do and TREAT YO'SELF.
As for me, I'll be spending my Mother's Day doing what I do almost every day of my life, watching Caroline play soccer. On Sunday we get to drive to Houston and back, which what better way to spend that day than on I-10? With any luck, I'll at least get a DQ Blizzard out of it.
Here are some cute things I found this week:
1. loft chevron flounce maxi dress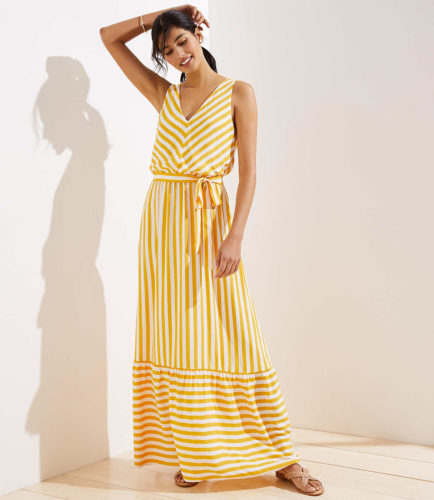 I think this is just darling. I love the yellow and white and I love the stripes. Perfect summer dress. It's $129 but Loft is offering 40% off everything with the code LOVEMOM at checkout.
2. custom Vans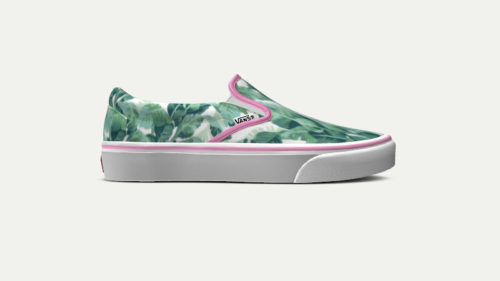 I have a custom pair of Vans that I ordered about five years ago and I love them so much. The best part is it's not that much more expensive to make a pair exactly the way you want them to look and there are tons of colors and patterns to choose from. I designed these today since we are all about the palm leaves at our house right now. I'm tempted to order them but I'm trying to show some self-control and restraint.
3. verdusa v-neck side pockets maxi dress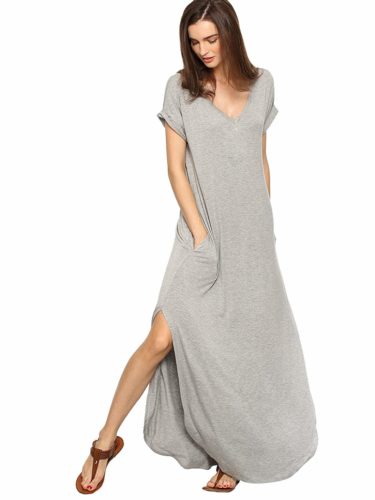 This is such a comfortable maxi dress and it has pockets. You can just wear it around the house or out to dinner with some cute accessories. It's around $15 and comes in a ton of color options.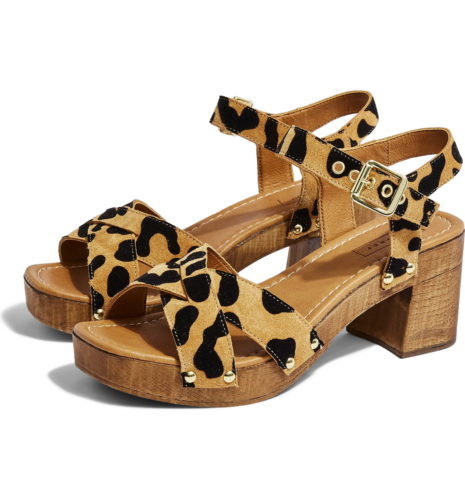 I love a sandal with a wooden heel. The leopard print is even better. These are $80 and also come in cognac or white. It's also nice that they just have a 2 1/2 inch heel which is a good height for all day wear.
5. high waist linen blend shorts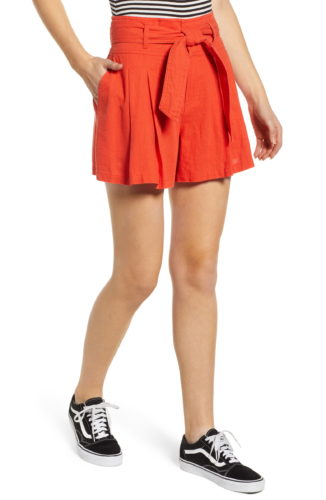 I think these shorts have real potential. I love the cut and the color. They are $45 and also come in plus sizes and an olive or mustard color.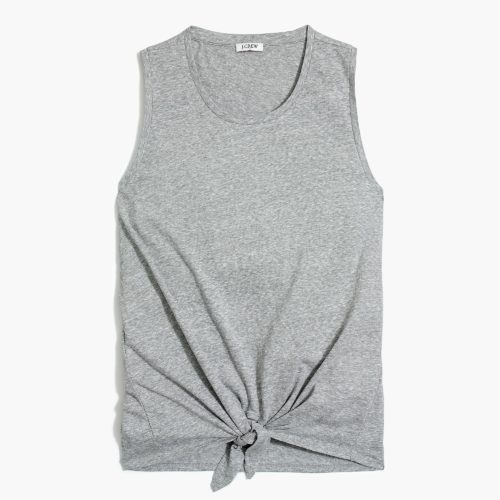 These tie front tanks are on sale for $16.50 and are perfect on their own or as a layering piece under a kimono or jacket. They also come in black or white.
7. back from bali long mexican embroidered dress
I featured this dress about a month ago and couldn't quit thinking about it, so I finally ordered it and love it. It's so comfortable and has all the perks of a Mexican embroidered dress but is made out of a soft rayon type fabric so much softer and drapes better.
Here I am wearing it. Please excuse the horrible photography, lighting and unmade bed. For size reference, I'm wearing a small and it's the perfect fit. I'm usually a 4-6 in dresses.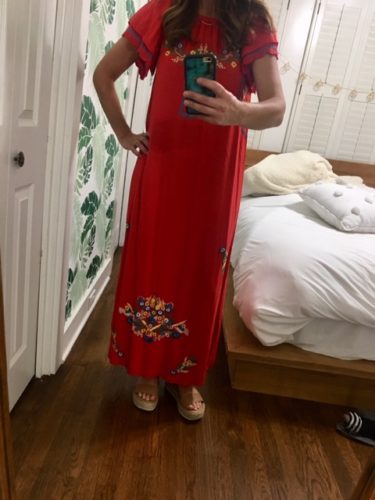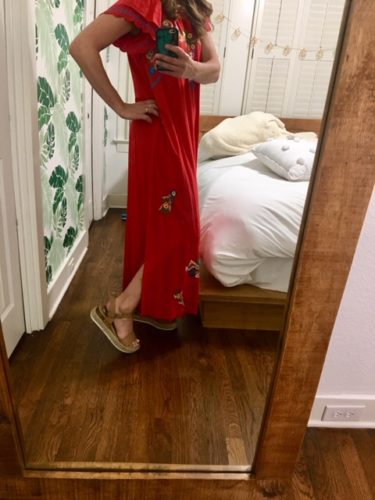 It's $69.95 and it also comes in navy.
8. loft dotted ruffle tie neck blouse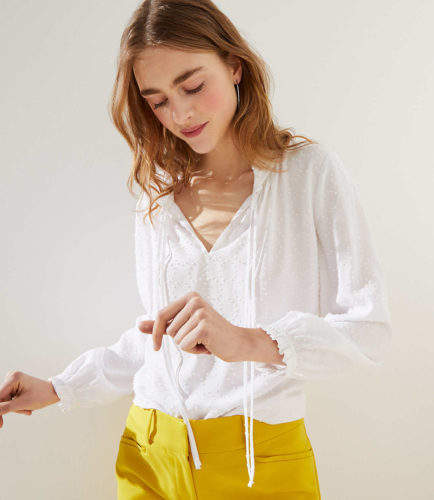 This is the prettiest blouse that would work for both casual wear and the office and it has great reviews. It's $59.50 but Loft has 40% off with the code LOVEMOM at checkout.
9. brielle embroidered peasant blouse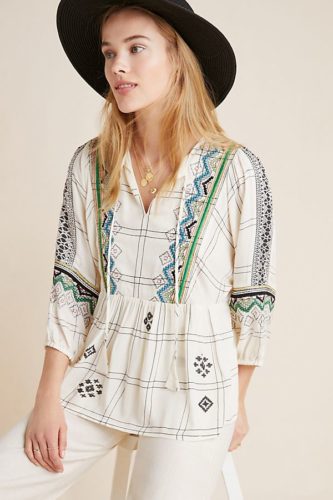 I featured this top a few weeks ago but now it's on sale for $89.95 plus and extra 25% off all sale at Anthropologie with no code needed at checkout. It's so much cuter and brighter in person.
10. milk and honey sunshine state of mind tee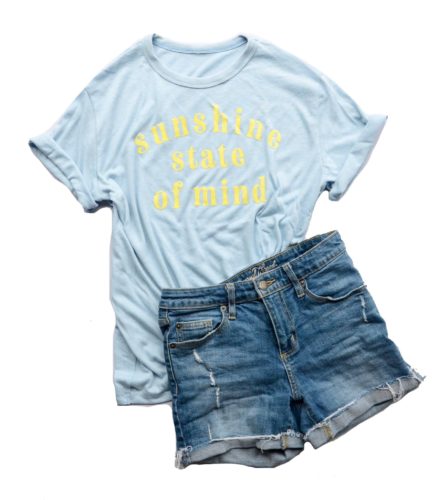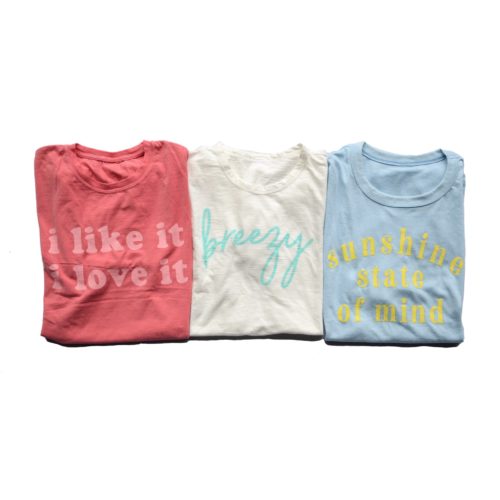 I love Milk and Honey tees because they are so soft and the perfect match for shorts or cute casual skirts in the summer. I plan to live in the Sunshine State of Mind shirt. It's $30 and they also have tank tops available in some of the designs.
That's it for today.
Have a good Friday.
Copyright secured by Digiprove © 2019