I realize it's only April and way too early to start complaining about the heat, but it was seriously 96 degrees yesterday. NINETY-SIX DEGREES.
It was so hot that when I got in my car yesterday afternoon wearing shorts, I felt the back of my legs begin to sizzle on the leather seats. All of a sudden I was filled with empathy for Ariel and her hot-glued bottom.
In other news, this is our dog Bruiser.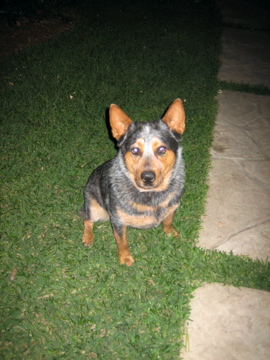 About two weeks ago I had to take him to the vet. Apparently he has very sensitive skin and also a possible flea allergy, which isn't really convenient when you're a dog.
We tried to help him out by giving him some Benadryl and slathering him in hydrocortisone, but it didn't seem to help. He appeared to need something stronger, like perhaps Valium or a shot of tequila; both of which are clinically proven to either help with flea allergies or just make sure that you don't really care that your back is itchy.
They sent him home with a bottle of shampoo that's supposed to help with all his skin issues. So while I'm using Pantene in an effort to save money, my dog that came from humble trailer park beginnings is using shampoo that costs more than the Biolage I gave up for the sake of thriftiness.
I believe that's called irony.
Then, yesterday, I had to go to HEB to pick up a few things I'd forgotten earlier in the week and when I went to check out the cashier asked me if I'd like a free light bulb in celebration of Earth Day. Well, I'm no fool. Who would turn down a free light bulb?
Plus, I used the money I theoretically saved on buying a lightbulb to treat myself to a new bottle of Biolage.
Math has never really been my strong suit.
But in my defense, I can't have a dog with more shine and volume than me. That would just be wrong.