Here's the highlight of my week:
It rained here on Monday night.
Actually, Monday was Caroline's birthday so that was the biggest highlight, but the rain was a close second. It's just so dang hot and the rain made it actually feel cool for a second. It made the sky cloudy enough that our air actually quit running for a few minutes because it was able to cool off our house without the intensity of the sun beating down on our roof.
I realize you didn't come here for a weather report, but that's an indicator of how boring this week has been.
However, there are a lot of good sales happening. I'm not talking about the Nordstrom sale yet because I'm assuming most of you are like me and can't shop it until August 13th at the earliest. And if you can shop it earlier, then you probably have someone smarter than me telling you what you should buy.
Anyway, here are a few cute things I found this week:
1. farm rio gabriela knit maxi skirt
Let me tell you a short story. Last fall back when life was normal, I stopped by Anthropologie to check out the sale room. There was a gorgeous maxi skirt marked down to 50% off and so I tried it on. Then I fell in love.
I had never heard of the Farm Rio brand until that day, but now I'm a huge fan of their gorgeous prints. This skirt is very similar to the one I bought that day. The knit is so soft and it's very forgiving even though it's a fitted type skirt. It's not tight and so comfortable. Mine is a small and I'm normally a 4-6.
This skirt was $138 but is on sale for $89.95 plus an additional 25% off all sale at Anthropologie.
2. just you wait navy blue floral top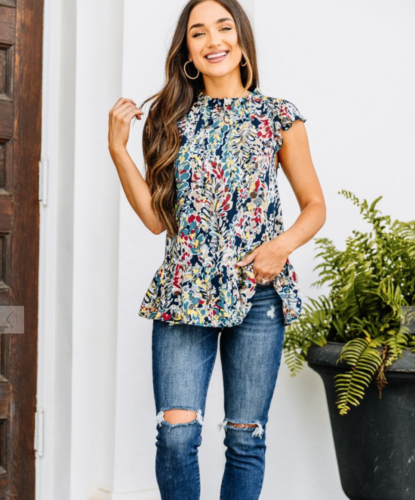 I think this is the cutest top. I love the colors and it would be so cute with skinny jeans and booties for the fall. It's $36 but you can get 15% off when you sign up for emails.
3. old navy linen blend shirtdress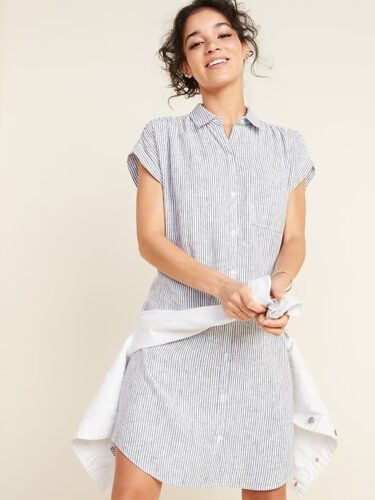 These Old Navy shirt dresses are such a great basic piece. You can wear them now with sandals or sneakers and then wear a long cardigan over them with booties for the fall.
This is $28 with an extra 30% off at checkout.
4. breaking free magenta batwing sweater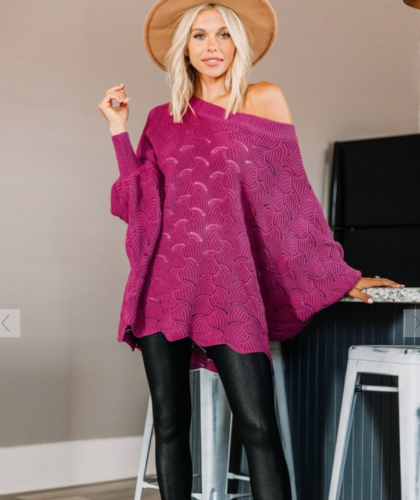 I realize I am getting ahead of myself with this sweater, but the color is so gorgeous. You also don't have to wear it off your shoulder like that unless you just want to. It's $54 but you can get 15% off if you sign up for emails.
And if you're in the market for some faux leather type leggings this fall and winter, these American Eagle crackle leggings are great and on sale for just $38.46.
5. stars above wide leg lounge pants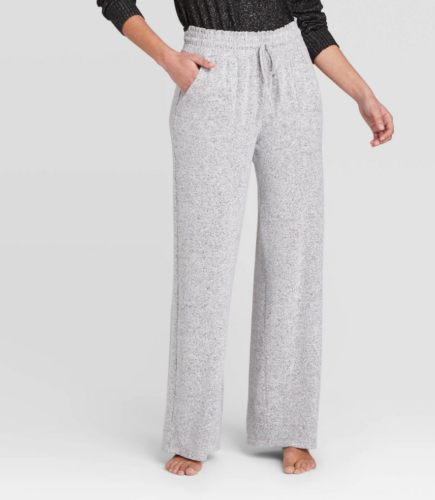 I know I featured these last week but I don't want you to miss them. They are the softest dang thing I've maybe ever put on and just $19.99. I love them so much that I'm going to get them in the light gray, too.
And the matching stars above lounge sweatshirt is also $19.99.
The whole set is so comfortable and soft. I'm just saying that pandemic times require pandemic clothes. Treat yo' self.
6. zella high waist daily leggings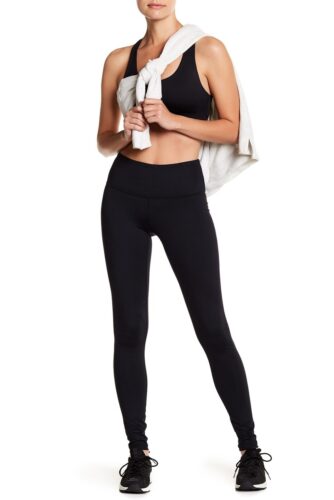 These are my very favorite leggings of all time. I wear them dressed up with boots and tunics and I wear them to work out in when the weather is cool. This is a great deal on them right now. They are normally $58 but on sale for $26.97.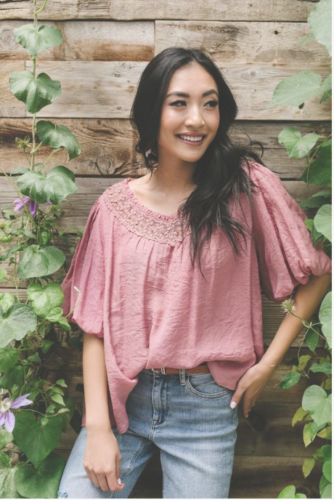 My friend Ashley has the cutest online shop called The Bluest Willow. You can follow her shop and see all her new arrivals each week on Instagram here.
This top was my show stopper this week. I love the color and the style. Plus, you know how I love a piece that you can wear now and then transition for fall later.
It's $36.
8. daily ritual jersey muscle swing dress

This has been my shining star for the last two summers. It's just a great basic and I find myself wearing it over and over again because it's just so easy to throw on any time I have to leave the house.
It's just $18.50 and it comes in a ton of colors and some stripe options.
9. abercrombie mid rise jean leggings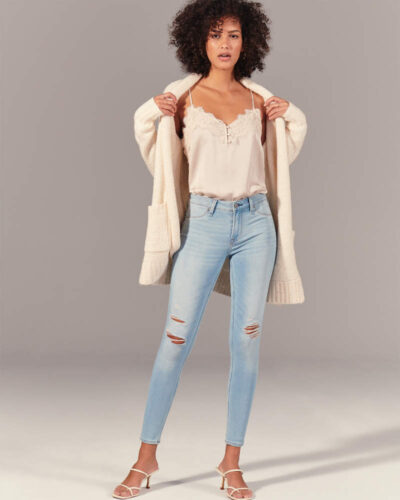 Abercrombie has all jeans 50% off right now and these are even an additional 25% off. They feel just like leggings and are so comfortable. But there are a ton of great options and styles on sale so I'd definitely look around if these aren't your style but you are in need of jeans.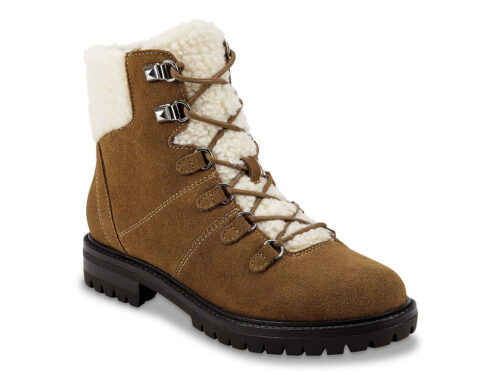 I realize these are awfully winter-ish, but they are on sale for $49.98 and that's a great deal. I bought a pair similar to these last year and replaced the laces with red shoelaces from Amazon and they were my favorites.
These also come in black.
11. ripped ultra high rise straight overalls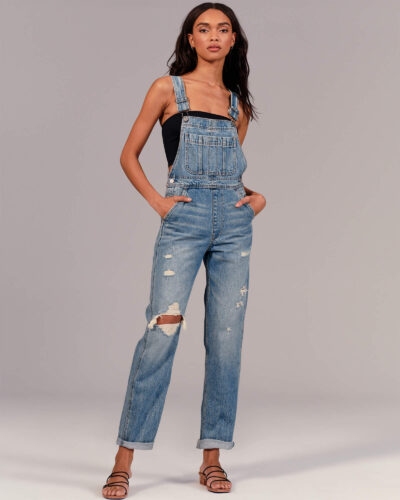 My overalls have been a quarantine staple for me and so I'm either way on trend or I'm too old to care that I'm now back to wearing overalls after I swore I wouldn't do that again in 1996. The heart wants what it wants.
These are on sale for $55 and I love the distressed look. You can wear them now with a tank and sandals and then later with long sleeves and booties. I'm a fan. The end.
I also love these white wide-leg overalls for something different.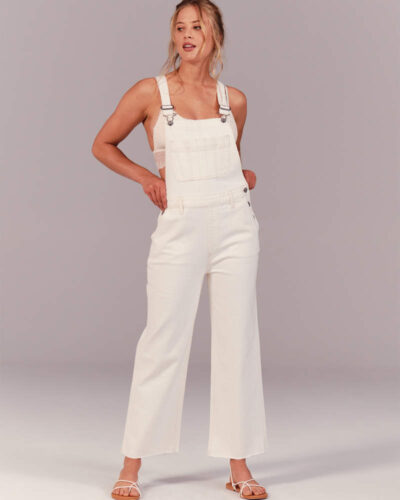 They are also on sale for $55 and I think they would look so cute with a black long sleeve top and booties this fall.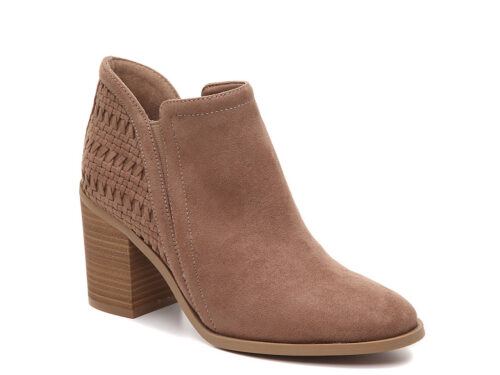 Speaking of booties, I really like these if you're in the market for a new pair. They are on sale for $59.99 and also come in black.
That's it for today.
Have a good Friday.
Copyright secured by Digiprove © 2020