First, I just want to take a minute to remember that today is September 11. Everything has felt so contentious this year and it's weird to think about on how united the country seemed in the days following September 11. Honestly, I wonder if it will ever be that way again. It's just hard to believe we are almost twenty years away from that awful day.
Anyway, I cannot tell you how skeptical I was about an actual cool front arriving in San Antonio on September 9, but it really happened. Maybe this is God's way of letting us know he hasn't forgotten us as we live through the hellscape that is 2020.
Whatever the case, I'll take it.
I'd forgotten what it feels like to walk outside and not immediately have regrets.
Speaking of outside, we are just two weeks ago from SEC football games. I watched Texas State and SMU play last weekend with an enthusiasm I once reserved for more of an LSU vs. Alabama game. I don't even care who's playing anymore, I just need football to be on my television during the fall.
Fortunately, my friend Kristy at Two Funny Girls has created the perfect cups for all of us who will be watching football on T.V. but not actually getting to tailgate as we have in years past before we knew about things like face masks and Covid-19.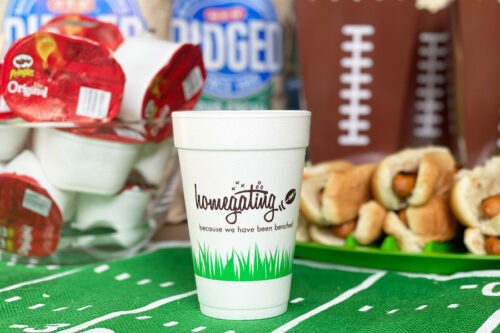 That's right.
Homegating.
This is where we are right now.
She also has these great cups with various campus skylines and I love them more than I can say.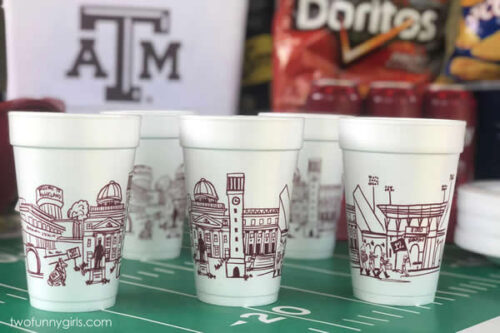 She also has shatterproof plastic versions if that's more your style.
You can find all of her tailgate cups here and you can get FREE SHIPPING when you use the code BIGMAMA at checkout.
Happy Homegating.
Here are some cute things I found this week: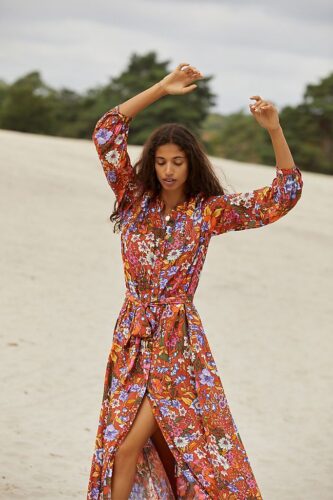 Anthropologie has 40% off on a bunch of new fall things just this weekend. This long shirtdress is on sale for $117.60. I love that you can wear it as a dress or leave it open and wear it as a kimono type thing.
It also comes in blue and I'm not sure which color I like best.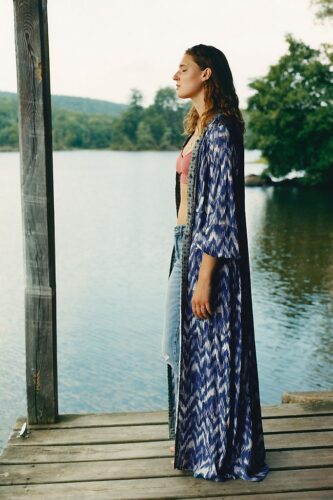 2. offline real me high waisted leggings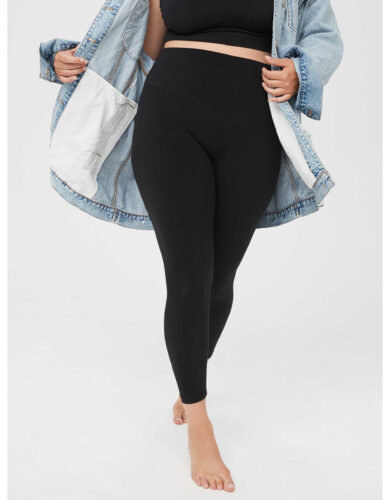 These leggings. I ordered these last week because I needed a new pair of black leggings and I'd heard great things about these. They did not disappoint. I cannot tell you how soft and comfortable they are and the material is great because long tops won't cling to them. I highly recommend these.
They aren't really a workout legging because they don't have a ton of compression or thickness, but they are a perfect wear around/athleisure type leggings. I sized up to a medium but could've totally done a small. I just didn't want the waistband to make me feel sad, but that isn't really an issue.
They are on sale for $27.96 and come in several color options. I'll also tell you that I like this 7/8th length because they hit right above my ankle. I'm 5'6″ for reference.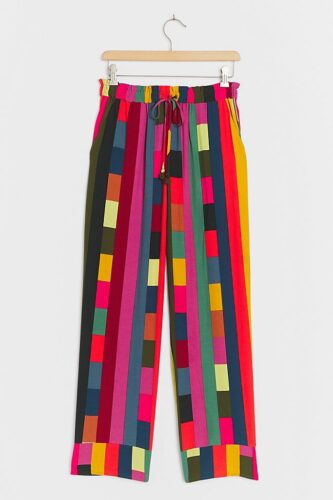 I think these pants are so bright and darling. They are on sale for $88.80 and would look so great with a white tank and a denim jacket. Or maybe a black turtleneck and booties.
4. aerie boyfriend voop oversized t-shirt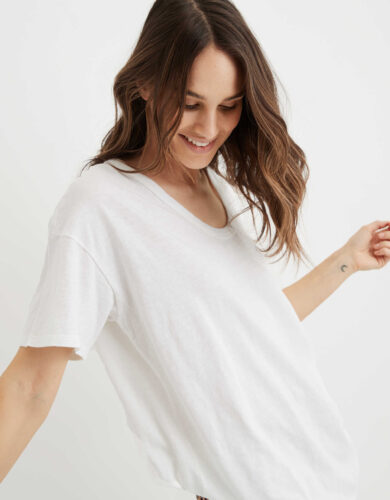 I also got this t-shirt when I ordered my leggings. It is the perfect oversized t-shirt, works great with leggings and is loose without being too boxy, plus I love the neckline. I could totally wear a denim jacket or sweater coat over it if I wanted.
It's on sale for $24.95 and comes in a bunch of color options. I actually got the maplewood which is kind of a maroon because I will wear it while I homegate before Aggie games.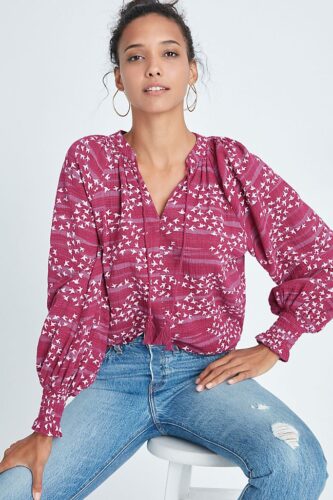 This peasant blouse is so cute and would look great with skinny or flare jeans. It's on sale for $61.60 and comes in a few different color and pattern options.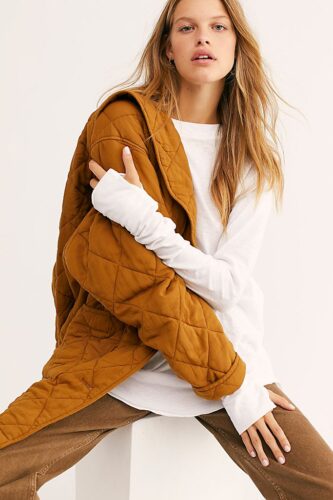 I did a whole thing on Instagram this week with some of my favorite white shirts and this one made the cut. It's a great basic long sleeve shirt, but long enough to wear with leggings and I enjoy a thumbhole in a shirt.
It's $58 and comes in several color options.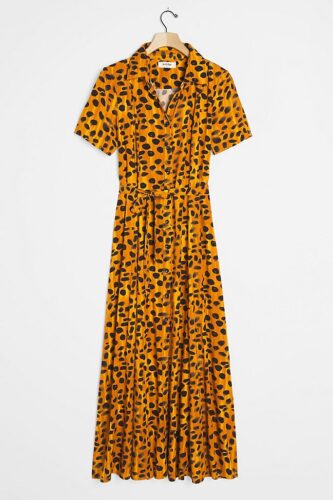 If you are in need of a dress, this one is on sale for $134.40 and is darling. I love the print and the style. It would look great with tall boots or booties.
8. abercrombie mid rise jean leggings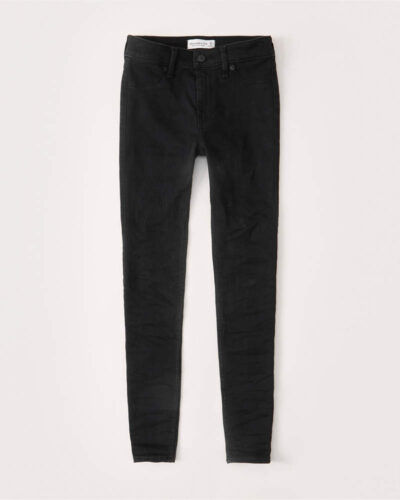 Listen. These Abercrombie jeans leggings are maybe one of my best finds this year. They hold their shape like crazy, yet are so soft and comfortable. I like that the mid-rise holds everything in, but doesn't hit so high up that my rib cage feels like it's being compromised.
They are 20% off and on sale for $63.20. They come in a bunch of color and wash options, but I'm eyeing this black pair because I need a new pair of black skinny jeans. I'm telling you that I like these better than my AG jeans that I paid significantly more money for.
9. wild fable tiered babydoll dress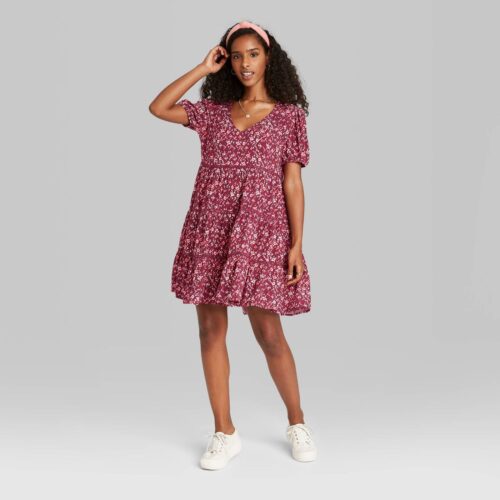 This is a cute little day dress to transition into fall. It comes in several fall prints and looks great on its own or with a denim jacket and booties or sneakers.
I was worried about the length, but the model is 5'9″ so I think it would be plenty long enough for most of us. It's $25.
10. puff sleeve long sleeve dress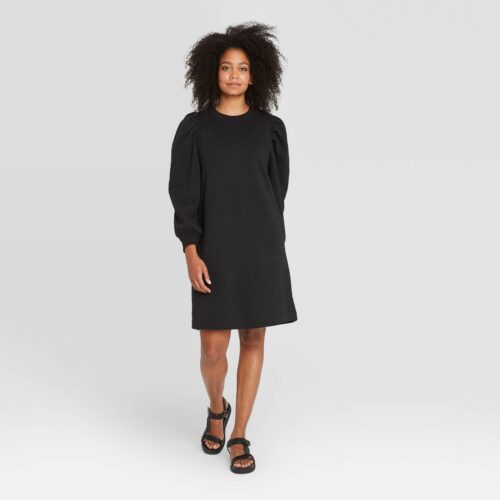 This is another great fall answer to the t-shirt dress. The puff long sleeves make it a little bit dressy if you want to go that direction with some great jewelry and booties, but it would be equally cute with a pair of sneakers.
It's $32.99 and it also comes in cream.
That's it for today.
Have a good Friday.