We've finally made it to September.
It's only been sixty-four years since last March.
And in typical 2020 fashion, our weather forecasters talked up a "cold front" that was supposed to get here next week and drop our temps into the 80s. This sounded glorious. This felt like evidence of God's mercy in the lives of those of us who have survived a Texas summer.
However, they are already backing off their claims of a "cold front", proving once again that meteorologists don't mind crushing our spirits.
In the meantime, there's no reason why we can't make plans to wear sweaters again someday.
Also I hate to get political and maybe you're not even aware that we are currently in an election year, but look what Milk and Honey Tees has brought back just in time for election season.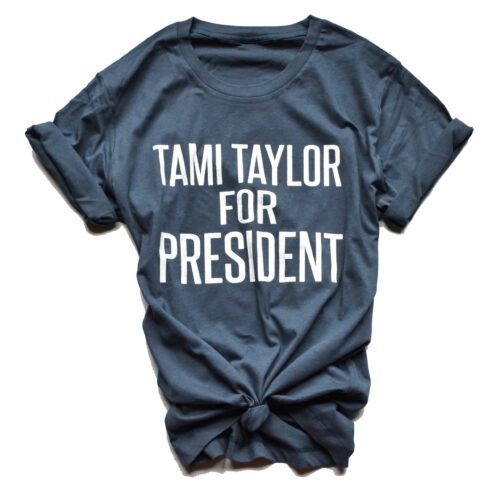 That's right. Tami Taylor might be the only candidate we could all agree on. And you can get this cute tee for 20% with the code BIGMAMA20 at checkout.
Here are some other cute things I found this week:
1. quay australia jezabell 57mm round sunglasses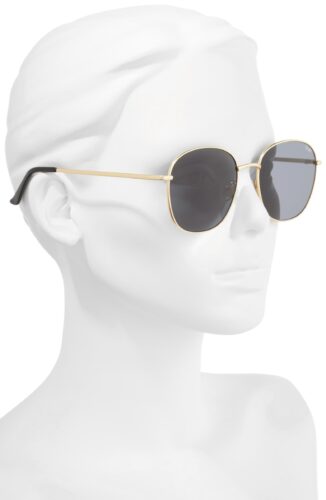 Quay sunglasses are my new favorites. They have the best styles that fit a range of face shapes and they are reasonably priced.
I love these oversized round frames. These are $65.
2. h&m off the shoulder sweater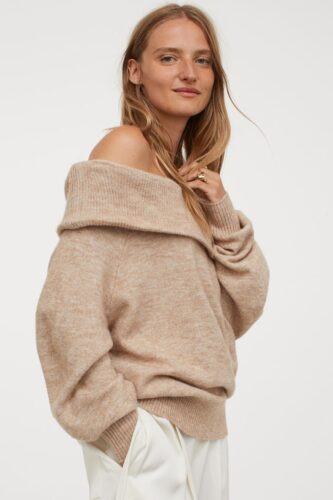 You wouldn't think sweaters from H&M would necessarily be soft, but you would be wrong. I have had the best luck with their sweaters and I love this off the shoulder version. It would look so great with jeans or paired with a maxi skirt.
It's just $19.99 and also comes in light gray.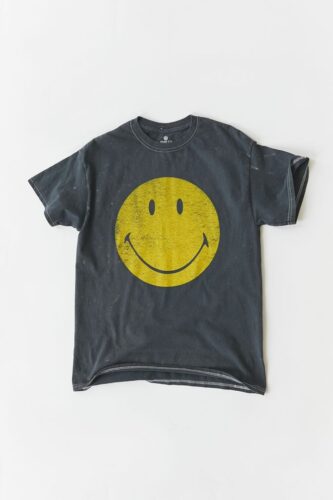 How many graphic tees are too many? Asking for a friend.
I feel like a smiley face is the reminder we all need right now and I love this charcoal gray color. It would be perfect to wear alone or layer under a cardigan.
It's $44 and also comes in tie-dye.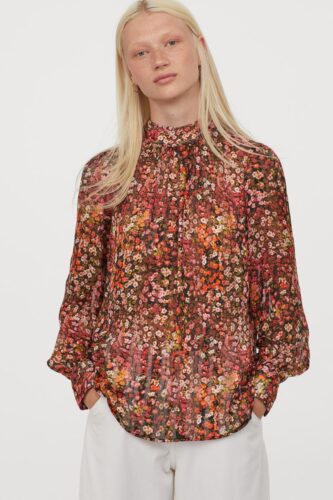 This blouse would be perfect for the office or date night. I love that it feels a little retro and reminds me of the tops my grandmother used to wear when she started selling real estate in the 1970s. It would look divine with a pair of flares and wedge heels.
It's $17.99. It also comes in a leopard print and a couple of solid colors.
5. universal thread button down shirt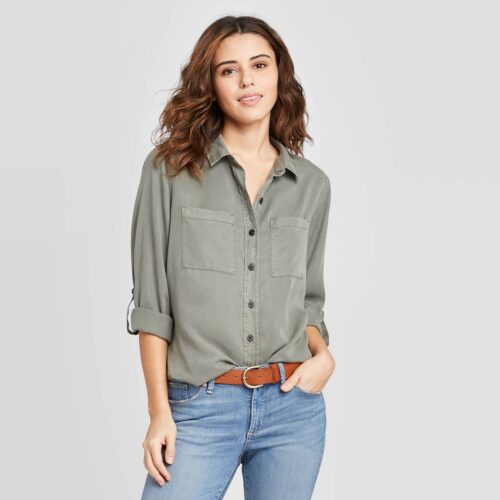 I have a shirt that's very similar to this that I bought a few years ago and I still love it. It's a great neutral top that is like a denim option, but different because…well…it's not denim. It looks cute with everything from jeans to joggers with a tee or tank layered underneath.
It's $19.99.
6. marc fisher gabi slingback sandals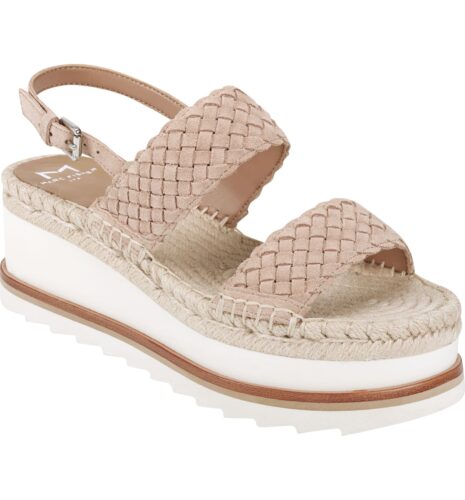 These are the cutest sandals. The heel alone is worth it.
They are on sale for $67.98 and come in a couple of color options, but sizes are limited so they are selling fast.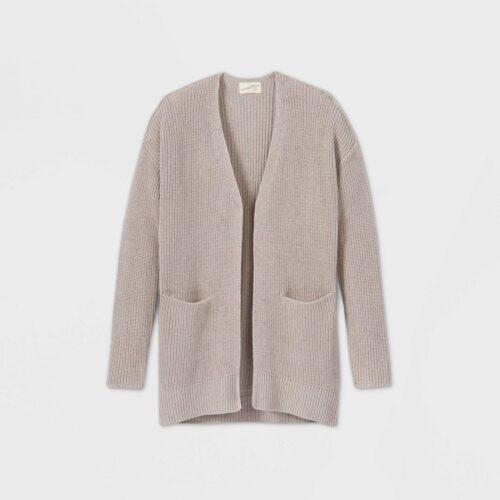 This is a great fall basic. It's a great length that looks great with jeans or leggings or even over one of those t-shirt dresses that I love so much.
It's just $25 and comes in so many great colors. It also comes in plus sizes.
8. free people print wide leg pants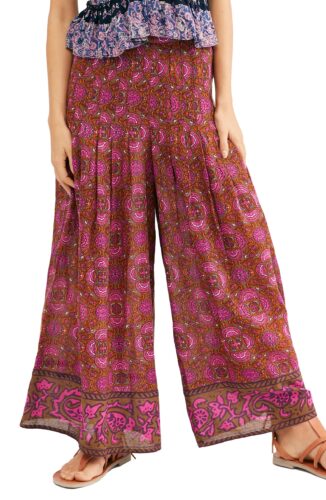 I love a wide leg pair of pants and these are so cute and different. They would look great with a black fitted top or with a denim shirt tied at the waist.
They are on sale for $76.80.
9. kendra scott scarlet gold hoop earrings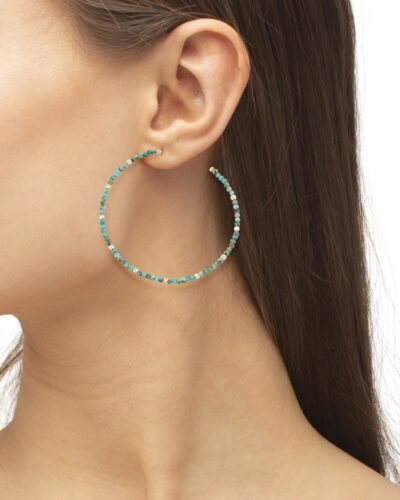 Kendra Scott has so many cute pieces right now and they have 20% with free shipping and free returns this weekend.
I love these turquoise hoops, but they also come in white or royal blue.
10. ae offline warmup drawcord leggings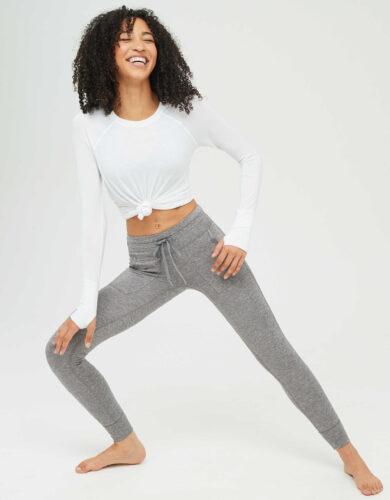 These have become one of my must have basics and I buy a new pair every year. They fit like a legging but are styled more like a jogger with pockets. I cannot express how comfortable they are and they are on sale for $34.96.
They also come in black.
11. h&m cotton tunic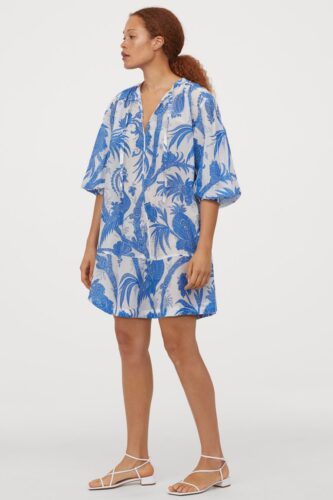 This definitely feels more summery to me but it's too cute to not show you. It would be the cutest little tunic over white jeans or a great swimsuit coverup.
It's $34.99.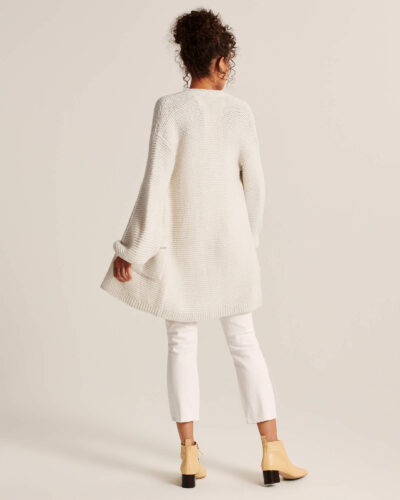 Abercrombie has a bunch of stuff on sale right now and this cardigan is a steal. I love the puff sleeve and the length.
It's on sale plus an additional 15% off making it just $33.57 and it comes in several color options.
That's it for today.
Have a good Labor Day Weekend.