My friend A.J. is a freelance photographer and spends a lot of time traveling to various photo shoots. She also happens to be twenty-six years old and single, which is why I was so excited when I got an email from her the other day that said:
"I'm in Alabama and I think I've met the perfect guy. He loves to travel, loves Jesus, and obviously loves dogs. He's everything I've been looking for. I'm attaching a photo."
Well, I was just beside myself with joy.
And then I opened the attachment.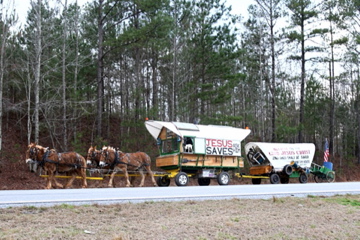 I immediately called her and told her that if he really loved his dog he wouldn't let it ride in such a precarious position. He might not be such a catch.
Not to mention, those mules probably require a lot of upkeep.