I realize there have been moments this week when I've made light of the fact that we are in the midst of a swine flu pandemic, so I feel like in all fairness I should be serious for a minute and provide some tips on how to avoid contracting swine flu. Fortunately, my friend Corrie sent me this photo which serves as an excellent reminder of behaviors that should be avoided.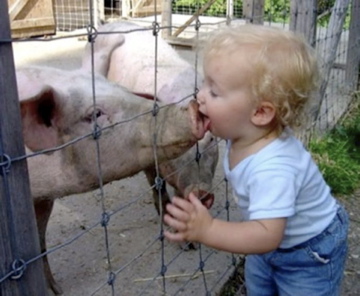 You're welcome.
And seeing that pig serves as an unwelcome reminder that swimsuit season is right around the corner. Only the Shred can help me now.
Several of y'all have emailed with questions about swimwear and I wish I could produce some miracle of modern spandex that would solve all your woes. Just remember that you have nothing to fear except the fear of a swimsuit.
I don't even know what that means.
In the interest of laziness and the fact that it's way late since I stayed up to watch a live video feed of the Compassion bloggers in India, let's start with a few tips that I blatantly copied and pasted from last year's swimsuit edition of Fashion Friday.
When trying on a swimsuit:
1. Make sure you actually move around in it like you will when you wear it. Bend over, lift your arms, and move around to make sure everything stays in place. Because when your child takes off a full speed towards the deep end of the pool, you don't want to have to worry about the girls falling out in mid-run.
And, hypothetically speaking, if your pool has a brand new slide that you decide to go down to impress your daughter, you don't want to have to worry about almost losing your bottoms. Hypothetically speaking.
2. On that point, try different sizes to get the right fit. If the bottoms don't have enough coverage, then try different bottoms. Going up a size isn't going to necessarily help and may just give you saggy bottom syndrome once they are wet.
3. As painful as it may be, look at yourself in a three-way mirror to make sure everything you want covered is actually covered. Just a quick look is all it takes, don't torture yourself.
4. Last of all remember that NO ONE will be more critical of how you look in a bathing suit than you. Every other mama is a lot more worried about how she looks than how you look. Find something comfortable that you feel good in and call it a day.
I realize this advice is over a year old, but it is still relevant. There are certain truths that will always remain and those are a few of them.
Now for a few recommendations:
If you're looking for a suit that may perform a few miracles, then Lands End is a great place to start. They have swimsuits that offer all-over control and have a cute retro look to them. There's also this halter-style one-piece that offers control.
If you need a little (or a lot) of underwire with your swimsuit, then one of my favorite sites is Aerin Rose. It's a great line of swimwear with one-pieces, tankinis and bikinis that all have great support. Plus, they're having a sale right now.
Here are a few more links to sites that have good swimwear selections. Beachbliss, Figleaves, Swimsuits for All, Lion's Lair Specialty Swimwear, and Best Swimwear.
And here are a few suits that will get an extra shout out just because I think they are so cute. I love this Tommy Bahama suit, this paisley one-piece , and this darling tankini.
One last thing, check out all the cute cover-ups. I am particularly in love with this one and this one that can be worn as a skirt or a strapless cover-up.
Of course you could always go with something like this, rock a side ponytail, and channel Chrissy Snow from "Three's Company".
On a completely unrelated note but of much greater substance and importance, there are not words to describe the power of this post by Melissa and this post by Angie from the Compassion India trip. Both left me in tears as I read them yesterday. INCREDIBLE.
Y'all have a great Friday.
Here's Mr. Linky if you have something to add on a fashion-related note.