I had an appointment to get my hair cut this past Wednesday, but in spite of all the hair wisdom y'all shared last week, I was on the fence about whether or not to get bangs.
So Tuesday night I turned to P, sighed loudly and said, "I don't know what to do about my hair."
(To his credit he turned and looked at me like he was actually interested.)
"What do you mean?
"Well, I don't know if I want to get bangs or just leave it alone."
"What do bangs look like?"
"What? What do you mean what do bangs look like? They look like bangs. Like this.", I said as I pulled a few pieces of very long hair across my forehead in an attempt to create the illusion of bangs.
"Yeah, that doesn't really help. Tell me the pros and cons of bangs."
(For the record this entire conversation never would have happened if there had been ANYTHING on T.V.)
I listed the various pros and cons of bangs with involved details regarding humidity, frizz, and an unfortunate cowlick. Finally P said, "Haven't you gotten bangs before and then regretted it immediately?"
"Yes. But it wasn't so much immediate regret as 48-hours-later-regret."
"I think you have your answer."
He is the cool head of reason in the midst of all my turmoil.
And also the wind beneath my wings.
Caroline went with me to the beauty shop on Wednesday because I'd scheduled back-to-back appointments for us at her request. When we got there she informed me that she wanted to go first. It was too late when I realized this was so she could spend my entire haircut experience asking, "How much longer until we leave?" while simultaneously complaining about being hungry in spite of the fact that she bogarted about six Pepperidge Farm Milano cookies before we left the house.
Amazingly, her hunger totally disappeared the minute our hairdresser asked her if she'd like a piece of Laffy Taffy. Of course everyone knows that there is nothing more filling or satisfying than a bite-size piece of taffy.
Anyway, Caroline was first up in the chair. I told our hairdresser I wanted her to cut Caroline's hair a little bit shorter than usual, like maybe to right below her shoulders. Now that it's almost summer (ALMOST being the key word. Dang you Department of Education.) and all our days will be spent at the pool, I don't want the nightly drama that naturally occurs whenever there's a comb and tangle-free spray involved. Oh the humanity of a mother who believes in good grooming.
I was a little worried that Caroline would freak out, but when she saw herself in the mirror she got a big smile on her face. About that time my hairdresser said, "Do you want me to cut bangs or just leave it all one length?"
After pausing for a minute I said "Just leave it", but then Caroline looked up at the hairdresser and said in a calm, even voice, "I WANT BANGS."
She dared to go where her mama was afraid to go.
So for the first time since she was three years old, she has bangs.
There are no words to describe the amount of sassy she feels with her new look or how many times she's admired herself in the mirror, but when I asked her to pose for a picture with her new bangs this is what I got.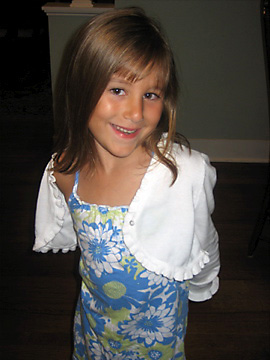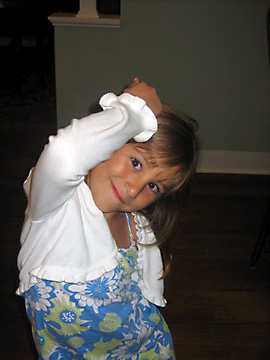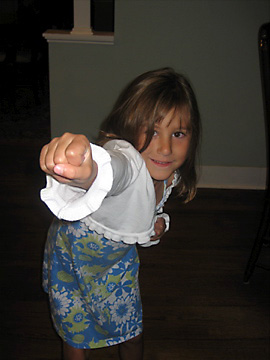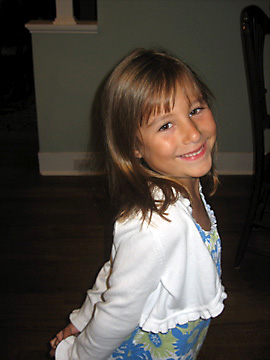 I think it's safe to say she feels no bang regret.
And I don't know if she's ever looked cuter.
As for me, I got two inches trimmed off the back. She obviously didn't inherit her hair courage from me.
Of course I don't think she got it from P either considering his hair hasn't changed in the fifteen years I've known him.
She is a coiffure maverick.
Y'all have a great Friday.
(On a totally different note, I'd totally forgotten that I never answered any of the questions that y'all asked in the comments of a post I wrote over a month ago. My goal is to answer at least of few of them sometime next week because I believe it's good to have goals.)