When P and I first started dating, lo these many years ago, it wasn't too long before he introduced me to all his oldest friends. In fact, I remember attending one of their weddings pretty early in our relationship and then going with a group of ushers and groomsmen still decked out in their tuxes to see "Braveheart" at the movie theater while I hoped I was making a good impression as the new girl.
(Dang. We are old.)
I must have made a good impression because about four months later we were all sitting around a huge dining table on Thanksgiving night when someone asked, "P, are you going to marry Melanie? What's taking you so long?"
I never knew a room could suddenly get so quiet.
I'll tell you what wasn't quiet, P's truck on the way home as I cried and asked him why it took him so long to come up with an answer. Bless his heart.
They have all known each other forever so when they all get together it immediately turns into a game of "remember when". For example, "Remember when what's-his-name shot a hole through the floor of your Bronco? That was HILARIOUS."
However, some of their fondest memories from days of old seemed to revolve around a place they actually refer to as Squalor. Apparently, there were good times to be had at Squalor, which was a ratty old deer camp where Jay and Scott's daddy let them stay when they were down at the ranch.
Can you believe I married a guy who used to self-admittedly hang out in a place called Squalor?
Yeah, me neither.
During the last fifteen years, we've gotten together with varying degrees of frequency depending on who is living where and if there happens to be a wedding shower, a wedding, or a baby shower. And there have been MANY of those over the years.
Which explains why we found ourselves at the lake on Sunday surrounded by about fifty kids of varying ages all decked out in Spiderman and Barbie lifejackets.
Early last week, Jay and Dawn called and invited us out to the lake to celebrate Jay's 40th birthday, which has to be a mistake because FORTY? Seriously? How are we old enough to be friends with people that are turning forty?
We jumped at the chance to go because we haven't all gotten together in a sweet forever, despite our constant promises that we'll all get together soon. Our friend George used to say that Jay never grasped the concept of object permanence, meaning that unless an object is right in front you, you forget it exists. Apparently, as we've married and had kids, we all struggle with that concept. I believe it's directly proportional to sleep deprivation due to infants and maybe drinking too much Lone Star Light when we were in college.
Not that I drank Lone Star Light.
I was more of a Zima kind of girl. Because I like a classy beverage.
Anyway, after church on Sunday we headed out to the lake. When we arrived, Jay came out to greet us wearing black socks that came to mid-calf with his tennis shoes. I was so relieved when I realized it was a joke because for a moment I really believed that we were just minutes away from spending an afternoon sitting on the porch while we discussed our artificial hips and that garbage the kids call music these days.
It took Caroline all of about 2.4 seconds to get her suit on, get in the lake and find a new best friend. Our friends Scott and Caroline have a four-year-old little girl that equally matched Caroline's daredevil ways and they were like peas and carrots the rest of the day.
This is Caroline getting into the unbelievably frigid water for the first time.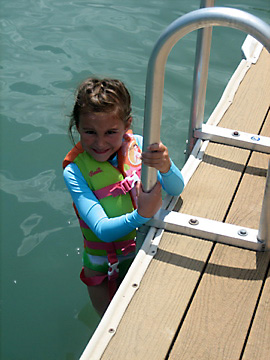 She's never been one to let a little hypothermia keep her from having a good time.
When Caroline was an infant, I agreed that I'd do most of the diaper changes if P would promise to always be the one to swim with her in freezing cold water. At the time, it seemed like he got the better end of the deal (literally) but now that she's five, completely potty-trained, and is training for a future as a member of the Polar Bears Club the pendulum has swung in my direction.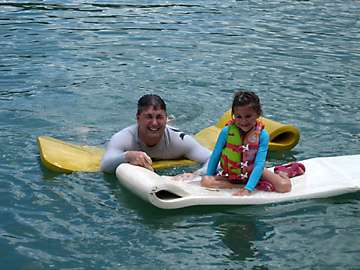 So while he treaded water in an attempt to keep the blood flowing to his legs, I sat on the dock in the warm sunshine and enjoyed this view.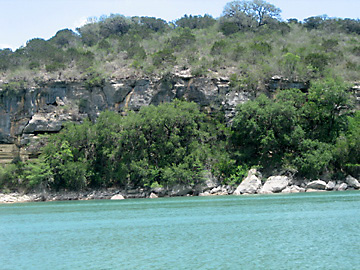 Here's Caroline with her new friend. P played a game with them all afternoon where he'd capsize their floatie and call it a sinkie. (I married him for his looks and his creativity!) He kept thinking they'd get tired of it, but clearly he's never had to play Candyland for eight hours straight.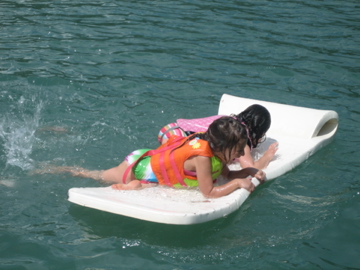 At one point, P looked at Scott, Jay and George and asked if they could have imagined when they were all sitting on this dock as high school boys with a penchant for getting in their share of trouble, that one day they'd be sitting in that same spot as the fathers of seven daughters and three sons.
God has a sense of humor.
Later on, the little girls did some tubing. The squeals echoed from every corner of the lake.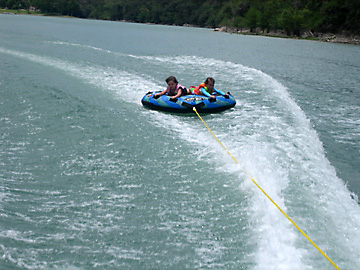 Then, later, they took turns jumping off the dock.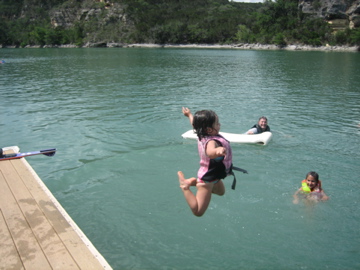 Hello future track scholarship.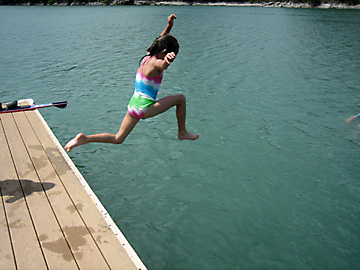 I think her legs grow about three inches while she sleeps every night.
Finally, with blue lips and chattering teeth, they admitted they were freezing and ready to get out of the water.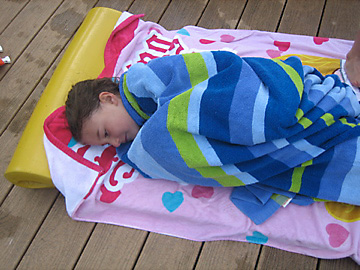 Don't let her fool you. She only stayed that still for about two minutes before she took off running for the house as soon as she heard the words "time for birthday cake".
She comes by it honestly.
We went inside to sing Happy Birthday to the birthday boy (birthday middle-aged man doesn't have the same flair) and as I looked around the kitchen I felt blessed by all the years of friendship represented in that room and the fact that we can all get together and just pick up where we left off as if no time has passed at all. That's a gift.
I'll tell you what else was a gift. The birthday cake. It was maybe the best cake I've ever had. Chocolate with chocolate icing covered with a thick layer of chopped Heath Bar. I honestly can't quit thinking about it. In fact, the next time I bake a chocolate cake I'm going to beat the heck out of some Heath Bars and try to recreate what I believe to be one of the culinary masterpieces of our time.
The whole day couldn't have been better. I believe Caroline summed it up best when we told her it was time to go home and she looked at us with teary eyes and announced, "I am the saddest girl in the whole world".
I don't know where she gets the drama.