For the second time in a week, P has written the bulk of this post and, for the second time in a week, I cannot remain silent while he takes over. So my (helpful and insightful!) commentary will be written in green.
I was so excited all day knowing that P was hard at work answering your questions. Mainly because I had no idea what I'd write about. But then, BUT THEN, I watched Sing Off on NBC last night and I'm dying to know if I'm the only one who noticed that the female judge's hair appeared to be blowing in the wind at random times. I found it very disconcerting.
Dear NBC,
We know your little singing show is being filmed indoors, therefore there should be no wind. Also, tell Nick Lachey that I loved him on Newlyweds, but he needs to speed up his delivery as host. Not even Casey Kasem enunciates that clearly and deliberately. And Bert Parks never took that much time to announce a winner and he was hosting the most important of all shows, Miss America.
Sincerely,
A potential fan of Sing Off who's trying to decide if she's opposed to people making musical instrument sounds with their mouths
But this post isn't about a singing competition. This is all about the great outdoors. This is the post where all your questions will be answered. Or at least seven or eight of your questions will be answered. Whatever.
Before I let P take over, several of you asked to see an up close picture of Caroline's flowerpot nativity and I aim to please.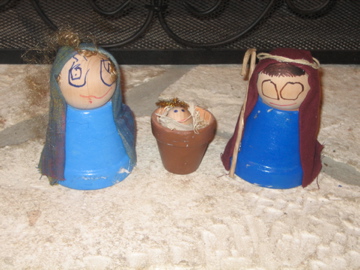 Seriously. Mary looks rough.  And is it just me or does she have a little bit of the crazy eye going?
Now to answer the questions:
1. Do you have any ideas for fishing? What can I possibly get for the fisherman that has it all?
Some ideas for fishing…how can I answer that? It's like asking what to wear out on a date, too many variables. (He has no idea the nights I debated over the bandana print wrap skirt with my denim vest versus the floral skort.)
Not knowing any specifics (What is there to know?  It's fishing.), I would say a Mister Twister electric fillet knife, the Cabela's head lamp (I think all of you need to get your man a head lamp just for good measure.  There is no end to its uses and the Coalminer's Daughter references), a rain jacket that folds up really small, a new tackle bag (It's like a little fishing purse!), some Columbia/Patagonia fishing shirts and a good pair of polarized glasses. I have several pairs of Costa Del Mars and love them.
You know what I have?  Several pairs of sunglasses from Target in various stages of disrepair.  P would say that I don't need nice sunglasses because I always lose them or break them.  And I would say he's probably right but that's not the point.
2. Do you have any ideas for reloading?
The problem with this situation is not knowing what your reloader already has. A gift certificate to Midway USA is always a safe bet.
3. Can you recommend a gun for personal defense; small enough to carry concealed, yet easy for a woman to handle? I currently have a Taurus 38 revolver, and my husband has a Browning High Power 9mm. As it stands now he takes my gun if he is carrying, and since I cannot pull back the slide my only hope of defending myself is to hit the intruder with the butt of the gun.
You are spot on with .38 special revolver, that's what Big (sweet term of endearment) has too.  (I had no idea that I own a .38 special revolver.  No telling what else belongs to me out in that gun safe.) If you were going to get another one I would get a hammerless one if your other one doesn't have it and maybe look at Smith and Wesson.
4. Melanie, do you have any suggestions for stylishly carrying a concealed firearm? While convenient and practical the fanny pack is not high on the list of fashion dos. A holster perhaps, but then how do you disguise the bulge? Or do you bedazzle it and call it a trendy new accessory?
Well, now that I know I own a .38 special revolver I may have to figure this out.  Of course there isn't a stylish option in the world that will hide the fact that I managed to shoot my foot off.
5. Can you recommend a decent bow for deer hunting (maybe something at Cabela's since we have one close by)? My husband is using an old bow, and apparently bow technology has changed a lot in the past 5 years or something like that and he feels left out and wants a new bow. I'd like to surprise him with one, but of course haven't the faintest idea. So, is there something good you could recommend?
I am a hardened Mathews bow fan. (There is no better bow for when you're afield.) They are the standard the rest of the industry shoots for. Mathews does such a good job in their research and development department that they tend to release a new bow every 6-10 months. With that in mind, I would look at Ebay or Craig's list. You can find a bow with only a couple of seasons on it that is still better than any other brand, at a fraction of the cost for a new one. (I bet there's a good chance that we have one or six we could sell you sitting in our back house.)
6. Is there an advantage to the orange handle on the knife? I guess it is so you can find it in the dim light if it fell on the ground.
I'm a fan of orange and yellow accessories that are not part of the hunt/kill. If you drop them they are a lot easier to find.
7. My husband feels he needs something that tells him how to shoot the bow based on how far away the animal is. Does he need a scope or a rangefinder? And is there one that would also work for rifle AND bow?
He needs a range finder and I use my Bushnell when bow hunting but it will work just fine for rifle hunting out to 400-500 yards, further if the animal is twice its normal size and wearing a reflective suit.  (P made a joke!)
8. We live WAY up north in South Dakota. He would like a pair of really warm boots that are warm enough to snowmobile in. Do you have any suggestions in that arena?
I have no idea, cold to us is 35 degrees. A good pair of Smart Wool socks takes care of us down here. Some good brands would be Danner, Rocky, Irish Setter and I have had several pairs of Cabela's name brand boots with excellent results.  (Judging by the fact that I haven't been warm in weeks as the temps here have hovered in the 50's, I'd bet that I wouldn't need warm boots if I lived in South Dakota because I'd never go outside.)
And now I'm off to go find another blanket to wrap around me.
It's in the 60's here today, so BRRR.