I realize we're only four days in but so far 2010 is turning out to be a pretty good year. Of course how could I complain about a year that's already involved two mornings of staying in our pajamas until noon and watching Loony Tunes in bed? And by our pajamas, I mean Caroline and me. P would never stay in his pajamas until noon watching Loony Tunes.
I think he has something against Elmer Fudd. Maybe it's the goofy hat he wears while hunting wabbits.
Not that P has much room to talk.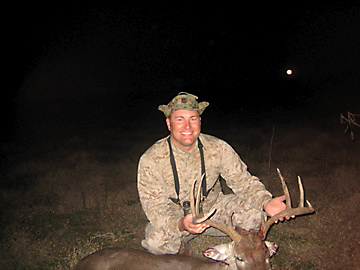 Two things make me happy about this picture:
1. Caroline and her friend S. took it after he took them hunting on New Year's Eve. They assured him that they got the entire deer in the picture.
They lied.
2. Right after the picture was taken, P told me that S asked him, "Mr. P, why do you wear that sailor's hat when you go hunting?"
She makes an excellent point. P explained to her that it isn't actually a camo sailor's hat, but rather a hat that he's just cinched up to the point that it looks like a sailor's hat.
I'm not sure that makes it any better.
Speaking of New Year's Eve, we had a big one. Our good friends invited us and Gulley and her family down to their ranch to ring in the New Year. And since we are never one to turn down a good time with friends in favor of sitting home and doing absolutely nothing, we jumped at the chance to go.
So on Thursday morning, we loaded up P's truck with all manner of hunting paraphernalia and headed south. We made a few quick stops for Sonic drinks and tots, fireworks, and some type of gasoline cleaner. I'm not sure what that last item has to do with New Year's Eve fun, but P felt it was essential because the Polaris was acting a little temperamental and the last time it acted funny it ended up slamming itself into a wall while being repaired. In other words, better safe than sorry.
We finally made it to the ranch and spent some time hanging out on the front porch until it was time for the evening hunt. P and Caroline planned to hunt deer and pigs. I planned to hunt for the Pioneer Woman's olive cheese bread that Gulley brought to the ranch. Viva la difference.
The kids all milled around in the yard until Will and his friend A decided that they were going to go on a hunt by themselves and took off in their very own all-terrain vehicle.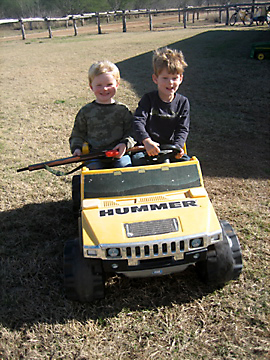 Notice that A has his toy gun resting securely on his lap.
A few minutes later we noticed that not only had they gone out hunting, but they'd managed to get a deer and load it into the Polaris all by themselves. Quite an accomplishment for a couple of four year old boys.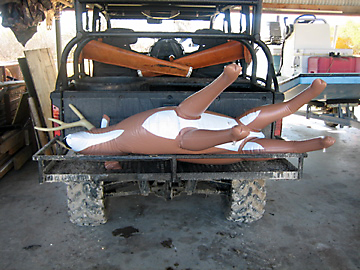 Needless to say, it is quite the trophy. It's not every day that you hunt down the elusive inflatable deer.
After that, the kids were all inspired to get in a little practice with their BB guns.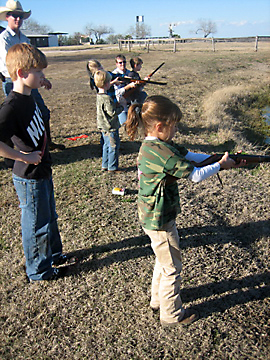 Mamas, lock up your turtles.
Then it was time for P to take his two buddies out for the evening hunt.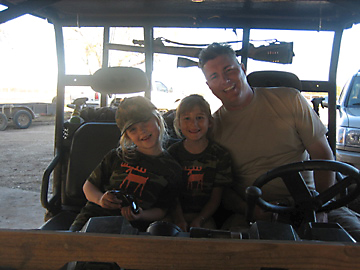 He wasn't very optimistic about their prospects since there tends to be a lot of hair flipping and giggling that goes on in this particular little posse of hunters. P just can't resist the urge to flip his hair and giggle. But they managed to have some success in the form of an eight point buck that wasn't frightened away by all the giggling.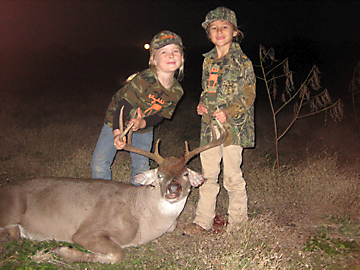 I've known for years that deer aren't as easily frightened by smells and noise as hunting experts lead you to believe because I performed my own very scientific research one time when P put me in a hunting blind by myself. Those deer weren't frightened away by the scent of the perfume samples falling out of my InStyle magazine or when I started yelling at them out the window to see if they'd run away. Maybe those hunting experts ought to try that method instead of covering themselves in all sorts of malodorous scents. Maybe those big bucks are more enticed by the scent of Lovely by Sarah Jessica Parker.
Something to think about, Cabelas.
After the mighty hunters returned, it was time for the big event. The olive cheese bread.
Oh, and an amateur firework show put on by men who subscribe to the theory that it's not really a fire unless you're scared.
The kids could not wait for the show to begin.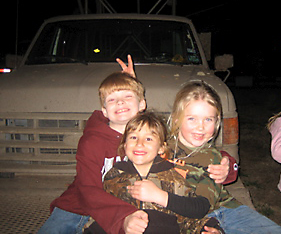 But then decided to climb up into the truck tower because who wouldn't want to be closer to the explosions?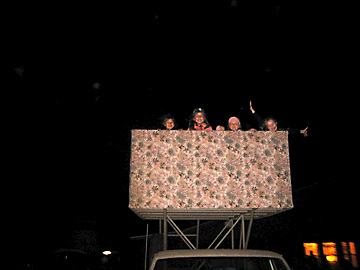 The men began to choose from their arsenal of fireworks. And I do mean arsenal.
I've always believed you can't have enough Stampede Super Bombs.
P was a fan of the big W. He's also a fan of any opportunity to wear his Cabela's head lamp.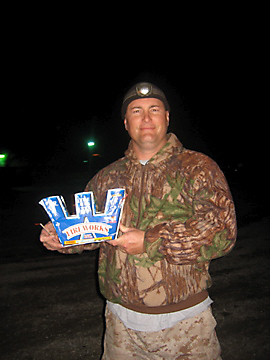 The kids decided to get in on the action with some sparklers.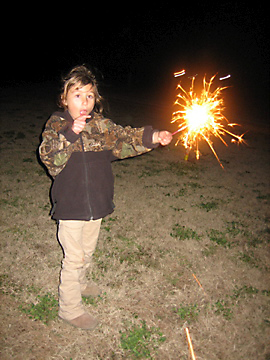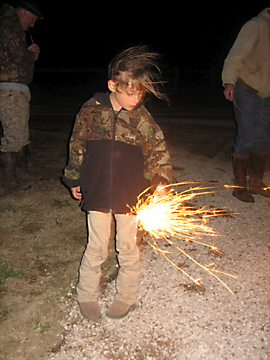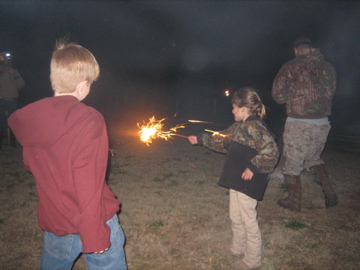 And before we knew it, P turned his headlamp back on and prepared for the FINAL ATTACK.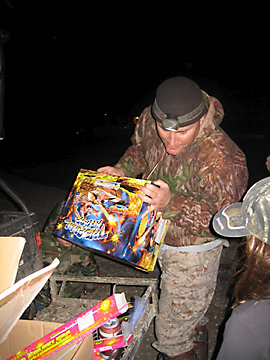 Let's take a closer look.
Oh my word.
The Chinese manufacturers weren't playing around when they designed that packaging. What is more frightening than a depiction of a general in a tank on a box of explosives? I mean other than the Christmas tree needles that I'm still finding in my carpet a full week after we took our tree down?
But while the FINAL ATTACK was being readied for launch, our kids made up a fun, new game with their sparklers. A little game called LET'S LIGHT THE GRASS ON FIRE.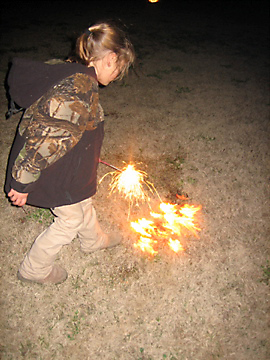 Oh, it was hilarious.
If you're a pyromaniac.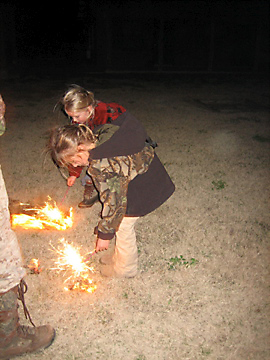 It required that some bigger boots be called into action.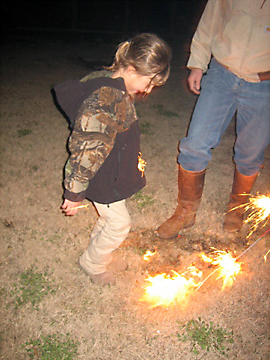 I sat there watching the little firestarters light their fires and laugh maniacally while they stomped them out with their boots and thought that none of this would be happening if they still aired those commercials of that Indian crying one single tear down his cheek.
And then I remembered that the Indian was crying because of all the litter. I had him mixed up with Smokey the Bear who always said, "Give a hoot! Don't pollute!" But I realized that was Woodsy the Owl. Then I thought about Mr. Yuk who was green and warned kids not to eat poison. And then I decided that I watched a lot of television as a child.
The point is that Smokey always said, "Only you can prevent forest fires."
Which is totally true.
Fortunately, we weren't in a forest but rather on a small patch of grass surrounded by gravel roads. They were easily contained. It was completely safe, harmless New Year's Eve fun for everyone.
Except for maybe that 8 point buck. He probably hadn't planned on getting shot by a sailor on New Year's Eve.