I just finished playing ten rounds of Bejeweled Blitz.
I don't know why I'm telling you that, but I guess I want to make you aware that I am at an all-time high level of procrastination. And, as part of the procrastination process, I decided to go brush my teeth and am now having a hard time focusing on writing anything because I had no idea my eyebrows were in such dire need of grooming and I really, really want to lock myself in the bathroom with my super-magnifying mirror and a pair of tweezers.
But I think we all know that would just lead to several weeks of me becoming best friends with my eyebrow pencil as we banded together to conceal my overzealous eyebrow plucking tendencies.
(If you think this post has started off without any real train of thought, JUST YOU WAIT.)
On Thursday night it started raining and continued to rain without ceasing until early Saturday morning. I am not the least bit ashamed to report that I spent that entire amount of time in my pajamas. At one point it looked like I might have to get dressed to pick Caroline up from school, but P saved the day.
I don't want to give the wrong impression though. It's not like I wasn't very busy completing several different tasks around the house. For example, on Friday morning around 10:00 a.m., our junk drawer in the kitchen (don't act like you don't have one) looked like this.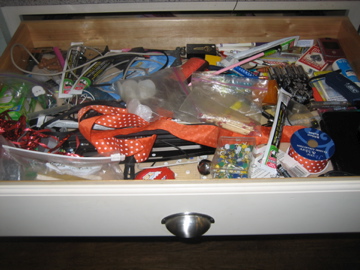 All that clutter was making it so hard to find the glow sticks or the Santa Claus bubble gum or the bright orange polka dot ribbon when we needed it. And I'm so thankful that our spare hide-a-key is safely tucked away in the back of that drawer. That will come in super handy the next time I lock myself out of the house. Which happens more frequently than you might think.
After about thirty minutes of throwing away stuff while P wasn't paying attention, I had that drawer all cleaned out. I don't have any photographic evidence of the clean drawer. You'll just have to take my word for it and believe that if my life is so lacking in excitement that I'm writing about cleaning out a drawer, I certainly wouldn't be lying about it.
But wait. There's more.
Last Saturday, P was at the ranch and Caroline and I found ourselves with nothing to do. I'd really been wanting to go into this antique store that I used to LOVE before I had a child and realized you don't let a toddler loose in a store full of old, fragile things and, also, that we were spending all our disposable income on Pampers and Gerber Yogurt Melts.
So I asked Caroline if she wanted to go with me to the antique store and she said yes. Then, much to my delight, she LOVED the antique store. She declared it the BEST PLACE SHE'S EVER BEEN IN HER WHOLE LIFE (which kind of makes the money we spent on Sea World tickets last summer seem foolish) and I hugged her to me and said, "Mama has never loved you more than I do right now."
We searched all over the store looking for various treasures and ultimately found a few things that I wanted to use to accessorize the living room, plus an old school desk that I wanted for Caroline's room. I bargained with the owner and got all three pieces for A STEAL. A STEAL I SAY.
And I loaded up my car (cue the Sanford and Son theme music) and we headed home with our treasures.
All this to say that my other project while in my pajamas on Friday was to try to arrange my new pieces on top of the armoire in the living room and email pictures to Holly for approval.
My first attempt.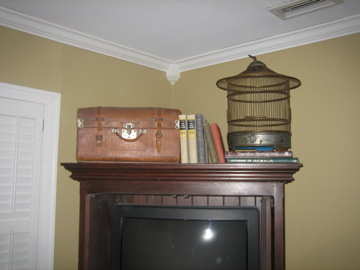 It was wrong, by the way.
Which led to my second attempt with Holly's direction.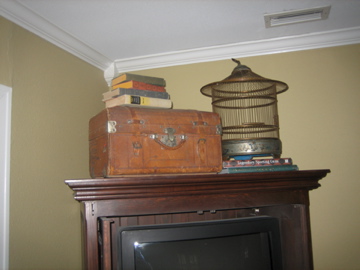 P came in to see what I was doing and I asked for his opinion. His opinion was that there was NO WAY we were getting a pet bird and then I had to explain that the bird cage was just for decoration and then he said he hoped I didn't pay a lot of money for it and I told him it was A STEAL at just $15.00.
(Which is actually just an amount that I use to describe a lot of purchases.)
(But I was glad it was the amount I threw out because the look on his face seemed to indicate that he thought I paid $15.00 too much for it.)
After he picked Caroline up from school, she noticed I'd arranged the bird cage and said, "I wish we could get a real bird."
"Well, we're not going to. Maybe we could have an imaginary bird."
(I didn't feel like there was any need to launch into my semi-fear of birds.)
She didn't seem to buy my whole "imaginary bird" suggestion, so I pushed it a little further and said we could name the imaginary bird "Babe" which was the name of the imaginary friend she had for several years but I haven't heard her mention lately.
She said, "Oh Mama. Babe is gone. She grew up."
And then I curled up in the fetal position and looked at her baby pictures for the next several hours with a box of Kleenex by my side.
On Saturday, she went to the ranch with P and shot a duck that she thought would look great in the bird cage.
I think I'll pass.
Oh, and she also brought home some turnips that she found and thought might be DELICIOUS for dinner.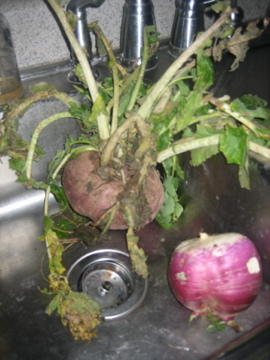 Which worked out so well because I'd just been wondering how to get more turnips into my diet. The turnip really is the cousin-your-mom-forced-you-to-ask-to be-a-bridesmaid vegetable of the vegetable world.
I told Caroline I had no idea how to cook turnips and she told me to "google it".
And I did. Only to discover that the larger the turnip, the more "woody" the taste.
So, yeah. Since these are bigger than my child's head, I'm thinking they're best left uneaten.
Unless we decide to feed them to our imaginary bird.