I am so tired. My personal theory on the tiredness is that P and I have been watching way too many war movies and I'm suffering from some type of television-induced post traumatic stress syndrome. And Monday night's episode of 24 certainly didn't help matters.
But before I go crawl into bed, I have a question.
Why did P decide that the best place to dispose of all his unused wire coat hangers was on top of my laundry basket?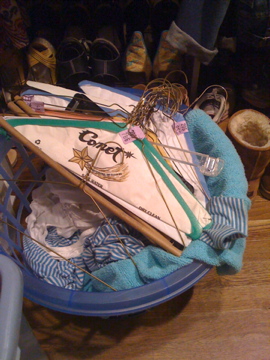 Especially when he knows that the only things I hate worse than wire hangers are drivers who don't properly signal when they're making a left turn and cheeses that smell really bad?
It's like he doesn't know me at all.
______________________________________________________
The winners of the Words That Rhyme With Orange CD giveaway have been posted over here.
And there's a new Tropicana Rewards post up with a chance to win a $50.00 gift card over here.